How to Overcome Feelings of Shame about Personal Debt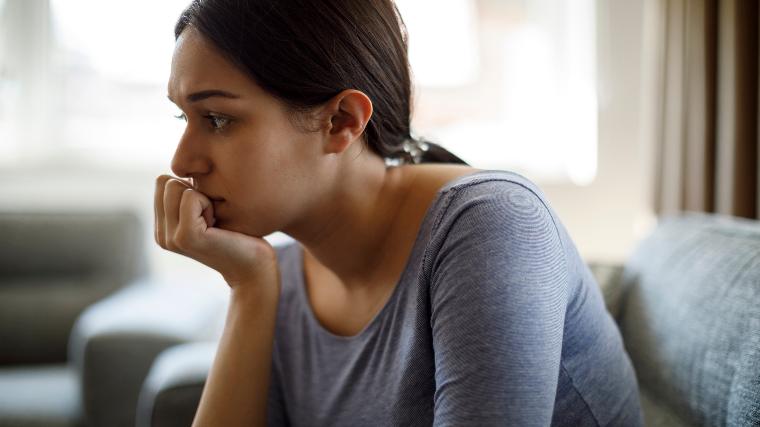 People who get deep in debt often experience feelings of anxiety and hopelessness—even if the circumstances that pulled them into debt are outside of their control. They may feel like they've failed themselves or their families. They may avoid honest conversations with loved ones for fear of revealing just how bad their financial situation is. They may feel utterly hopeless because they can't see a way to get out of debt.
Shame can prevent people from seeking help. They may worry about how others will think of them if they reveal how much they owe or how much they're struggling to pay their bills. That worry creates inaction, which allows a bad situation to get worse. The fear and shame get bigger and bigger.
How do you break that cycle? By recognizing that debt can happen to anyone. It's not a sign of failure or evidence of any weakness.
Fortunately, expert financial guidance from someone who can also lend an empathetic ear is the best way to overcome the financial and emotional challenges of burdensome debt —and start a plan to become debt-free.
Who is Most Likely to Struggle with Debt?
Many Americans simply can't pay what they owe. Debt doesn't discriminate, but the challenges consumers face often change depending on demographics. For example, while people with high incomes tend to carry greater amounts of total debt, people with lower incomes hold a greater proportion of debt compared to their income. This proportionally higher debt-to-income ratio makes it all the more difficult to manage unexpected debts.
Student loan debt also burdens some groups disproportionately—with minority groups and women bearing more impact. In addition to carrying a larger proportion of student loan debt, women tend to earn less than men (84 cents for every dollar earned by a man), once again making debt that much harder to shake.
According to a 2018 study by Capital Group, women are also less likely to want to discuss their personal financial situation than men are. So not only do particular populations face more difficulties in paying down their debt and saving for retirement, but they also feel less comfortable discussing their finances and seeking help. This combination can cause a vicious cycle that feels inescapable.
Why Might Someone Have Fallen into Debt?
Debt is rarely a choice. Most debt is a result of events and circumstances that are difficult – if not outright impossible – to control. Even debt that stems from poor budgeting or overspending is usually tied in some way to psychological needs or behaviors that you may not be able to control.
Some of the top triggers that push people into debt include:
Divorce or separation
Job loss
Medical emergency
Major home repairs after a natural disaster
Supporting another family member
For example, Debbie was retired when Hurricane Sandy severely damaged her Florida home. She lived frugally, but quickly fell into financial difficulty due to extensive repairs on her house and physical illness from invasive mold. She couldn't cover the repairs without assistance. After some online research, Debbie found Money Management International's (MMI) Project Porchlight. She received expert guidance from an MMI counselor who also connected her with other helpful resources to put her on the path to recovery.
A lack of understanding of the American financial system can also be a debt trigger. Diana, a Colombian immigrant, found herself trapped paying high fees to a credit repair company while sending money home to her mother and maintaining an expensive lifestyle. Her situation caused her deep financial stress—but the thought of reducing the monthly payment she sent to her mother created a deep sense of guilt. With the help and understanding of the Hispanic Center for Financial Excellence (HCFE), a program of MMI, she was able to get back onto solid financial footing.
Whether the debt is outside of your control or not, your feelings can be complex and difficult to navigate. Bottom line: debt is stressful, and for many, it's embarrassing. You may feel anxious, depressed, fearful, overwhelmed, and even physically ill. When a problem seems insurmountable, people can feel demoralized. But there is hope.
How to Overcome Debt Shame and Stigma and Seek Help
The first step in dealing with personal debt is beginning to talk about it. Getting started can be the hardest part of the process, but once you do, you'll find it gets easier. You'll also find that breaking down the taboo of talking about money and debt can lighten the weight of these negative emotions. MMI clients report feeling significantly less anxious after completing their first counseling session.
Simply having a plan and being able to make progress on that plan can make a huge difference in your outlook. When working with an MMI counselor, we help you focus on small, achievable steps, building momentum as your debt starts to disappear.
Contact MMI for a private and confidential counseling session and we'll talk you through all your options. You don't have to navigate this experience alone. You can complete most of your counseling online and counselors are available by phone, chat, and email.