How Do I Begin Getting Out of Debt?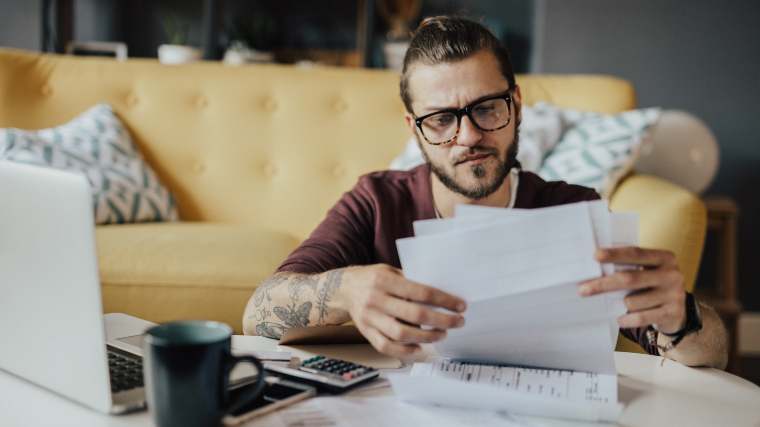 Most people know when they're struggling financially. Especially when you pay for everything with cash or debit. When the money runs out, you have no choice but to stop spending even if there are bills still to pay.
Credit card debt is different though. It can distort your impression of your financial situation because you're not paying for things outright. And when you consider the fact that you'll most likely only need to make a monthly payment smaller than the amount you spent, it's easy to see how buying things on credit can get out hand quickly.
Is your debt becoming a problem?
Just having debt isn't an issue in and of itself. The problem is when you have more debt than you can manage. That distinction can be tricky sometimes.
To help you determine if your debt is becoming a problem you need to solve, here are some warning signs:
You only make the minimum payment because that's all you can afford.
Your minimum monthly payment is large. If you add up all the minimum monthly payments of your credit cards and it accounts for 20 percent of your monthly income or more, you may not be leaving enough money for necessities like food and shelter.
You're receiving calls from debt collectors. Collections efforts don't usually start until you've begun missing payments, so if you're getting calls, you've likely started falling behind on your debts.
Paying one debt with another. If you're transferring balances or putting basic necessities like utility payments on your credit card because that's the only way they can get paid, that's a problem.
You take a cash advance on your credit card. This is not only a sign that you're not managing your money well, it will also put you in deeper debt. Most cards charge a substantial fee for this service.
You have no savings. If you don't even have a few hundred dollars in an emergency fund, you will find yourself in financial trouble as soon as your next big emergency hits like your car breaking down.
You don't know your financial situation or have a budget. If you don't budget your money and don't even know the total amount of debt you are carrying, you're bound to be in financial trouble soon.
If you recognize yourself in any of these warning signs, it's time to take action. There are a few things you can do to get ahead of your impending debt crisis to put yourself in a better place financially.
How to begin getting out of debt:
Figure out your financial situation
Before you can act, you need to know the big picture of your financial situation. Sit down and create a list or spreadsheet of every single debt you have, how much you owe each month, and your total balance. Include your monthly payments like rent/mortgage, utilities, and food so you know what need to go out each month. Then create a budget to figure out how much you can afford to pay down on each account. Find ways to cut other expenses if necessary.
Contact your creditors
Your creditors don't want you stop paying them, so it's often in their own interests to help if you're struggling. Explain your situation and see if they are willing to work with you to lower your interest rate, catch up on past due amounts, and negotiate a payoff amount. They may have short-term and long-term plans available to help you manage whatever difficulty you're facing. It's not a guarantee, but it's worth making a phone call.
Work with a credit counselor
If you're having trouble with either of the first two steps, a certified credit counselor may be able to help. Credit counselors serve as educators and advocates, providing budget advice and resources. And if you need the extra help, they can set you up on a debt management plan and work with your creditors to reduce the interest rates on your unsecured debts.
Best of all, a credit counseling session is free, so if you're feeling stuck it's a great way to get immediate, impactful assistance.
Bring in extra income whenever possible
Making cuts to your budget is a good way to divert cash toward your debt, but there are limits to how little you can spend. Eventually, cutting back will hit a wall, which is why you may want to seek out ways to add extra income. Taking another job isn't an appealing idea for most, but adding income can really help accelerate your debt repayment.
Create a plan and stick to it
Whether your creditor puts you on a hardship program, you start a debt management plan with a credit counseling agency, or you create a DIY repayment plan, the key to success is consistency. Having a plan is great, but it only works if you follow through month after month.
Perhaps more importantly, some plans may require that you stay consistent, by forfeiting certain benefits if you miss one or more payments. This is why it's important that you settle on a repayment plan that fits your budget. If the plan is more aspirational than realistic, you may run into issues later down the line.
No matter how you decide to handle your debts, the best advice we can give is that you start now. If you're in a full blown panic or just feeling the first twinge of concern, the best time to start addressing your debt is immediately. The sooner you act, the more options you'll have and the easier it will be to become debt-free.
Learn more about debt management plans from MMI. We can help you create a plan that saves you money and has you out of debt in less than five years.