Ultimate Guide to Preparing for Homeownership
Buying a home is a big decision, both financially and emotionally. That's why it's important to make sure that you take the necessary steps to prepare to buy a home.
The truth is that the process of buying a home begins before you ever speak with a realtor or apply for pre-approval for a mortgage. For most people, the process begins at least a year before they actually buy a home, and there's a good reason for that. The more you can do to prepare beforehand, the easier and cheaper the process will be.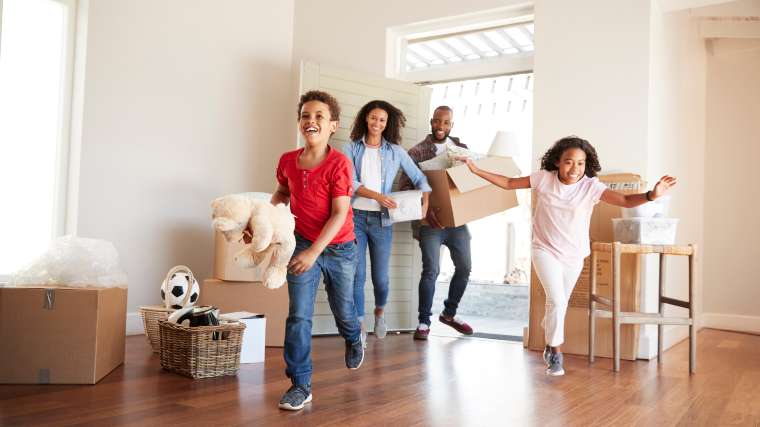 According to the Bureau of Labor Statistics, consumers spent an average of $19,884 on housing in 2017, which accounts for about 30 percent of individual household budgets. In other words, housing is expensive. Because of that, it's a good idea to prepare for your first home purchase.
Is owning a home right for you?
The first decision you'll need to make is whether owning a home is right for you. In the past, many people viewed homeownership as a necessary investment. Today, consumers are more aware of the potential drawbacks of homeownership. For example, depending on your location and lifestyle, it might be more expensive to own a home than it is to rent one. In fact, Americans who rent homes spent nearly $3,000 less on housing last year. This doesn't mean that homeownership isn't a smart investment. It simply means that you need to make sure it is the right investment for you.
Questions to consider before you start the process
1. How long do you plan to stay in your current location?
When you buy a home, you spend thousands of dollars in closing costs and other fees. Plus, it costs money to sell a home. Because of that, experts usually advise homeowners to stay in the home for at least five years. This will allow you to recuperate some of the buying costs and give you time to prepare for the sale.
2. How strong is the local job market?
If you have a job you love in a city you love, it might be difficult to imagine losing your job or quitting, but it's something homeowners might want to consider. If you were to lose your job, it's important to consider whether you would you be able to find a comparable job in the same location or if you would need to move to find one.
3. Is it cheaper to rent or own?
Homeownership isn't just about numbers. In fact, for many people, it's about lifestyle. But regardless of your reasoning for wanting to own a home, it's a good idea to crunch the numbers and determine whether it's cheaper to rent or own a home. Regardless of the answer, you'll be armed with knowledge and able to make the rest choice for your family based on your priorities.
Once you've determined that homeownership is right for you, it's time to prepare for purchasing your first home.
Build Strong Credit
Before you do anything else, it's a good idea to check your credit report and score. Lenders use credit scores to help determine mortgage interest rates. This is important because with a higher interest rate, you could end up paying thousands of extra dollars towards interest.
For example, if you have a $300,000 mortgage with a 4 percent interest rate and 30-year term, you'll pay a total of $215,609 towards interest throughout the life of the loan. However, with a 3.5 percent interest rate on the same loan, you would only pay $184,968 towards interest. In other words, you would save $30,641. Even though 0.5 percent might not seem like a lot, it can make a big difference.
That's why it's important to check your credit score and take steps to improve it before buying a home.
How to check your credit report and score
There are three major credit bureaus: TransUnion, Experian, and Equifax. You can access your credit report for free at AnnualCreditReport.com. In fact, you can access a copy of your credit report from each credit bureau once per year. This means that you could actually get three free credit reports per year, and check your report once every four months.
When you're preparing to buy a home, it's important to check your report at least a year before you plan to purchase a home. This will ensure that you have enough time to correct any errors, and if necessary, start to increase your score.
Historically, you had to pay to get your current credit score, but that's changed in recent years, thanks to services like Credit Karma and Credit Sesame, which offer free access to your score (in exchange for some ads and personalized referral offers). Certain credit card programs also include credit monitoring, which includes access to your score.
Keep in mind, however, there are multiple credit scoring models, so you technically have multiple credit scores, and some may not be free. In those cases, you may need to purchase access to the score from the agency that generates the score.
How to report credit errors
If you notice any errors on your credit report—unauthorized accounts, identity errors, or incorrect balances—you need to report them to the credit bureaus and the creditor who submitted the information, which is typically your bank or credit card company. It's important to report any errors as quickly as possible to fix them before you buy a home.
Here is the contact information for the credit bureaus.
Equifax
You can report online or by mail:
Equifax Information Services LLC
P.O. Box 740256
Atlanta, GA 30374-0256
Experian
You can report online or by mail:
Experian
P.O. Box 4500
Allen, TX 75013
TransUnion
You can report online or by mail:
TransUnion LLC
Consumer Dispute Center
P.O. Box 2000
Chester, PA 19016
Monitor and improve your score
As you continue with the buying process, you'll want to continue to check your score for errors or changes. If you're struggling to understand your credit report or aren't sure how to proceed, it might be a good idea to meet with a trained financial counselor for a one-on-one credit report review. During the review, you'll learn everything you need to know about your score, including:
Your current credit score
A breakdown of your credit report
The different factors that affect your score
How you can improve your credit
Building strong credit takes time, but the steps aren't complicated. While preparing to buy a home, make sure you make all payments on time (missed payments can stink your score pretty quickly), reduce your balances (the more available credit, the better), and avoid opening too many new accounts. By the time you're ready to start talking to lenders, your score should be where you want it to be.
Figure out what you can afford
The enormous cost of buying a home can sometimes make it difficult to keep things in perspective. $300,000 and $500,000 both feel like huge amounts of money, so the difference between the two may not seem that significant. But on a month-to-month basis, as you're living, working, managing expenses, and trying to keep up with your mortgage, that $200,000 difference is significant.
That's why it's so important to really understand what's realistic and affordable for you. You may feel the urge to stretch a bit for that dream house that's just a bit outside your budget, but there can be painful consequences for buying a house you can't really afford.
Calculate how much you can afford
The next step is to weigh all the most important financial factors and calculate how much you can afford. You can do this with a home affordability calculator that allows you to input your monthly expenses and your estimated home expenses.
Don't forget to include an estimate for home maintenance as well. When you're renting a home, the landlord usually takes care of maintenance. But when you own a home, you are the landlord, and as a result, you are responsible for the upkeep. As a rule of thumb, you should expect to set aside about 1 percent of your home's cost each year for home maintenance. For example, if you have a $200,000 home, you should expect to budget $2,000 per year.
Know all the expenses
It might seem like the only expense you'll have as a homeowner is your mortgage, but there are other costs associated with owning a home. Here are the other expenses you might want to keep in mind as you save to buy a home.
Taxes: When you own a home, you must pay property taxes. The local government calculates property taxes and the cost varies from state to state. According to a recent survey, homeowners across America paid an average of $3,296 in property taxes in 2016. That's an effective tax rate of 1.16 percent. Depending on where you buy a home, your tax rate could be much higher or lower, but regardless of location, it's important to budget for taxes.
Insurance: Homeowners are responsible for insuring their homes as a precaution against destruction or natural disasters. The price of homeowners' insurance depends on a variety of factors, including location, size of home, and home value. The average cost of homeowners insurance in America is $1,131 a year. Homeowners with a down payment of less than 20 percent may also be responsible for private mortgage insurance.
Homeowner Association (HOA) Fees: Depending on the type of residence you buy, you might also be responsible for HOA fees. These fees are usually used to pay for communal amenities like pools, gyms or landscaping. HOA fees are usually upwards of $100 per month.
Start to save
Depending on the type of mortgage you get, you'll need to save between 3 percent and 20 percent for a down payment. Plus, you'll need extra cash for closing costs. Closing costs depend on a variety of factors, but on average, the closing cost for a $200,000 home is $2,084. In other words, you'll have a lot of upfront expenses that you need to prepare for.
Cut back on expenses
It is often difficult to save money and cut back on expenses, but it's easier to do so when you have a goal. In order to save money for a down payment and other expenses, you'll probably need to spend less money throughout the month.
Follow these budget guides to save money in different categories:
Create your budget
Your expenses will change when you become a homeowner, so it's important that you're prepared for those changes. Assuming your finances will become a little tighter with your mortgage, it's a good idea to live with your new "house budget" for a few months before you actually close on the new house. This can help you build up your emergency savings and get used to any significant spending changes.
Keep your budget realistic
When it comes to budgeting, one of the best ways to ensure success is to remain flexible. But it's also important that your budget is realistic because if it's not, you will overspend, get frustrated, and quit. With a realistic budget, you are accounting for both fixed expenses (rent, insurance, bills, etc.) and variable expenses (household items, groceries, restaurants, etc.).
There are many ways to budget and it's important to find a system that works for you. Here are a few different budgeting options:
You Need a Budget (YNAB)
YNAB is a system (and an app) that focuses on giving every dollar a "job." This means that all of your income is accounted for and that the goal is to become one month ahead on all of your expenses.
The envelope system
The envelope system might be old school, but it's still effective. Every month, you divide up your income into envelopes for different expenses. For example, if you set aside $300 for groceries, you put $300 in an envelope labeled "groceries." When you buy groceries during the month, you only use money from that envelope. When the envelope is out of money, you cannot spend any more money on groceries. If you like the idea, but prefer digital spending, you can try Good Budget.
Reverse budgeting
The concept of reverse budgeting is simple because you pay yourself first. Instead of waiting until the end of the month to save whatever money is leftover, reverse budgeters put away savings at the beginning of the month. This ensures that the money is actually being saved instead of accidentally spent.
Get pre-approved and start house hunting
Once you've checked your credit score, calculated your housing budget, and saved money for the home buying expenses, it's time to get pre-approved for a mortgage. When you get pre-approved for a mortgage, a lender checks your credit, verifies your income, and approves the rest of your documentation. After that, the pre-approval amount usually lasts for 90 days. Now it's time to find (and buy!) your dream home.
How to avoid being "house poor"
When it comes time to get pre-approved for a mortgage, it might be tempting to accept the maximum amount of money offered by the lender. For some people, spending the full amount might be the right decision, but for other people, doing so might make them "house poor."
If you are "house poor" it means that your monthly housing costs account for a large part of your budget. In many cases, it means that your budget is tight because too much of your monthly budget is going towards housing costs. Even though your home is an important part of your life, it's not the only part. Make sure to leave enough room in your budget for other things you enjoy like travel, food, hobbies, and more.
Now that you have a mortgage amount that you feel comfortable with (and that works with your budget), it's time to find the perfect house (in your carefully considered price range).
A few final tips
Putting yourself in the best possible position to buy a home is a long-term project and could take months or years, depending on the state of your credit and your savings. Once you've prepared yourself - once you've built up your credit score, saved enough money, created a new budget, and received pre-approval on a home loan - there's still plenty of hard work yet to come.
As you begin your search, keep the following in mind:
Pick a realtor that understands your needs. A good realtor can make a potentially difficult process practically painless, so interview multiple realtors and find one you can trust. Also make sure to discuss their fees upfront so you aren't caught off guard.
Remember that negotiation is a give and take. You and your realtor should advocate for the concessions you want, but remember that the seller has a right to refuse. Work to a middle ground solution as best as you can.
Be willing to walk away. Set limits before you begin and be willing to walk away from a house you love if those limits are being exceeded.
Buying a home is a big deal and one of the most significant financial decisions most of us will ever make. It takes a lot of hard work to wind up in a great home you can afford, but once you have a place to call your own, you'll see that that effort was completely worthwhile.