Ultimate Guide to Cutting Cable
Cable is one of those things we tend to feel an attachment towards. We look forward to our favorite shows, plan our schedules around them, set the DVR if we can't be there to watch live, and even stay home to binge watch several episodes in a row. So, when you consider the idea of cutting cable, your first response may be "No! Anything but the cable!"
The reality, however, is that cable is probably one of your largest utility bills and most likely, the least necessary one. Cutting cable could end up saving you thousands of dollars a year – money that could be better spent elsewhere. It may be a difficult decision to make, but once you get through it and discover other options, you'll be glad you did.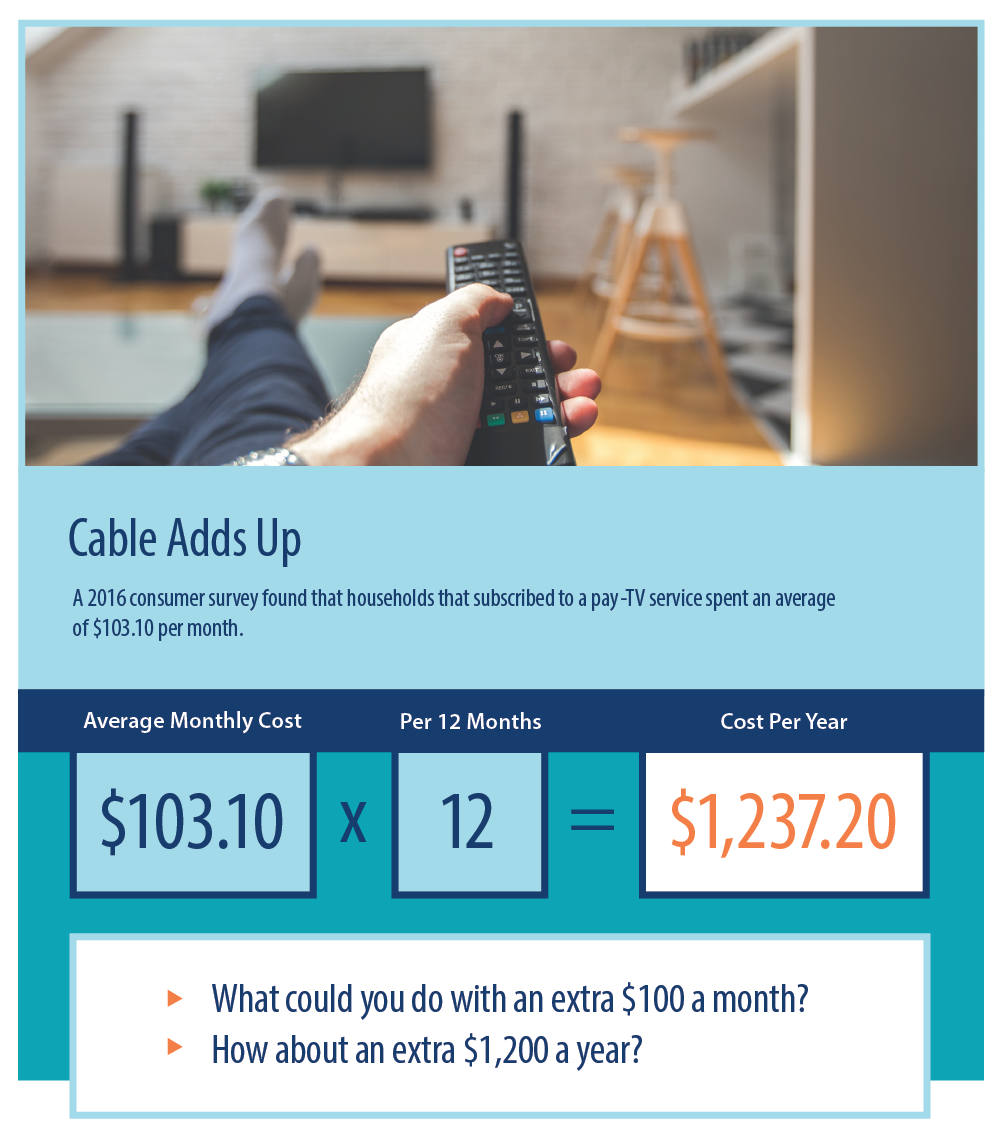 Breaking up is hard to do
Chances are, if you're reading this article, you already know that you have to break up with your cable provider, you're just finding it hard to do because you're so attached. And if you know you have to break up, it's probably because you already know there are better things you could be doing with that money.
Paying off debt (and stopping those annoying calls from collection agencies)
Saving for your dream house (where you can enjoy lots of family time instead of wasting away the hours in front of your TV)
Saving for your child's college fund (isn't that more important than Game of Thrones?)
I won't be able to see my shows!
Chances are pretty good that you'll still be able to see your shows. There are much less expensive streaming services (we'll talk about those later on) that offer many popular shows. In addition, many cable channels offer the latest episode online, right on their website. You can catch up anytime, anywhere, without even having to be in front of the TV.
It's too much work!
You can be free of your cable bill and on to a less expensive alternative in just a few steps. It's not nearly as hard as you think. Let's get started!
How to Cut Cable
In order to completely cut your cable, there are a few steps you need to follow.
Call the cable company
Very few (if any) cable companies will allow you to cancel your services online or through the mail. You're going to need to speak with a representative (because they want the opportunity to talk you out of canceling) and reaching an agent can be tricky.
You should be able to find a number on your bill or by logging in to your account. You can also use the extensive database at GetHuman.com. Just enter the name of the company you're trying to reach and you'll given a phone number, hold time data, and instructions for reaching a human representative as quickly as possible.
If you find yourself being asked (either by a human or a recording) what you're looking for, just say, "Cancel service." That should take you to the retention department where they will make every effort to stop you from doing just that.
Stay strong
You'll likely be offered special deals and pricing to stay on as a customer. If you feel at all tempted, remember why you're canceling – and it's not just because you need to save a few bucks. It's because you have bigger aspirations. You want a comfortable, stress-free retirement. You want to free from the looming specter of debt. You want something a little bit better than four free months of Showtime.
If you're worried that the temptation may be too great, don't tell them that you're cancelling to save money. Instead, say that you're moving; either out of the area or into a home where the homeowner already has a cable plan (you can even say it's with the same company to reduce the likelihood of follow up questions). Don't allow any room for negotiation.
Make notes of your conversation
Be sure to write everything down in the off-chance your cable provider makes a mistake and doesn't follow through. Write down the date and time of your conversation, as well as the name of the agent. Ask for the agent's direct phone number, email, and/or agent number for your records. Write down the confirmation number they give you for your cancellation, as well as any additional information. It's better to have too much information than not enough.
The cable company should provide you with a written confirmation of your cancellation, either by mail or email. This confirmation will have the instructions for returning any rented equipment as well as anything else involving the cancellation process.
Return your equipment in person and get a receipt
The cable company may offer to send a technician to your home to pick up your equipment. The cheaper, simpler, and safer route, however, is to return the equipment directly to the provider and pick up a receipt verifying the return. Should there be an error or a mistake and the cable company doesn't record your returned equipment, you could be on the hook for hundreds of dollars. Play it safe and get proof.
Finding your shows
Congratulations! Cutting cable is hard to do, but you did it. And now you'll have more money for more important things. When you start to see your emergency fund grow or your child's college savings grow, you'll be glad you took the steps needed to free up that money.
Now that your cable is gone, it's time to talk about the other options available for watching your favorite shows.
HDTV antenna
HDTV antennas are very affordable and allow you access to all the major networks including ABC, NBC, CBS, Fox, PBS, and many more. Most HDTV antennas run anywhere from $10 to $80, but the less expensive ones work just as well as the more expensive models.
The antenna hooks up to your existing HDTV in a matter of minutes. All you need is a coaxial cable, which connects directly from your TV to the antenna. You may need to play around with the placement of your antenna to find the best reception. If you can reach a window with the antenna, that should give you the best results.
You can find HDTV antennas at Best Buy, Walmart, Target, Amazon, and pretty much every other store or online retailer that sells electronics.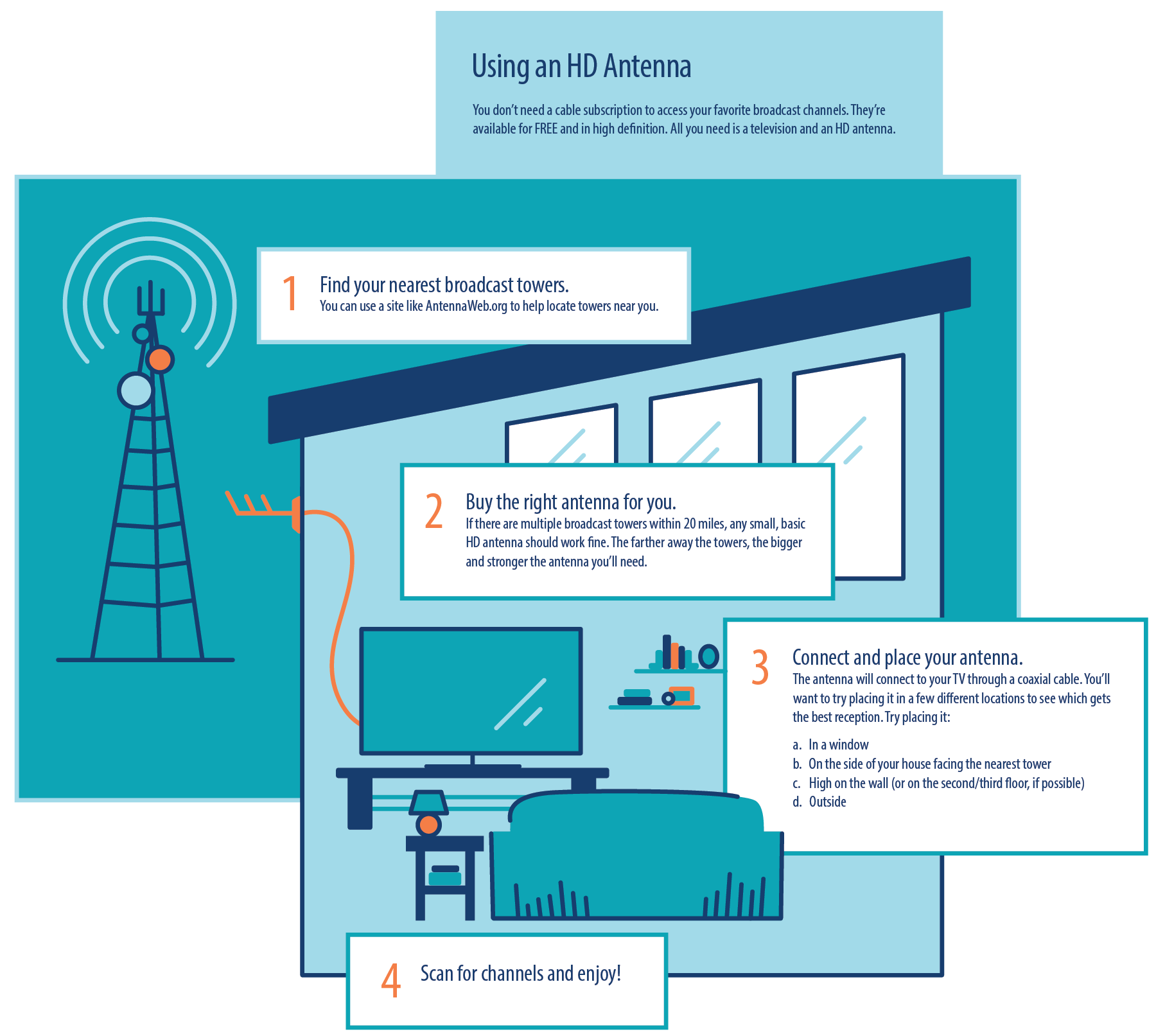 Streaming services
If there are shows or movies you like to watch on premium channels that you can't access with an HDTV antenna, then a streaming service might be right for you. Streaming services are becoming more and more popular, even offering their own shows that you can't find on network TV or cable. And there are several to choose from.
Netflix
Hulu
Sling TV
DirecTV Now
Amazon Instant Video
And those are just the more common ones. Most of these services are just a few dollars, $8-$20 a month. Significantly less expensive than cable (unless you find yourself stacking multiple services). Amazon Instant Video is free with Prime so if you're already a Prime member, you're all set.
You shouldn't need high-speed internet. If your current internet service provides you with enough speed for problem-free internet surfing, it should be fine for streaming your shows and movies.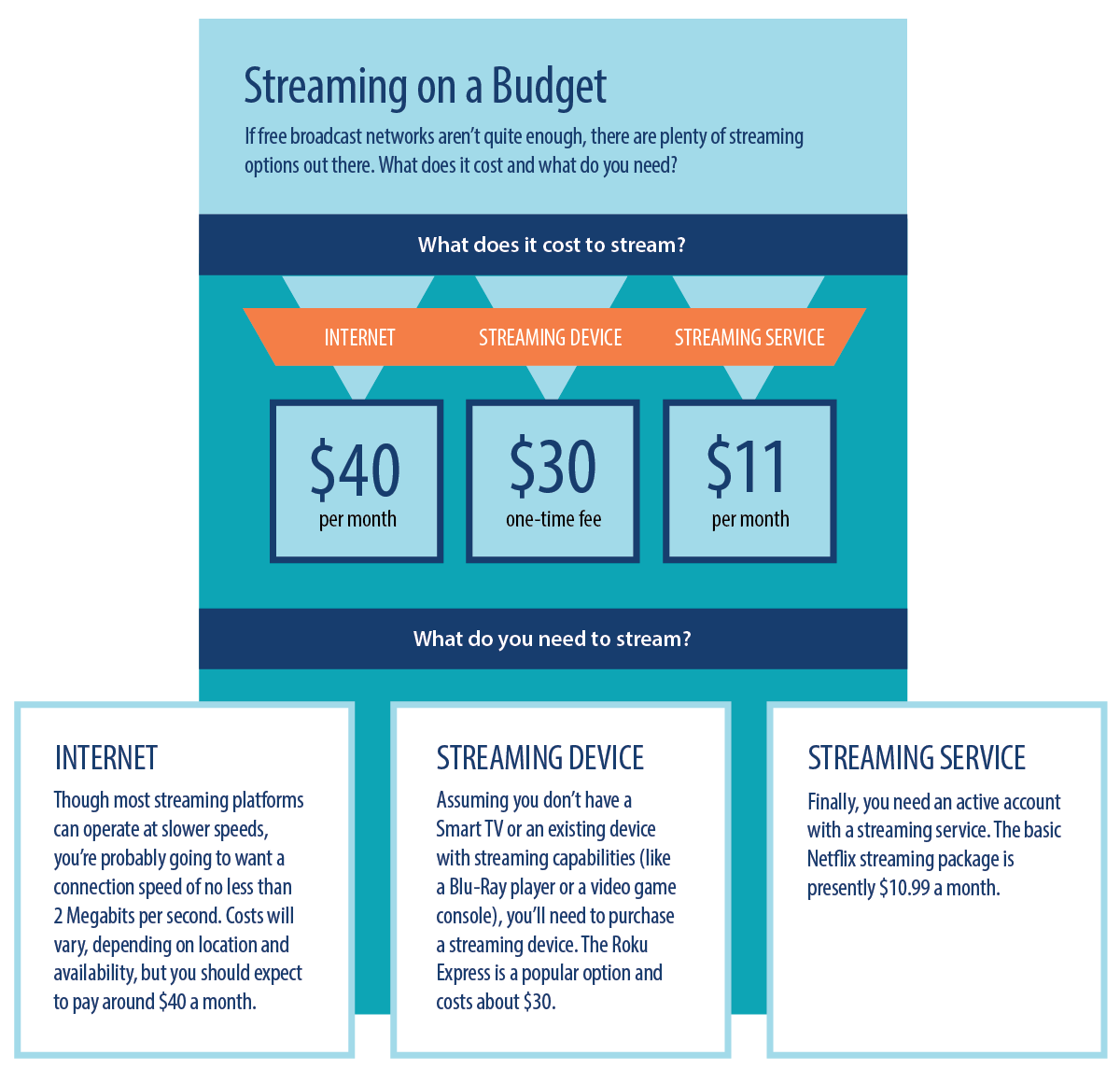 Which service to choose?
Each available service offers slightly different perks. Netflix and Amazon have both invested heavily in original content, while Hulu has a deep catalog of network TV shows (including old seasons). Services like Sling TV are attempting to separate from the pack with a focus on live sports coverage.
Which service you choose really comes down to what you watch. If you're unsure which service is the best value for you, try creating a list of your favorite TV shows and using a website like Just Watch or Can I Stream It? to figure out where those shows are currently available.
Streaming services also don't usually come with contracts – meaning you can cancel any time and switch to a different service if you're dissatisfied. They also often offer free trials, which is a great way to sample what's available before making your choice.
How to stream
Streaming your shows right to your TV couldn't be easier. If you already own a Smart TV that is connected to the internet, chances are, you already having streaming services installed. You just have to set up an account. Check your TV's menu options. You'll most likely find quick links to Netflix, Hulu, and Amazon right on your screen.
If you don't have a Smart TV, you'll just need a streaming device. This is a one-time purchase and is usually incredibly simple to install. It's a USB stick that just plugs right in to the back of your TV. There are several options including:
Chromecast
Amazon Fire Stick
Roku
Apple TV
Even some gaming consoles have streaming accessibility built right in. Again, you can find these streaming sticks at Best Buy, Walmart, Target, Amazon, and wherever electronics are sold. Plug it in, go through the on-screen set up to get your account started, and you're ready to watch!
Free streaming
Interested in free options? Those are available too. Most networks offer past episodes of your favorite shows and even movies right on their website. You can watch on your computer, laptop, or TV if you're hooked up to internet.
YouTube offers popular shows and movies, too. And of course, there's always the public library where you can check movies out for free.
With all of these free and inexpensive options available, there's no reason to keep paying hundreds, even thousands, of dollars a year for cable. Yes, there is a learning curve to figuring out a new way to watching your shows. But once you figure it all out, you'll never miss that cable box.
If you're already gone through these steps and you've cut cable, congratulations! Good for you! If you haven't, now that you see how easy it is and what other options are available for much less, isn't it time? If you're constantly trying to make ends meet every month, and coming up short more often than you'd like, cutting cable is one of the fastest and easiest ways to create some breathing room in your budget.
What will you do with the extra $100 or more you save each month? You'll be amazed at how quickly your savings and investment accounts start to grow with just a little addition to them every month. Isn't your financial security more important than the monthly burden of a hefty cable bill?