Pro Tips for Negotiating the Price on Your Dream House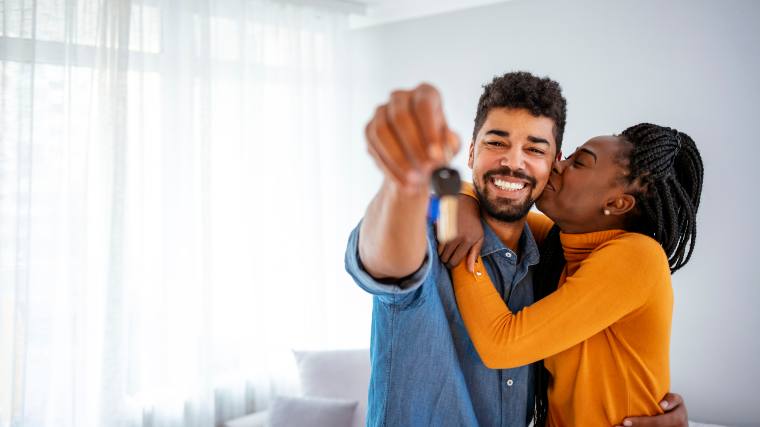 The following is presented for informational purposes only.
Buying a home is most likely one of the largest purchases you'll ever make. After months of scouring real estate listings and checking out open houses, you've finally landed on what you feel to be "the one." You've set foot inside, and imagined the rooms filled with your most cherished belongings. You've seen a future of warm memories unfolding within its comfy confines. But before you're handed the keys, you'll need to make an offer and have it accepted.
Whether you're haggling for some dinnerware at a swap meet or asking for a more competitive job offer, the art of bargaining is a nuanced one. But buying a house is a lot more complicated, and you can never be too prepared. Here are some tactics on negotiating for your dream house:
Assess the Market
Hoping for a bit of wiggle room on the price? How much you'd like to offer below the asking price depends on the current conditions of the market. You'll also want to consider how competitive the area is in terms of housing and how many other buyers are putting in bids. If it's a buyer's market, you'll have greater leverage to negotiate for a lower purchase price.
It also depends on how long the house has been on the market. If it's been on the market for a year and the price has been knocked down a few times, do a cost comparison with similar homes in the area to see what a reasonable price range is.
The Initial Offer Price Is Only the Beginning
The seller is likely to counter your offer at a higher price, or with terms that are more favorable to them, explains Casey Fleming, a mortgage advisor and author of The Loan Guide: How to Get the Best Possible Mortgage. "Also, once your inspections are finished you usually have an opportunity to renegotiate if anything unfavorable comes to light," says Fleming.
"The seller and the agents may not be happy about this, but you absolutely have the right to do so. The seller, of course, could reject your new proposal, but then now they know something negative that they didn't know before. So there's almost always some flexibility when defects in the property are discovered."
Seek a Middle Ground When Negotiating Price Reductions
Let's say your offer during the first phase in the negotiation process gets accepted. When it comes time to ask for credits or a price reduction based on the given information, Alexander Lerner, a residential real estate specialist with Figure 8 Realty, suggests being open and reasonable.
"It isn't exactly the hardball approach that some might favor or want to adopt," says Lerner. "But in my experience [playing hardball] often leads to contentious interactions where the deal is more likely to break down and fall apart." Instead, strive to meet in the middle.
Lerner provides the following example: Let's say your inspections reveal $50,000 worth in needed repairs. And you're hoping to get $25,000 to $30,000 in credits and price reduction. "Well, you could ask for $50,000, with the expectation that you will go back and forth and negotiate and eventually you'll get something close to what you want,' explains Lerner. "But it's also possible that the large ask that you're making up front could cause the seller to dig in their heels and make them less willing to negotiate at all."
Start out by asking for $30,000, and express a willingness to take some of that on, recommends Lerner. But also let the seller know that the financial burden should be shared in order to complete the transaction. If you take on this approach, you're more likely to find a seller on the other end willing to compromise.
Know Your Numbers
Start with knowing exactly what you can afford, suggests Fleming. Figure out what's feasible for a down payment and a monthly payment. It's not what the lender says you qualify for — it's what you can afford, says Fleming. You'll also want to factor in closing costs, insurance, taxes, general maintenance and repairs.
"Don't let your emotions sway you into spending more than you're comfortable with," says Fleming. "And remember: What you qualify for and what you can comfortably afford could be two different things."
Find Out As Much As You Can About the Seller
There are actually two phases of negotiations when you're buying a home, explains Lerner. The first phase is when you, the buyer, submit your offer in the hopes it'll get accepted.
The second phase is after inspections on the home have been conducted and the seller discloses material facts. (FYI: a material fact is an essential piece of information that is crucial in the buyer's decision.) For example, after important details have been revealed, you might have now discovered there is more work — and in turn, costs — than you first thought.
Besides the purchase price, see what you can learn about the seller's needs and tailor your offer to meet those needs. In turn, it'll help you stand out from any competing bids.
For instance, one of Lerner's clients wanted to put in an offer for a home in a very competitive neighborhood in Los Angeles. The owner was an avid gardener and had a lot of pride in the home's landscaping. So when submitting their initial offer, his client included a letter detailing how much they loved the outdoor space, and how they would continue to take very good care of the trees and plant life.
"It could help your offer get accepted even though the seller might receive bids with higher purchase prices," says Lerner. "Whatever you can do to make your offer as attractive as can be in other ways besides the actual offer price will only help your chances of getting accepted."
Stay objective
Buying a home is a financial decision, but it's also an emotional one, says Lerner. "If you're an investor or a seasoned home buyer, perhaps you can remove a lot of the emotion," he says. "You can then make a decision about whether to walk away from a property based solely on the financial aspects of the deal."
But for most, especially if it's your "dream home," you're going to get attached and emotionally invested. In turn, that could cloud your judgment and lead to poor decisions. "It is helpful to work with a real estate agent to provide a buffer of sorts between you and your emotions, and make you choose from an objective perspective," says Lerner.
Don't Bite Off More Than You Can Chew
In highly competitive markets, bidding wars can erupt, driving prices way past the point you had hoped to pay, points out Lerner. "Sometimes in order to get the house you have your heart set on, you'll need to make tough decisions and even stretch your budget," says Lerner. "But you have to know when to say stop so as to not find yourself unable to afford the mortgage or the costs to maintain the home."
Along the same lines, you might discover that the home that looked great when you first viewed it actually needs tens of thousands of dollars worth of work and repairs to be completed. "Is this work that you had anticipated?" says Lerner. "Are you capable of taking on a project with such a large scope? And do you have the necessary resources — financial and otherwise — to do the job?
"As you pay down your mortgage. the potential equity that is gained over the years on your home appreciates. In turn, that equity can help to secure your financial future," says Lerner. "Making sure that the home you buy will not only be a place you love living in, but also a good investment is of the utmost importance. So it's critical to do everything you possibly can to avoid overpaying or buying a property that ends up being a money pit."
Have questions about the homebuying process and how it factors into your financial plans? MMI offers a variety of counseling and education options for soon-to-be homeowners. Get your answers and feel confident before buying your dream home.