What Property Owners Need to Know about Debt and Natural Disasters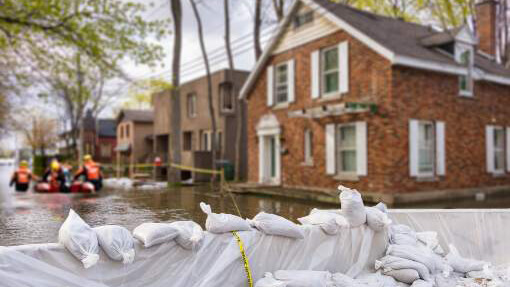 The following is presented for informational purposes only and is not intended as legal advice.
If you still owe a lot of money on a major asset, such as a house or car, and it gets destroyed from a major natural disaster, will your insurance company pay for it? The short answer: It depends on the type of natural disaster, and how much coverage you purchased.
"Homeowners insurance covers most damage to one's home except for large-scale natural disasters like floods, hurricanes, and earthquakes," explains Todd Erkis, FSA, CERA, MAAA, and author of What Insurance Companies Don't Want You to Know. "In these cases, additional insurance coverage must be purchased."
As for cars, comprehensive insurance will cover damage to your vehicle in the case of a fire, flood, hurricane, earthquakes, or from falling objects, such as from a tree or hail.
Factor in the Value of the Asset plus the Amount of Debt Owed
When deciding on the amount of insurance to purchase for a house or car where you still have a mortgage or loan, always consider two things: the value of the item being insured, and the amount of debt you have on it. As Erkis explains, "By having enough coverage for both the value of the home or car, as well as how much you owe on it, you'll be covered in case it becomes destroyed."
For example, a big mistake that some people make is to only insure a house for the amount of the mortgage. This is the absolute minimum coverage the bank will allow since they want to be paid back if the house burns down. "While this protects the bank, it doesn't protect you," says Erkis. "You need a place to live so you need insurance to be able to rebuild your house, not just pay back the bank."
You Need Separate Coverage for Natural Disasters
The reason why insurers don't include damage from natural disasters in their standard policies is that it would cost too much to cover, explains Erkis. In turn, the cost of premiums for policies would spike, becoming unaffordable to the consumer. Through the National Flood Insurance Program (NFIP), homeowners who live in flood-prone areas can receive affordable, subsidized flood insurance.
If you live in an area with the slightest chance of a flood, hurricane, or earthquake, you'll want to consider purchasing add-on insurance to cover it. Not having coverage could prove outright disastrous.
Case in point: When it comes to floods, damage caused by Hurricane Katrina alone cost over a $50,000,000,000. (You read that correctly.) What's more, 90 percent of all natural disasters in the U.S. involve flooding, according to the National Flood Insurance Program (NFIP).
A Note About Damage Caused By Wildfires
While you have to purchase add-on insurance for most natural disasters, a standard homeowners' insurance policy typically covers destruction and damage to your home in the case of a wildfire. Both renters and homeowners insurance covers your belongings that were lost in a fire. Plus, your policy can also reimburse you for accommodations and meals out if your home is unlivable as a result.
Understand the Basics
When purchasing insurance, you'll want to get your head around basic terms:
Deductible: This is how much you'll need to pay out of pocket before your insurance company starts coverage. Deductibles can be based per year or per incident.
Limits: This is the maximum amount a policy will cover for certain types of damages, incidents, and belongings. For instance, with a standard homeowners insurance policy, besides coverage to repair or rebuild your home, there are dollar limits for coverage on your jewelry, art, and collectibles if stolen. Trees, plants, and shrubs are also typically covered up to a set amount per item.
Premiums: This is the amount you owe on your policy, based on your coverage and types of policies. The higher your deductible and lower your coverage amounts, the lower your premium. On the flip side, the lower your deductible and higher your coverage amounts, the higher your premium.
Claims Process: Before you receive money from the insurance company for the repairs, you'll need to file a claim with the insurer and have it verified and approved.
Know Exactly What's Covered
To ensure you have enough coverage in cause of a natural disaster, you'll want to pore over sample policies. Policy summaries will give you a better understanding of what's covered under both your standard insurance policy as well as ones specific for natural disasters. If you can't find this information on an insurer's website, you can request one by reaching out to a representative.
Talk to a Representative
If you have questions, reach out to each insurer. Come up with hypothetical scenarios to understand exactly what is covered and for how much. Sure, it can be time-consuming, but it's far better to spend some time getting the right answers than finding out later that you're underinsured or don't have proper coverage.
Document Everything
Should your home or car be destroyed in a natural disaster, take photographs of the damage, and record as many details as you possibly can. With homes, you'll need someone to assess the damage and get quotes from contractors. As for cars, routine damage will be reviewed by an adjuster or by an auto body repair shop.
"Contact the insurance company immediately after the damage happens to see how they want to proceed," says Erkis. "If the police are involved, you will need to get the police report and it can be helpful to take pictures of the other car or situation, just in case you need it."
Need help bringing down the cost of your insurance policy? Check out our guides to saving on homeowners insurance and reducing the cost of car insurance. If you have questions on managing your debt in the wake of an unexpected disaster, reach out of Money Management International (MMI). Our counselors are here to help.