When a Loved One's Illness Puts You in Debt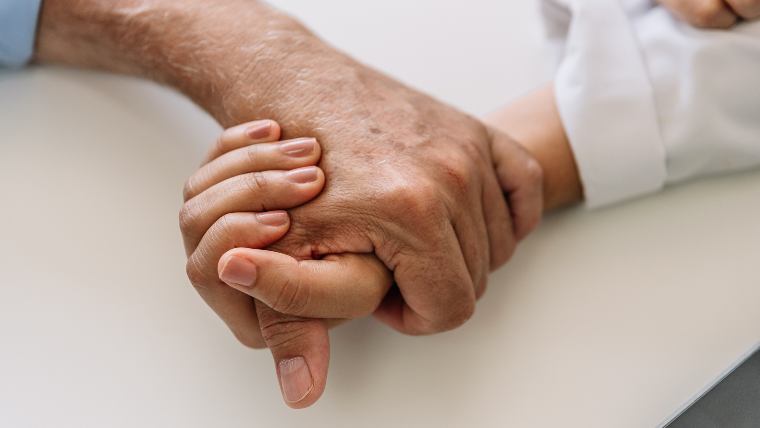 This post discusses the financial challenges faced by individuals and families when a loved one's illness requires expensive medical treatments, and it offers advice on managing medical debt, seeking financial assistance, and finding emotional support during such difficult times.
A Family Healthcare Crisis
Several years ago, former MMI client Paige Demontigny faced a difficult decision, which to her wasn't really a decision at all. She had a family member who was diagnosed with a difficult health condition that required treatment from out-of-network specialists and expensive brand-name medication. For a variety of reasons, responsibility for managing the health crisis landed on Paige, including the cost of the prescription.
Out-of-pocket medical expenses
The out-of-pocket medical costs—about $5,000 per month—went well beyond the family's budget, and Paige's family turned to credit cards to cover the cost. The situation was complicated and stressful, and Paige felt stuck.
"I was simultaneously searching for copay assistance programs and paying off the insurance deductible while clinical decisions about the efficacy of each medication were being decided," she says. Unfortunately, there were no alternative affordable treatments for the condition.
Stress due to family illness
To make things more difficult, talking about finances created more stress for the ill family member, so Paige's family avoided conversations about clinical care and costs. "The burden was very heavy," she says.
At the time, she wasn't sure how she and her family would make it through the challenges of the medical and financial stress. She worked more than one job and cut expenses where she could to keep up with the ballooning debt, but it wasn't enough. She racked up $24,000 in credit card debt.
"Being in survival mode when you have to carry a financial or caregiving burden feels like trying to drive a car without your hands on the wheel," she says.
Programs to Help with Medical Costs
If medical costs are weighing you down, start by finding out if you qualify for financial help. You may be eligible, and that extra help could ease your situation. For help with covering prescription costs, check with the pharmaceutical manufacturer to see if they offer specific programs to help offset the cost. Many expensive prescription drugs also offer co-pay assistance programs to help manage the cost of the drug.
Also, check with your insurance company and your doctor to see what other options are available. Good health comes first, but there may be alternatives that cost less or are covered by your insurance, so keep asking questions about costs.
For financial assistance for serious illnesses or to find a patient support organization, check out a nonprofit like Patient Access Network Foundation to see what help is available. If the foundation you contact can't help, it may be able to point you to another foundation focused on your disease.
Here are some other resources to explore:
Charity care programs: Many hospitals offer charity care programs that provide financial assistance to patients. The assistance is usually based on income and family size, and it's worth checking into, even if you're not considered low-income. Contact the hospital billing department to ask for the application to apply for a discount on your hospital bills. The hospital may call it charity care, bridge assistance, or financial assistance.
Medicaid: This is a government program that provides healthcare coverage to low-income individuals and families. It can be a vital resource for those struggling with medical bills. Eligibility criteria vary by state, but 41 states have "expanded Medicaid," which makes qualifying for the assistance a little easier. Check what your state offers and requirements for signing up. Start with healthcare.gov to locate your state's health insurance website if it has one separate from the federal site.
Medicare: For people 65 and older or those with certain disabilities, Medicare is healthcare insurance designed just for you. While it doesn't cover all medical expenses, it can significantly reduce healthcare costs for eligible individuals.
Tips for Managing Medical Debt
Managing burdensome debt is difficult for anyone. There are no quick fixes, but emotional support and financial guidance can help. Here are some other tips.
Prioritize expenses
When money is limited, it's always helpful to rank your collective needs and wants. When making hard decisions, you can lean on your established priorities.
Look for emotional or spiritual support
Making big financial sacrifices and adding new burdens can feel overwhelming, especially if it feels like you're doing it alone. Even if you can't find financial support, don't neglect your emotional support. Find friends and community so you can vent or decompress with people who get it. These situations can feel extremely unfair and taxing, so give yourself the grace you deserve.
Don't forget to reward yourself
That doesn't necessarily mean splashing out in a big way but do avoid limiting yourself so much that you don't have anything to look forward to. Even with a tight budget, make space for fun, relaxation, and celebration where you can. Maybe that's a picnic potluck with friends or a nearby hike followed by ice cream. If you only sacrifice and struggle, you're going to wear out quickly.
Embrace the good
The cost of healthcare can be cruel, but when it brings our loved one's better health, that's something to celebrate. Try to feel appreciation whenever possible for the progress with someone's improvement.
Reach out for financial guidance
If Paige could go back and do things differently, she would ask a financial professional earlier for guidance on budgeting, making financial adjustments, and finding programs for extra help. Her advice to others who find themselves in a similar situation: "Slow down and discuss options with programs like MMI."
Paige is right: you're not alone. If you need help navigating financial challenges, we're here to help. Even if you have limited options for an expensive medication, we may be able to help you adjust your budget and tap available medical resources to help you make ends meet.