How the Servicemembers Civil Relief Act Can Help Military Families Get Out of Debt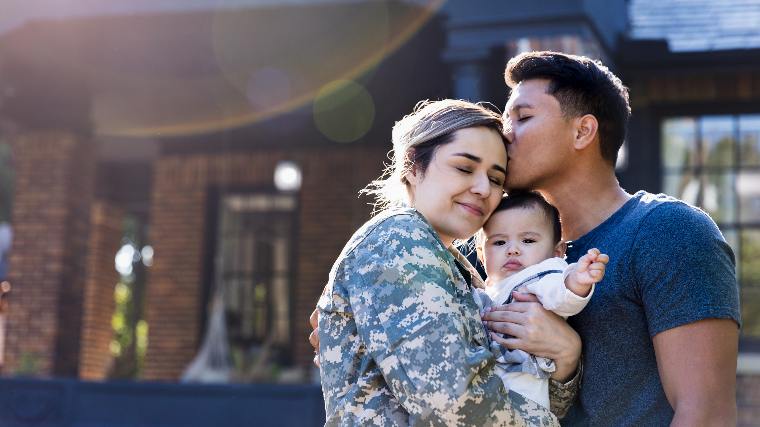 The following is provided for informational purposes only and is not intended as legal advice.
Digging yourself out from debt can be overwhelming, but if you're a military servicemember, there's help. This help comes in the form of the Servicemembers Civil Relief Act (SCRA) and it provides a number of valuable protections for you and your finances.
SCRA benefits start the date your active duty orders are received and terminate within 30-90 days of your discharge from active duty. And financial relief under the SCRA is available to active duty members of all Uniformed Services branches and can also apply to their spouses and children.
Here are some of the most important ways the SCRA can be used to help military families repay debt, avert certain fees, and avoid eviction and foreclosure.
Interest rate reductions
Under the SCRA, you may be eligible to receive financial help for credit card and loan interest rates, including student loans. If you are eligible, your interest rate will be lowered to 6 percent (the cap) or less, which could lead to your monthly payments being reduced as well. If you're on active duty and you have debts with an interest rate above 6 percent, make sure you use your SCRA benefits to get that rate reduced.
One thing you need to keep in mind though, this only applies relief to debt you incurred before serving on active duty. Debts accrued during active duty are not eligible.
Read more: Understanding the Cost of Interest
Relief when breaking contracts and other protections
You can also receive relief in the event you're forced to break cellular service provider contracts, rental agreements, auto leases, and other contracted services. No more "early termination" fees. This applies if you relocate or deploy for 90 days or more.
The SCRA can also protect you from eviction (as long as your rent is lower than $3,716.73 per month – this amount changes annually), make sure your security deposits are refunded, and protect your assets in other installment contracts. You will be protected from default judgments, receive postponements for foreclosures, and be eligible for postponed civil judicial proceedings. This includes divorce and child support hearings. You can also defer your income tax payments.
Without a court order, your home cannot be foreclosed on and your vehicle cannot be repossessed as long as you made a deposit or at least one payment before you began active duty.
Read more: Everything You Need to Know About Repossession
If you have a self-storage unit, the owner of the facility is prevented from selling your belongings for overdue rent without a court order.
Best of all, the SCRA states that if you use your SCRA rights and delay payments or cancel contracts, it won't reflect on your credit report.
How to access your SCRA benefits
In order to receive your benefits under the SCRA, you must first invoke or request the relief. Your active duty military status must then be verified before you will be able to receive the benefits. The process of applying varies slightly for each company and organization.
In order to apply for the benefits, contact your creditors with a letter containing the following information:
Account number
Start date of active duty service
The specific benefit you're requesting, being sure to note that the request is "pursuant to the SCRA"
Copy of active duty order
Many on-base legal offices have an SCRA letter template available for you as well.
If you're dealing with overwhelming debt or difficult monthly payments and you're an active duty servicemember, it's time to look into the SCRA and take advantage of your benefits.
And if you need additional support with credit card debt, a debt management plan from MMI may be just the right solution. We can help you lower your interest rates and accelerate your repayment. Begin your free, no-commitment online analysis and see how much you can save.
"Before I knew it, I was 25 years old and I was transferring to Japan for the first time, Yokosuka. And my supervisor was like, 'Hey look, your security clearance is gonna get taken if you don't get this debt under control.' I had just tipped over the $80,000 mark."

Hear how MMI client Demetrius fell deep into debt during deployment in the Navy and how MMI helped him make his comeback.