I Make Good Money — Why Can't I Get Out of Debt?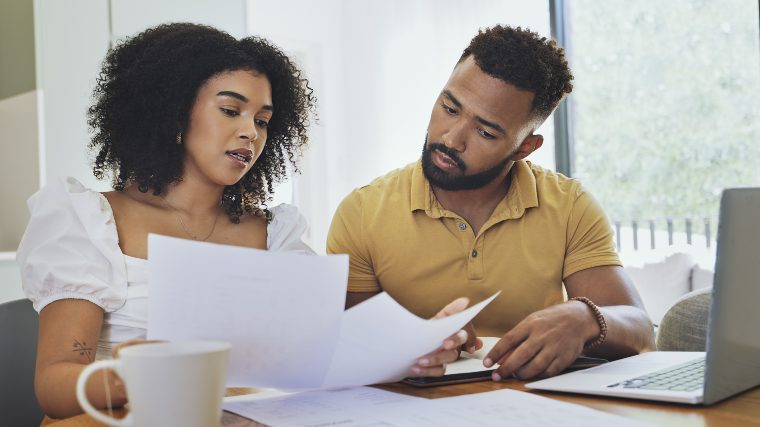 If you feel like you're working hard, making good money but still can't get out of debt, you're not alone. Not everyone who has debt is low-income, and getting out of debt sometimes takes a little extra help. Ericka Rutledge's story with debt began when she went back to college for her master's and doctoral degrees. It took time, but she was able to break through her personal debt barrier through hard work and a debt management plan from MMI, paying off debt fast: $33,000 in just four and a half years.
How Ericka's Debt Journey Began
Soon after she graduated with her bachelor's degree (debt free), Ericka started a master's program at New York University that necessitated taking out federal student loans. On top of the student loans for tuition, she took out private loans to cover the expensive costs of living in New York City while also working to cover some of those costs.
The Challenge: Student Debt, Medical Debt, Interest & Living Expenses Piled Up
From her master's, Ericka went on immediately to a doctorate in clinical psychology, and during that six-year stint of study, her debt continued to grow. Due to the intensity of the classwork and the required practicums, Ericka didn't have time to work during those years, relying instead on additional education and private loans. Though she received a graduate stipend, it wasn't enough to cover living costs.
Like many students, she didn't really think about her student debt. "I was like, when I get out, I'm going be a doctor. I'll have a good income. We'll figure that out then," she says.
To compound the problem during that period, she developed some problems with her vision that led to medical expenses she hadn't planned for. Meanwhile, her student loans from her master's program came due, and she deferred them or put them into forbearance with interest accruing all the while.
Ericka started her first job soon after completing a post-doctoral position. A new baby added expenses, but Ericka's position as a clinical psychologist was supposed to solve the debt problems. She was paying $1,000 per month toward student loans but the payment barely touched the principal, instead going to accrued interest. She was frustrated the balance wasn't moving in a downward direction.
"I was really focusing and trying to pay significant amounts to my principals every month," she says. "It just wasn't moving, and it was such a defeating feeling."
She also began to realize she was struggling to make the minimum credit card payments. A financial consultant referred Ericka to MMI for a debt management plan.
It's OK to Ask for Help Getting Out of Debt
In Ericka's words, she was "definitely a skeptic" about getting help with debt management planning. But, she says, "The lesson that I learned is that there are people that are out there to help, and it's not a scam."
She's appreciative of the help she got from MMI to tackle her credit card debts. As for her student debt, she's on a path toward forgiveness through a program offered through her employer. She's still working on paying down her private student loans, but the breathing room she gained by paying off her credit cards through MMI's debt management plan has made those payments more manageable.
Money Management Tips for College Students
Student debt is an unfortunate reality for many students, and Ericka's situation is no exception. According to the Education Data Initiative, graduate students in 2022 hold an average of $106,850 in federal student debt alone (compare that to $26,190 for bachelor's degrees) with nearly 75% of professional doctoral students holding student debt. Women and Black students carry greater amounts of debt.
No surprise if you need to take student loans, but there are some helpful money management tips for students to minimize the amount of loan debt you take. Here's what to do:
Create a budget
Try to keep expenses to a minimum while you're in school to limit the amount of debt you accumulate. During your student years, it's best to live as frugally as possible.
Limit borrowing as much as possible
Ericka needed to supplement her budget by taking out private loans and that's a totally understandable choice. If you feel confident in your earning ability post-graduation, borrowing can make sense. But the less you borrow, the smaller the financial burden you'll have when you leave school and payments come due.
If you do borrow, track your loans before you graduate so you understand how much debt you'll have upon graduation. Public Service Loan Forgiveness may be an option for your federal loans in your field of employment. Knowing if this path is available to you can help you plan your borrowing.
Look for scholarships and grants
Always exhaust every scholarship and grant opportunity before borrowing for college or graduate education. Usually grants and scholarships apply to undergraduate degrees, but some graduate degrees may offer scholarships or stipends (common for PhD programs).
Work part time or look for work-study programs
Your education comes first, and you shouldn't overextend yourself, but any little bit of income you can generate while in school will help. That could be gig work like childcare or day labor, or seasonal work like a retail position through the holiday season.
Work-study programs are campus jobs for undergraduate students who qualify through the FAFSA. Even if you don't qualify for work-study, most campuses also offer non-work-study jobs available to anyone.
Tips for Higher-Income People in Debt
Surprisingly, higher incomes don't necessarily protect you from debt, and they don't always make getting out of debt easier. In fact, the higher your income, the higher your debt on average. It's important to be mindful of your spending no matter how much money you make—or plan to make.
Sometimes income alone isn't enough to overcome debt, especially large amounts of debt with unfavorable interest rates. If you don't feel like you're making progress, it's time to do something else. Try these tips:
Talk to lenders/creditors to see if they can reduce your debt interest rates or potentially refinance you to a loan with a lower rate.
Make a budget and stick to it.
Explore debt consolidation options if your current payments aren't making a dent in your debt.
Talk to a financial counselor to discuss your options.
Ericka is on a solid path. If you're curious to see how much you might be able to save with a debt management plan, complete a free online debt analysis and we'll show you what a DMP could look like for you.