Best Low-Cost Apps to Help You Save Money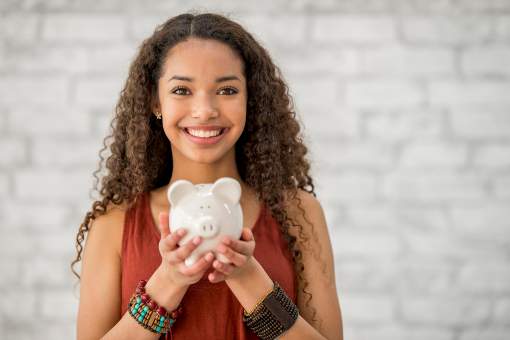 In our booming age of financial technology, there's no shortage of apps to help you with your money. From investing to tracking your debt repayment to creating a budget—you guessed it— there's an app for that.
The downside? It's easy to get bogged down by the plethora of choices. How can you gauge which app is best for your needs? To help you make wade through your options, we've rounded up the best apps that help you build your savings (and don't cost a pretty penny to do it):
Clarity Money
Founded in 2016, Clarity Money is one of the newer free money management apps on the block. But with it's easy-to-use interface and cool features, it's worth a nod. Besides boasting all the nifty features of a solid money app, such as tracking your transactions, breaking down you spending into categories, and giving you access to a free credit score, you can save for a goal.
As Clarity Money was acquired by Goldman Sachs in 2018, through Marcus by Goldman Sachs, you can open a savings account. You can set up auto-transfers to tuck away money on the regular. The best part of Marcus By Goldman Sachs is that you earn 2.25 percent annual percentage yield (APY). Plus, you only need a $1 to earn the higher-than-average APY. However, the number of transfers and withdrawals is capped at six per month.
Digit
If you want to save effortlessly, then Digit is the app for you. Using an algorithm, it tracks your spending and saving patterns to figure out how much you can afford to save. Plus, you earn a 1 percent bonus that's paid out every three months. So let's say you have $4,000 in your Digit account. You earn $40, but will receive $10, which is a 0.25 percent, or a quarter of the 1 percent bonus.
Besides saving into the default Rainy Day Fund, you can set up different savings accounts for each of your goals. To up the fun, you can assign an emoji to each goal. There's no limit as to how many goals you can set. Digit also sends daily texts with your daily checking balance. While there is a $3 monthly subscription fee, the fact that Digit makes it fun to save makes it a worthwhile expense.
Qapital
Qapital enables you to set up goals and assign a cover photo and target amount. Besides auto-saving a set amount each week, there are a bunch of fun rules to help you save. For instance, there's 52-week challenge, where you save $1 the first week, $2 the second week, and so forth, until you hit $52 the last week. Ultimately, you'll save $1,378 in a year's time.
There's also a rule where if you spend under X at a certain store, Qapital will squirrel away the difference toward a goal. For instance, let's say you set a budget to spend $100 a week at the grocery store. If you spend $75 and come $25 under, Qapital will save $25 toward that goal.
You can also link to the "If This, Then That (ITTT)" applet, where you can save depending on weather conditions, on your music playlists, or when you tweet.
As for pricing, Qapital offers three membership tiers: Basic ($3 a month), which grants you access to Qapital's saving, budgeting, spending, and investing tools; Complete ($6 a month), which enables users to gain deeper insights on their spending habits and build a deeper understanding of your financial well-being; and Master ($12 a month), which includes webinars and challenges. If you're looking for a fun way to save for your goals, the Basic tier at $3 a month should do the trick.
Charlie Finance
While technically not an app, Charlie Finance is certainly worth mentioning. With its adorable penguin mascot, Charlie is a free chatbot that analyzes transactions to your linked bank and credit card accounts. It then makes recommendations on how you save for your goals and pay off credit cards. It also keeps an eye on your accounts so you can avoid overdraft fees and helps you spot deals. According to its website, it's helped users save an average of $80 per week, and is helping pay over $50 million in credit card debt.
Pointers on Saving
Start With Free: If you can, start with free or low-cost apps. There's no reason to spend a lot of money just to save money.
Make It Easy: Making it as painless as possible will help you continue saving. Set up auto-transfers, make it fun, and monitor your progress every so often.
Start With One Goal: Make a list of all your money goals, both short-term and long-term. Then choose one goal to start saving for. Once you've made some progress, you can start saving for another goal.
If you'd like some guidance on how to boost your financial situation, reach out to Money Management International (MMI). Our around-the-clock accredited counselors are here to help.