Best Apps for Beginner Investors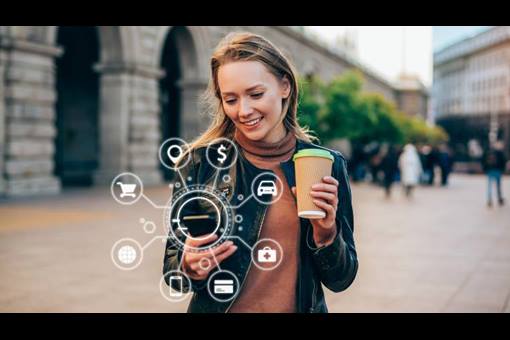 The following is presented for educational purposes only. For specific investing advice, connect with a qualified financial advisor.
If you've been diligently focused on repaying your debt (big kudos to you, by the way), investing probably sinks to the bottom of your list of financial priorities. After all, when you've got bills to handle and a credit card balance to pay off, saving for your future oftentimes takes a back seat.
Sure, investing is a powerful way for your money to grow, but it can certainly be intimidating. There's so much to learn, not to mention you'll need to free up some funds. And that's certainly a tall order when you're already feeling squeezed.
But with the slew of existing apps to help you with your finances, it's easy to get started. The beauty? There are a handful geared for beginner investors who don't have a lot of spare cash.
We'll go over our favorite apps to get started investing:
Acorns
If you don't have a ton of money to invest with, Acorns is a great app to help you take the plunge. How it works is it rounds up transactions from your linked bank and credit card accounts, and invests the change. For instance, if you spent $4.50 at a coffee shop, it'll round up to $5 and invest the $0.50. Besides investing from your round-ups, you can bolster your contributions by auto-saving on the regular.
After answering a series of questions, Acorns will recommend one of five portfolios, which range from conservative to aggressive. These portfolios are made of ETFs, which are funds that bundle securities—stocks, bonds, commodities.
Amount to Get Started: While there's no minimum amount to just open an account, your roundups or initial investment need to add up to $5.
Fees: It costs $1 a month for accounts under $5,000. If you have more than $5,000, it kicks over to 0.25 percent of your investments.
Stash
Like Acorns, you only need to pony up $5 to get started. Stash features pre-made portfolios with ETFs based on your interests (i.e., Clean & Green, Corporate Cannabis, Destination Recreation, etc.), or comfort level with risk (i.e., conservative mix, aggressive mix). You can also build your own investment portfolio.
Minimum Deposit: $5
Fees: Like Acorns, it costs $1 a month for accounts under $5,000. If you have more than $5,000, it kicks over to 0.25 percent of your investments.
Robinhood
Robinhood is a trading app that allows you to trade for free. You can trade ETFS, stocks, options, and cryptocurrency. That's right, there's no commission fees. On the flipside, the platform is known to be less robust in the research and analytical tools that you'd find through a traditional online stock brokerage.
Minimum Deposit: Zero
Fees: None
Stockpile
Stockpile is another neat app where you can invest with just $5. You can choose from over 1,000 fractional shares of stocks and ETFs to choose from. You can gift stock through Stockpile, either with a egift card or physical gift card. It's fun to think of investing in stocks by using a tangible object such as a card.
Fees: It costs 0.99 per trade. There are no monthly fees or minimums. If you're buying an egift card, it's $2.99 for the first stock, .99 for each additional stock, plus a 3 percent card to pay with a debit or credit card.
Ground Rules
A few pointers on investing when you're just getting started:
Create an investing plan
Know what your goals are to save. Are you budgeting for a down payment for a home, to pay off your debt, or for retirement? Besides your goals, know your timeframe and budget. And of course, your comfort level with risk and uncertainty.
Know the fees
If not careful, fees can eat up your earnings. Costs might include advisory fees, investment management fees, expense ratios, commission fees, front-end load (a fee you pay when you buy a fund), a back-end load (a fee you're charged when you sell a fund), and an annual account fee.
You'll also want to know when you're charged and how. If you're not sure after checking the website, reach out to chat with a rep to get your questions answered.
Save to invest
Of course, you'll need some money to get started. If you only have $5 a week to start, carefully check the fees to make sure it's worth your while. Let's say you don't have a lot of money, and it turns out the fees essentially drain your account. In that case, you might want to save until you have a larger chunk to work with.
Read more: Low-Risk Ways to Start Investing
Want to learn more about how investing ties in to your financial plan? Reach out to an accredited credit counselor at Money Management International (MMI). We're here to help.