Smart grocery tips for seniors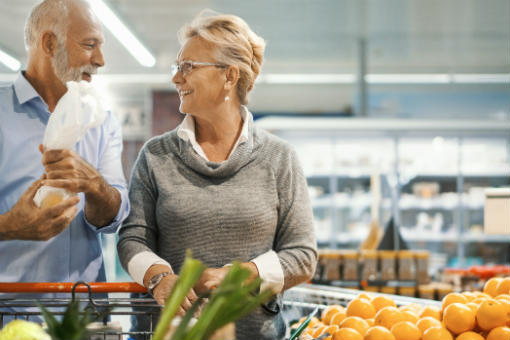 If you're a senior citizen or you care for someone who is, grocery shopping can be a challenge. Between the trips to the store, getting around the store, and shopping on a fixed income, it can be hard to make sure there's healthy food in the house. But fortunately, there are a few ways to make sure there's plenty of good food, even on a tight budget, and even help in getting around.
Here are the best tips for grocery shopping if you're a senior or care for a senior:
1. Find Transportation Assistance
If getting around is a problem, look into volunteer driver programs in your area; many churches, community centers, and nonprofits offer them. They'll take you back and forth, help you get around the store, and even help with bringing groceries in the house. If you can't find a volunteer program, try a rideshare program like Uber or Lyft. Both companies have taken measures to make their services easier to use for seniors. Lyft has even partnered with GreatCall so you only need to press zero on your Jitterbug phone to have an operator book a ride for you. Uber offers a toll-free number in many states through RideWith24 to make it easier to order a ride without using an app.
2. Hire Help
If you're able to take of yourself in your own home, but need help running errands and getting around, consider using a personal concierge or a home-care service. Most offer an hourly rate and can run errands for you or help you with the errands you want to take care of yourself.
3. Use Delivery Services
You may also want to consider ordering your groceries online and having them delivered. Many of the larger chain stores offer this option. If you choose to use this method, be sure to note the brands you prefer so they don't make substitutions without your permission.
4. Shop Discount Days
In addition to delivery services, many grocery stores offer senior discount days with 10-20 percent off your total grocery bill. Ask at the customer service desk to find the best day to do your shopping.
5. Choose Your Store
A larger chain store is more likely to offer discounts, manager specials, and accept more coupons than smaller stores. As an added bonus, their aisles are wider and they have more staff available to help you. All stores are different, however, so consider your preferences and select a store that caters to your needs.
6. Make a List
The best way to save money is to make a list before leaving the house to avoid buying items you already have at home and keep impulse purchases to a minimum. Check the store ads and look for coupons then base your meal plan and shopping list on the discounts you find.
7. Shop the Perimeter
The healthiest foods are around the perimeter of the store in the produce section, meats, and frozen foods. Buying frozen fruits and vegetables can be less expensive than fresh and they'll last much longer. And if you find a deal on meats, stock up and keep the extra in your freezer for another time. Shopping these areas will help you save money, especially if you look for deals. In season produce is always less expensive and meats are often put on sale if the expiration date is getting close.
Just because you have a difficult time getting around and live on a fixed income doesn't mean you can't go grocery shopping and buy healthy food. It just takes a little more planning. If you need more tips on reducing your grocery spending, check out our ultimate guide to saving on groceries.