Six Steps to Financial Success After a Career in Sports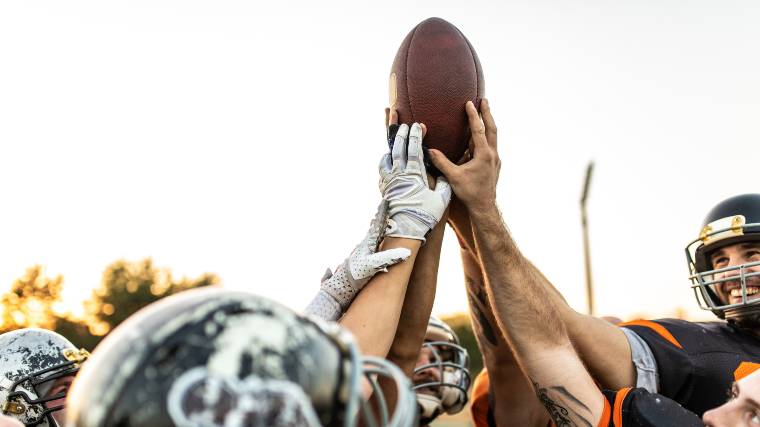 The confetti had barely stopped falling at the Hard Rock Stadium in Miami, Florida, where the Kansas City Chiefs won the NFL's 52nd Super Bowl, and many players were already grappling with one of the most consequential questions of their careers: Would this game be their last?
With the average NFL career lasting just more than three years, it's a question that every player will have to consider sooner rather than later. Even professional athletes in less physically demanding sports face uncommonly short careers (typically less than ten years) that produce relatively high earnings before players enter a long retirement.
This scenario is almost entirely unique to professional athletes who, even by modest standards, earn about thirty-six times the annual salary of the average worker. From an investment standpoint, this places athletes in an enviable position. Still, it's one that can quickly go awry if they make bad financial decisions early on or fail to plan for a future without a seven-figure annual income.
As a result, careful, intentional planning is required to ensure financial wellness well into retirement. Fortunately, while everyone is familiar with the horror stories from programs like ESPN's Broke, which documents the plight of athletes who wasted their hard-earned income from their playing days, many athletes are well-positioned to execute on a financial strategy that positions them for the win.
Professional athletes are no stranger to preparation. They are disciplined planners, fearless executors, and models of excellence. With the right plan, they can harness their high earnings during their playing days into a lifetime of financial well-being. To get started, here are six steps to financial success after sports.
Determine Your Net Worth
Simply put, it's impossible to start a journey without first knowing the starting point. Net worth is the difference between assets and liabilities, and, from a planning perspective, it's the first step to developing a personalized plan that maximizes opportunities while mitigating risks from debts and financial obligations.
While several free online calculators allow anyone to calculate their net worth, it's easy to determine this amount just by listing assets and liabilities and identifying the difference between the two.
This process is especially crucial for NFL players who often play without guaranteed contracts and who face the shortest playing careers because of the unique physical demands of their sport. However, regardless of an athlete's sport, determining net worth is a critical first step that will help guide subsequent financial decisions.
Create a Budget
One NFL organization displays a message in their facility: "Discipline is choosing between what you want now and what you want most." When planning for a sustainable financial future, a personal budget is a way to identify the things you want most and to chart a path that will make those dreams a reality.
It also requires a unique amount of discipline. Budgets can help eliminate or manage debt, while establishing appropriate spending levels in different categories. In addition, it might be helpful to create a financial calendar that allots daily, weekly, and monthly evaluations of your ongoing financial picture. These brief assessments will help set your spending goals for the day, week, month, and year.
Review Credit Reports
Debt isn't necessarily a bad thing, but excessive amounts can make long-term wealth development difficult. Review your credit reports regularly to better understand your debt situation and determine which outstanding debts need to be eliminated. Ultimately, everyone should strive for a high credit score, which translates to lower borrowing rates, and, in the end, more money in your pocket.
Reduce Spending
For many nuanced reasons, many professional athletes increased their spending during their playing careers, relying on high paychecks to fund a lavish lifestyle. Of course, in most cases, these spending habits aren't sustainable forever, and athletes will need to reduce their cash outflow to pursue other priorities.
Regardless of their sport, most professional athletes will need to reduce spending in exchange for a bright financial future that still meets their needs and wants.
Evaluate Your Financial Team
Professional athletes are uniquely talented at their sports, but their success is often largely influenced by the coaches, trainers, and teammates who support and bolster their playing careers. The same can be true for financial planning. Plan to connect often with your financial advisors, CPAs, and other advisors in order to determine your priorities and navigate a smooth transition from career to retirement.
Since professional athletes face unique financial planning opportunities, there are many athlete-specific support systems that can help. Just like every athlete didn't make it to the pinnacle of their sport on their own, executing on a retirement plan isn't achieved in a vacuum. Evaluate your team and, if necessary, add new players to help meet your financial goals.
Know What You Don't Know
In general, the athletes who are most successful at planning and executing on their long-term financial priorities are the ones who took action from the start. No one is born ready to make complicated financial decisions, and everyone is in the process of learning how to navigate their financial future.
Therefore, those that engage in the process early and reach out for more information and resources are best prepared to reach their financial goals. The most successful people are willing to admit what they don't know. And remember - no one has to go through this process alone. If you need help and support, contact Money Management International. We can provide the insights and tools necessary to help you get started today.