I Returned My Car to the Dealer – Do I Still Owe Money?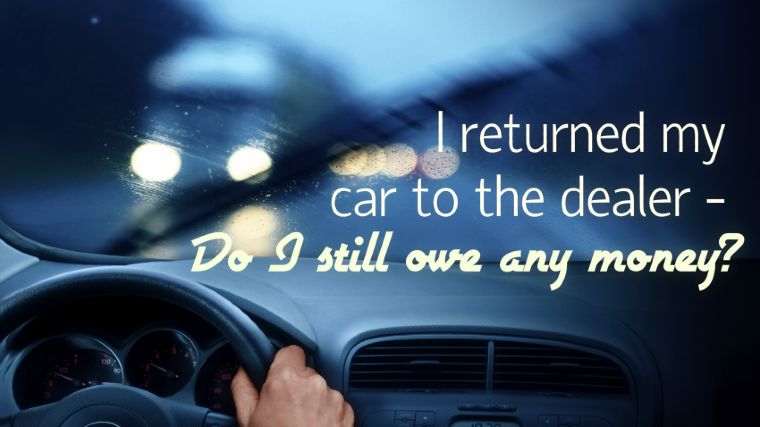 "Do I owe money on a car I bought and then turned back in to the dealership?" – Herbert
Hi Herbert,
Unfortunately, yes, you may still owe on the car. Simply returning a car to the dealer doesn't necessarily resolve whatever debt is attached to the vehicle.
The car and the loan may not be equal
It's important to remember that while they're very closely linked, your car and the loan taken out to pay for the car are two separate things. The car is used as collateral to secure the loan. Regardless of the car's condition or status, the lender still expects the loan to be repaid. Also keep in mind that the loan covers the purchase price of the car, but – at least initially – the car's value will drop much more quickly than the balance of the loan. As soon as you drive off the lot, you already owe more on the loan than your car is worth.
The loan needs to be paid in full
When you find yourself unable to make your car payments and ultimately choose to return the vehicle to the dealer (which is known as voluntary repossession), the dealer usually turns around and attempts to re-sell the vehicle. The proceeds from that sale would then go towards repaying the original loan. In most cases, however, the proceeds from the second sale are not enough to repay the original loan in full. The debt left over is still your responsibility.
For example, let's say you bought a car with a $25,000 loan. A year later you returned it. There's still $23,000 left on the loan. The dealer manages to sell the car for $18,000. In this scenario you would still be on the hook for $5,000.
If you're stuggling, get help
Get in touch with both the dealer and the lender to understand the status of your loan. The larger the amount of the outstanding debt, the more likely it is that a collector may begin to threaten legal action, which could include wage garnishment. If your loan payments are too high for you to manage, consider speaking with a certified budget counselor to review your income and expenses and discuss your options. Good luck!