How to Earn Money from Spring Cleaning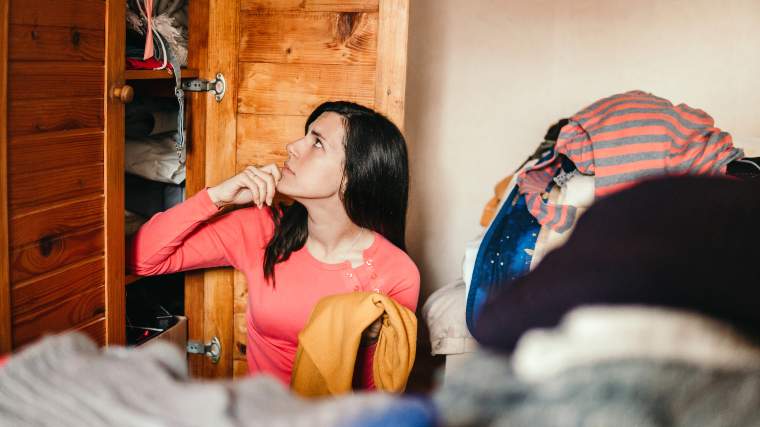 Spring cleaning is an opportune time to "shop in your closet" and uncover forgotten boxes of belongings. Eager to toss those boxes of vintage gift wrap passed down from your grandma? Or that pile of blouses unearthed from a dusty jumble in a cluttered corner of your bedroom?
While you're sorting through your items and deliberating over what to keep and what to nix, might as well make some money along the way. Here's how to monetize your spring cleaning, and turn your clutter into cash:
Sell Those Goods
Gently used and desirable items in decent condition can be sold online or in-person through yard sales, consignment shops, and secondhand stores. Take it from professional auctioneers and "stuff" flippers, who find bargains at swap meets, sell them for an enormous fee, and make a killing in the profit.
Furniture
You can contact the city to lug your sofa to the junkyard. Or make some money by selling appliances and furniture on OfferUp.
If you have more upscale or vintage pieces, consider putting them on higher-end auction sites such as Everything But the House (EBTH).
Clothing and accessories
Besides selling your clothing, shoes, and accessories to a brick-and-mortar consignment shop, you can also sell apparel cluttering your closets online. A few to try on for size: thredUP, Poshmark, Tradesy, and eBay. The fees vary, and you can check the payout before listing items for sale.
Books
Have multitudes of books lying on your shelves? Sites such as BookScouter, and BookFinder make it easy for you to sell books, including textbooks. You can figure out how much your book is worth by typing in your barcode.
CDs, DVDs, and video games
Decluttr makes it easy to get cash for your second-hand CDs, DVDs, video games, books, and cell phones. You can use the handy app to scan the barcode to see what your items can earn you.
If you decide to sell, shipping is free - they'll hook you up with a shipping label, you just have to find a sturdy box to send your loot in.
Unused gift cards
Gift cards usually fall into one of two categories. First, there are the ones to the chain restaurant and retailers you already love. These you'll probably have no problem using in a heartbeat. Then there are gift cards that you forget you even have, because the store doesn't have a location in your area or you just flat out don't like the retailer or restaurant on offer.
You can sell partially used gift cards on CardCash and Raise. Just know that these used gift card marketplaces usually charge a commission.
Donate Items and Get a Tax Write-Off
Feel good about getting rid of your belongings by making donating them to a charity of your choice. Before heading to the donation bin at a nearby charity or nonprofit, check to see exactly what kind of items the organization accepts and in what condition.
You'll also want to make sure the donation is tax deductible. You can check whether a nonprofit or charity is eligible to receive tax-deductible charitable contributions on the IRS's Tax Exempt Organization Search. The database isn't able to update changes an organization submits, so you might want to contact the organization beforehand for the details.
If you're feeling particularly generous, you can donate a percentage of the earnings from your decluttering efforts to a nonprofit of your choice. Keep a copy of a receipt for tax purposes. Either hold on to a hard copy, have the receipt emailed, or snap a pic of your receipt for your phone.
Become a Professional Home Organizer
Besides converting your stuff to cash, consider taking on a side hustle of being a professional organizer. You don't necessarily need to be a member of the professional organization and get certified to monetize your ace organizing skills.
You can get a jump-start offering such services on online service platforms like TaskRabbit. Depending on your level of expertise and whether you live in a smaller, rural area or large metropolis, you could earn anywhere from $40 to $200 an hour for an in-home consultation. You can also try giving virtual consultations by way of a video conference. The rates for virtual consultations are typically less than an in-home visit.
If you don't have professional training, ask your friends and family if they might be interested in hiring you to help organize and declutter their living spaces. To sweeten the deal to prospective clients, consider offering a special discounted friends and family rate.
Start a Side Hustle With Unused Items
While undergoing your purge, you might find vestiges of your hobbies and pastimes of yesteryear. If you'd like to breathe new life into a long-forgotten hobby while earning money, consider cobbling together items collecting dust to start a side hustle.
Ideally, a side hustle should have a low barrier to entry and doesn't require too much upfront costs, supplies, or equipment to get things moving. If you already have some of the supplies or equipment, even better.
For instance, those boxes of unused yarn, cloth, and crafty items can be used to create crafty creations to sell on Etsy. Or extra dog leashes and beds could be scooped up to use for dog walking.
There are plenty of ways to earn extra cash through spring cleaning. It just takes a bit of time, innovation, and creativity. Any extra money you earn could go toward your debt repayment or be tucked away for a savings goal.
If you'd like help coming up with a budget so you can live within your means, the NFCC-certified credit counselors at MMI can help! Counseling support is free and available 24/7.