Holiday Credit Card Debt - What You Need to Know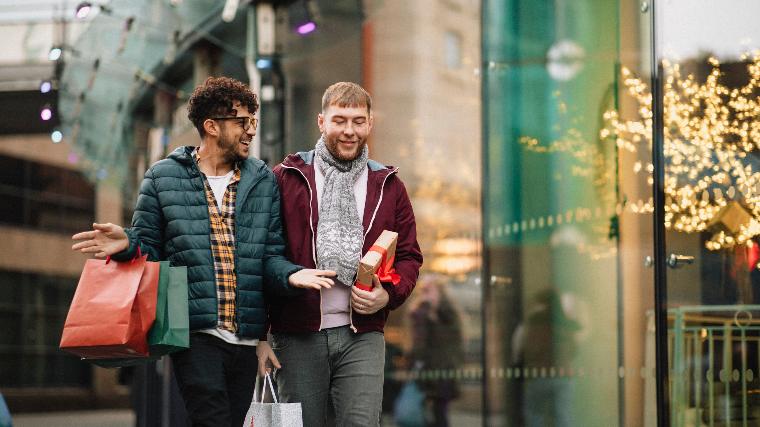 The winter holidays are nearly here! If you're wondering how you're going to afford gifts and extra groceries on top of regular expenses, you're not alone. This year's inflation is creating stress for many families.
The holiday season is a common time for people to rack up credit card debt for a couple different reasons. One is we simply spend more during the holidays. Two, we usually don't adequately prepare our budgets for the expense.
An ICSC 2021 survey found that last year consumers spent on average just over $1,000 during the holiday period, up from an average of $795 in 2020. It was a record-breaking year, and the main reason was pent-up demand from the COVID pandemic.
With higher prices due to inflation, this season may be more costly for many families. While some people might receive extra cash in the form of a holiday bonus around this time, many don't have enough money set aside for these extra expenses. That means many people will end up financing holiday spending on a credit card with the idea that they'll repay the debt sometime in the new year.
If you know your credit cards are going to take a hit, here are some strategies for how to pay down the debt.
Tips for Paying off Holiday Debt
Figure out what you owe
You can't make a plan until you know what you've spent. It can be painful to see the total, but it's important to take stock of all your statements and tally up the new debt. Pay attention to the total amount of debt, interest rates, payment due dates, and whether any accounts are past due. That helps you prioritize which cards to tackle first.
Create a plan to pay it off
Paying the minimum on your cards isn't going to get the debt paid off. It'll take some temporary reprioritizing so you can direct extra money at your credit card bills. Determine how much can you pay each month and commit to setting aside a specific amount to make payments above the minimum.
Ideally, you should create a detailed budget so you can see where your money is going. But if that's not how you work, look for those discretionary expenses you can cut for a few weeks. It might mean eating in, cutting out shopping, or postponing some planned spending. Remember that the cutbacks are temporary.
Stick to the plan!
Be tough about being consistent and disciplined. The sooner you pay down your holiday debt, the sooner you can get back to focusing on other financial goals—and going out to eat again.
How to Avoid Holiday Debt Completely
Of course, you might be asking yourself how you can avoid the holiday boom-and-bust cycle altogether. How can you tackle your shopping so January bills aren't so painful? The holidays come every year, after all.
Plan your budget
The key to a budget is to start early. Some people save throughout the entire year for holiday expenses. Even if you can't create an annual budget, aim for plotting out the last three months of the year.
As you begin spending for the holidays, dial down other expenses. Making sacrifices now can be a little more palatable if you're mentally connecting those cuts directly to the things you're buying instead.
Prioritize your spending
Figure out what matters most and tailor your spending to those values. Do you want to put kids' gifts first and reduce costs for gifts to adult family members? Host a meal for your extended family? Cut back on spending for coworkers? This way, you make sure that you satisfy your top priorities even if you're keeping a tight budget.
Don't compare yourself to others or past holidays. This year is this year. Try not to feel holiday guilt. That can lead to spending money you don't have out of a sense of obligation or social pressure.
Earn extra seasonal cash
Another way to reduce debt is to bring in more money for holiday spending. You still have time to beef up your bank account this fall. Your workplace might have extra projects or overtime shifts available, particularly if coworkers are taking vacation time.
Take a seasonal job if your schedule allows, such as weekend retail shifts at Target or Marshalls. You could also find a side hustle like childcare with Sittercity, dog-walking through Rover or Wag, or, if it's available in your city, helping people through TaskRabbit.
An easy way to make extra money is to sell things you're not using anymore. If you have good quality items, now is a great time to post them on eBay or Facebook Marketplace. Those sales can add up.
Be creative about gifting
It's often those last-minute splurges that blow the budget. Holiday shopping works best if you create a plan, shop intentionally, and stay on track. Also, try focusing on quality, not quantity. Get creative about making gifts if you like to bake, sew, or take photos. Give the gift of time or an experience, or regift a quality gift you received. Thoughtful regifting is perfectly acceptable.
We do understand that even with the best-laid plans, holiday spending can spiral out of control. If you need help repaying holiday debt, we can help. Begin your free, confidential online debt analysis and we'll match you with the fastest, most cost-effective way to repay debt.