6 Ways to Make More Cash During the Holidays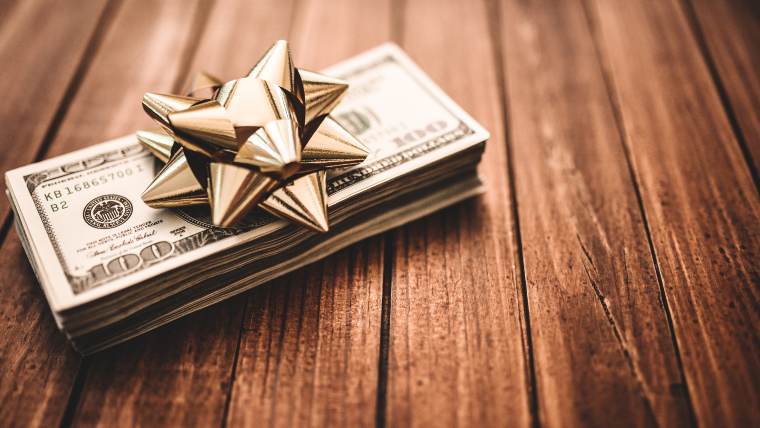 Tis the season — to go broke. Amid the travel, parties, and gift-giving, many of us are in danger of suffering from holiday debt hangover. According to a Credit Karma survey, in 2021 one in three Americans plans on going into debt from the holidays. To avoid going into debt in the first place, you can drum up new ways to rake in more money. Here are a few to consider:
Ask Your Boss for Overtime
Are you a non-exempt employee and eligible for overtime? There might be opportunities for you to take on additional work at the end of the year. If co-workers are on vacation and there are shifts to fill or tasks to complete, you might be able to swoop in and work extra hours.
When I worked for a calendar publisher, the end of the year was our crunch time. I would have a sit-down with my boss to see if there was anything I could help with. What's more, I've worked on special projects for different departments that needed an extra set of hands. While it might be unconventional to be involved with a different department, my employer didn't have to go through the hassle of hiring temps.
Get a Seasonal Gig
If you have the time and energy, consider being a seasonal employee or associate, suggests Allan Liwianag of The Practical Saver. "With so many big upcoming holidays, a lot of companies are in need of more workers to keep up with the customers' demands during Thanksgiving and Christmas," says Liwianag.
While you might not make as much as you might by going on your own and side hustling, you can easily apply through a retailer's website, fill out an application, and be guaranteed steady-ish work during the holidays. "Depending on your experience and the store's needs, as a seasonal worker, you can start earning minimum pay or more," says Liwainag. (FYI: The current national minimum wage in the U.S. is $7.25.) "So if you get a job that pays $10 per hour, and you put in 20 hours per week, then, you'd expect to make $200 per week."
Take on a Holiday Side Hustle
Consider side hustles that might have a spike in demand during the holidays. If you're taking on a side hustle just for the holidays, think of things that don't require a lot to get started. Maybe you already have the necessary equipment or know-how.
"Rideshare or delivery driving are in demand, as a lot of family members are flying in for the holidays, and people might also want groceries delivered around this time," explains Daniella Flores, creator of I Like to Dabble. "Also, you can pet sit for people who are out of town."
For instance, if you'd like to take on dog walking, you only need a leash and some sturdy walking shoes. And when you set up a profile on Wag or Rover, you would just need a solid review or two to start getting noticed.
Tap Into Your Talents
If you're known among your circle of friends for being an amazing baker, consider baking cookies, bread, or pies, and setting up shop at holiday fairs. If you have an artistic bent, you could do portrait photography or play piano at festive gatherings. You can look for opportunities on side hustle sites such as TaskRabbit.
If you're great at making friends and keeping people company, consider being rented as a friend. (Yes, this is an actual thing.) You can set up a profile on Rent a Friend, and scour listings to be someone's date at their company holiday party, or join an out-of-towner for a round of eggnog at a local coffee shop or a night of Christmas caroling.
Try to Boost Existing Sales
If you already run an online store, consider finding ways to boost your sales. "Research online prices on eBay, then source items and make sure you will at least get 100% return," says Flores. "Do as much research on this process as you can." For instance, look up YouTube videos on how to increase traffic to your site during the holidays, or on keeping your products in prime condition.
If you have an online shop selling homemade wares or art, dream up products that have a seasonal twist, or repackage existing items so they have more gift-giving appeal. For instance, if you create small vinyl toys, could you turn them into ornaments? Or could you potentially create a stocking stuffer version of your crafty creations?
Clean Your Closet
Just like how you can earn money during spring cleaning, you can declutter your place and sell unwanted stuff for cash. Plus, an end-of-year purge can make your place feel more spacious. There is no shortage of sites: decluttr and OfferUp are great online platforms to sell all things used, from books to records to furniture. Of course, you can also sell stuff on popular platforms such as eBay, Craigslist, and Facebook Marketplace.
Just because you might not have enough tucked away doesn't mean you'll be in the poorhouse when the new year rolls around. Coming up with ways to save during the holidays, plus earning more money, can help you avoid digging a deeper debt hole.
Need to balance your holiday budget? Let an expert help you find ways to reduce debt, spend less, and reach your goals. Credit counseling is free and available 24/7!