Which Online Shaving Retailer Saves You the Most?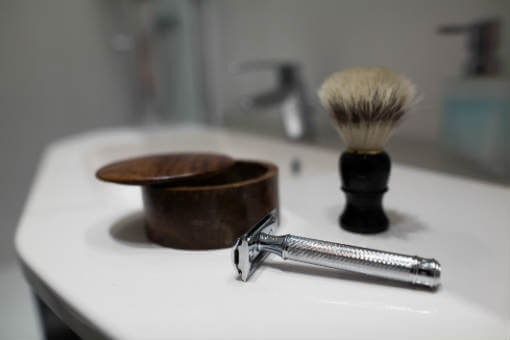 The following is presented for informational purposes only.
For something that you continually throw away and purchase again, razor blades are expensive. Many drugstores even keep them in a locked case.
Shave clubs make it easier, and less expensive, to replenish your supply, but which offers the best service at the best price? Let's take a look.
Dollar Shave Club
Dollar Shave Club is one of the most well-known and popular clubs. Their basic plan (The 4X) is $6 for four cartridges ($1.50 each) and includes free shipping. You can choose to receive cartridges every month or every other month. Your first shipment comes with a handle ($5 if you ever want to add a new handle to your shipment) and a trial size of their shaving cream.
They also have The Executive plan which is a better razor; $9 for four cartridges ($2.25 each) and free shipping. The starter package also includes a handle and trial shaving cream. With this plan, you can choose monthly, bi-monthly, or select your own shipping date.
As an added bonus, Dollar Shave Club also sells skin care and shaving essentials that you can include in your delivery boxes at a reasonable price.
Harry's
Harry's offers a trial set that comes with one handle, one cartridge, and a trial-size shave gel for $8 with free shipping. After that, you can receive 8 cartridges for $14.96 ($1.87 each) on your own shipping schedule. Shipping is free. You can easily change your shipping to meet your needs. And with 8 cartridges, you have enough to last at least two months, maybe more.
They only have the one option for cartridges, but do sell a variety of other products for skin care and shaving that you can add on to your shipment.
Billie
Unlike Dollar Shave Club and Harry's, Billie features razors developed specifically for women. Their cartridges feature 5 blades encased in aloe shave soap for a smoother shave. The starter kit is $9 and includes a handle, a magnetic holder, and two cartridges. After that, you can receive four replacement cartridges for $9 whenever you need them, no regular shipping schedules. Shipping is always free.
They only offer one cartridge option, but do offer other shaving essentials that you can add to your order.
Amazon Subscribe & Save
Amazon Subscribe & Save options are available for a variety of products, including razors. The difference here is that you choose your preferred brand and model of razor. While you can always make a one-time purchase, with Subscribe & Save you can 5 percent off the regular price with your first order and 15 percent off on future orders. You can select your own shipping schedule (items usually ship on the 2nd of the month) and, if you are a Prime member, you receive free shipping. You can add other Subscribe & Save products to make replenishing household items easier. Everything from shampoo to toilet paper to pet food. Prices vary based on the brand and items you select.
Choosing the best shave club option for you should include not only the best price, but the razor you like the best. You may want to try starter boxes from the different clubs for comparison to help you make the right decision for you. You can save money with every options, but saving money is meaningless if you don't like the product you're buying.