Pros and Cons of Using Weekly Meal Kits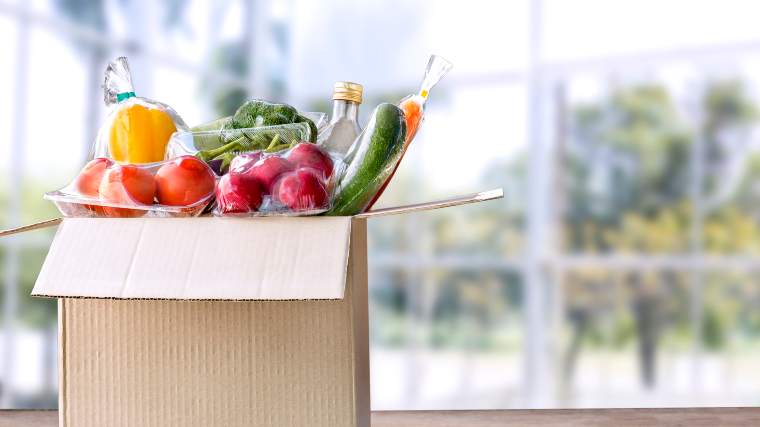 You can't turn on the TV or flip through a magazine anymore without seeing an ad for a meal kit service. If you've ever Googled one, you're probably seeing ads in your social media feeds as well. The options are endless including Hello Fresh, Blue Apron, Dinnerly, and Home Chef, just to name a few. New specialized options are popping up seemingly every month. If you want a cardboard box full of ingredients dropped off at your doorstep on the regular, you're more than covered.
But are they worth it? The pricing can be high and you still have to cook. There are some pros and cons of meal kits to consider before ordering your first box.
Pros of using a meal kit
Easy preparation
This is one of the biggest selling points of meal kit boxes. All of your meal ingredients come fully cleaned, prepped, labeled, and ready to use. There's very little work required to get your meal started. All you have to do is pull the packages you need for your recipe out of the fridge, open them up, and you're ready to start making dinner.
Simplified decision-making
For some, the biggest obstacle to grocery shopping and meal planning is a simple over-abundance of choices. Modern grocery stores mean you can get pretty much whatever you want, whenever you want. If you struggle with making decisions, it can be an overwhelming amount of choice.
Weekly meal kits almost always offer a variety of kits to choose from each week, but those choices are finite. It's much easier choosing three meals from a list of seven then trying to assemble a menu from scratch.
Less food waste
Most meals are designed to feed a specific number of people (usually two or four). Most importantly, this means that you're only getting the amount of ingredients you need to create the number of portions you'll be serving. Rather than having to buy a full bag of frozen peas, for example, you get the exact amount you need.
That simplifies your cooking process, but also creates way less food waste. A 2017 study estimated that meal kits reduce food waste by 27% as compared to meals constructed through ingredients you buy directly at the grocery store. That's good for the environment and your refrigerator.
Better nutrition
The meal kits are generally healthier than what you might grab at the drive-thru on the way home because all the ingredients are fresh and there are no additives or preservatives. Meals are also usually nutritionally balanced, so if you struggle with integrating leafy greens into your diet, supplementing with meal kits may help ensure that you're eating a better assortment of vegetables and grains.
Learning something new
A sneaky benefit of meal kits is that you're continually introduced to new recipes that you might not have tried otherwise. You may even learn a few new cooking techniques by following the recipes.
If you find a recipe you really love, you can replicate it yourself, without the meal kit.
Special diet options
Most meal kit services provide options for vegetarian and gluten-free diets. There are also a growing number of specialized meal kit services that cater to unique dietary needs and preferences.
Cons of using a meal kit
The cost can be higher than you think
Meal kits often marketing themselves on their affordability and compare favorably to getting similar meals from restaurants. However, the cost comparison doesn't hold up as well when compared to buying the groceries yourself and doing your own prep work.
If you're replacing takeout, the cost of a meal kit dinner is usually less expensive. But if you're replacing old fashioned grocery shopping and cooking, the convenience of meal kits can be pricey, so keep that in mind.
Your food is on a schedule
No matter what service you use, the ingredients you receive will largely be perishable, so you'll need to make your meals within a few days of delivery. It's not a major issue, but you'll need to make sure the deliveries line up with your needs so your kit doesn't go to waste.
You'll still need to go grocery shopping
You can replace multiple weekly meals with meal kits, but you'll still need to visit the grocery store (or order a delivery) for the rest of your essentials and additional meals. In other words, meal kits are a potential supplement to your weekly menu, but they're not really a good replacement for grocery shopping.
You need to continually plan ahead
Most services allow you to select your meals from a larger list. They also let you pause deliveries or skip weeks when nothing looks good. But you need to remember to monitor your account regularly or risk getting a box full of meals you don't want. If you forget and miss the deadline for changing an order, you'll be charged and shipped the default kit for the week.
More packaging waste
All ingredients are packed and labeled individually. There's also the box it's shipped in, the padding/insulation in the box, and the ice pack/cooling source that keeps your ingredients cold and fresh during transit. This produces a lot of packaging. Fortunately, a lot of it's recyclable, but there's still a significant amount of materials in play. Whether that's worse, better, or basically negates the reduction in food waste is up for debate, but for the end user, it means more trash and recyclables to consider.
There are both pros and cons of meal kits, only you can know what would work best for your household. Many services allow you a "trial" period to test the service at a discount. If you're considering using a meal kit service, try it out for a week or two before committing to make sure it's the best option for you.
If you're looking for more tips and suggestions for dining on a budget, check out our comprehensive guide to spending less on groceries.