Predatory Lending: How to Avoid Being a Victim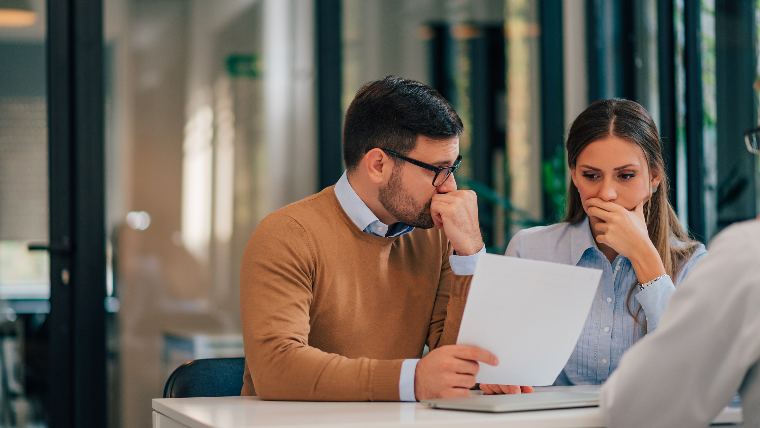 You never quite know when you're going to need a loan or bit of credit. Unfortunately, when we're down on our luck and in the most need of help, that's when we're most vulnerable to the types of lenders who would take advantage of you.
It's a sad fact that predatory lenders are out there, but by understanding how they operate, hopefully you can avoid being a victim.
What is Predatory Lending?
Predatory lending refers to unethical and exploitative lending practices that take advantage of borrowers' vulnerabilities. Victims are most often borrowers with poor credit and few options. Other times victims are simply borrowers in distress who are trying to get money quickly and may not be in a position to fully understand what they're signing up for.
In every example, predatory lenders are attempting to put borrowers in an unfavorable position and saddle them with costly loan or credit products.
Common Predatory Lending Tactics
Predatory lenders often employ tactics that lure borrowers into unfavorable agreements. These tactics can include false promises, confusing terms, and aggressive marketing.
Here are some common things to watch out for:
1. High Interest Rates
One telltale sign of predatory lending is exorbitant interest rates. These rates significantly exceed the market average, making these products extremely expensive. This often leads to a cycle of debt that's hard to break free from.
2. Unnecessary Add-Ons and Insurance
Predatory lenders might require borrowers to purchase unnecessary add-ons, such as insurance policies or extended warranties, as a condition for securing the loan. This not only increases the overall cost of borrowing but also further taxes the borrower's already strained finances.
3. Balloon Payments
Balloon payment structures involve small monthly installments throughout the loan term, culminating in a massive final payment. This places borrowers under the illusion of affordability until they are faced with an overwhelming lump sum they struggle to pay, pushing them towards refinancing or foreclosure.
4. Hidden Penalties and Fees
Predatory lenders often bury hidden penalties and fees within the loan agreement. Borrowers, unaware of these charges, can find themselves trapped in a new cycle of fees that put them behind financially, which then leads to more fees, which makes it even harder to keep up, and so on.
5. Loan Flipping
Loan flipping, another tactic employed by predatory lenders, involves encouraging borrowers to refinance their loans frequently. While this might seem like a beneficial strategy, it usually serves the lender's interest by accruing additional fees while providing minimal actual benefit to the borrower.
6. Prepayment Penalties
Most lenders will allow you to repay your debt ahead of schedule without any penalty. Predatory loans, however, may come with prepayment penalties that deter borrowers from escaping the cycle of debt, as paying off the loan ahead of schedule incurs hefty charges.
Recognizing the Red Flags
It can be hard to free yourself from a bad loan once the paperwork is signed. Your best bet is always to avoid a predatory loan altogether, if possible.
Here are some of the biggest red flags of a potential predatory lender.
High-Pressure Sales Tactics
Predatory lenders may pressure you into making hasty decisions. Remember, most of the consumers who fall victim to a predatory loan are either in a hurry because of a unexpected setback or feel like they don't have a lot of other options. Predatory lenders are counting on consumers to act quickly and may put on a lot of pressure to get you make a decision you later regret.
Unusually High-Interest Rates
Sky-high interest rates are a major indicator of predatory lending. Even if the other terms seem reasonable, a high interest rate can make any loan difficult to repay and extremely expensive.
Lack of Transparency
Hidden fees and convoluted terms are possible signs of a predatory deal. Always ask questions and make sure you understand all of the terms of your loan agreement. If the lender provides vague or unhelpful answers, they may be pushing into a unfavorable deal.
Steps to Avoid Predatory Lending
Beyond watching out for red flags, there are some active steps you can take to protect yourself from predatory lending.
Research Lenders
Spending a little time on Google can make a huge difference. Thoroughly research potential lenders. Look for reviews, check their page on the Better Business Bureau, and ask for recommendations from friends and family.
Read the Agreement
When someone says, "That's all pretty standard stuff, just sign at the bottom," don't take them at their word. Never sign anything without reading and comprehending the terms. If something is unclear, ask questions. If the answers are unclear, ask again or look for another option.
Know Your Rights as a Borrower
As a borrower, you have rights protected by law. While you don't need to be a lawyer, it's a good idea to educate yourself on these rights to ensure fair treatment. Here are a few you should know:
Truth in Lending Act (TILA)
The Truth in Lending Act requires lenders to disclose all pertinent terms and costs associated with a loan, including interest rates, fees, and repayment terms, so that borrowers can make informed decisions.
Home Ownership and Equity Protection Act (HOEPA)
Specifically designed to safeguard homeowners from abusive lending practices, HOEPA targets high-cost mortgage loans. The law mandates detailed disclosures and prohibits certain terms, such as balloon payments and excessive fees, which are often characteristic of predatory lending.
Equal Credit Opportunity Act (ECOA)
The Equal Credit Opportunity Act ensures that all consumers are treated fairly and without discrimination in the credit application process. This prevents lenders from engaging in discriminatory practices, ensuring that borrowers are evaluated based on their creditworthiness rather than personal characteristics.
If you're facing a financial emergency or are worried that poor credit will make it difficult to get a fair loan offer, consider working with a credit counselor. Our experts offer personalized advice to help you reach your specific goals. Counseling is free and available 24/7, online and over the phone.