No Cost Halloween Ideas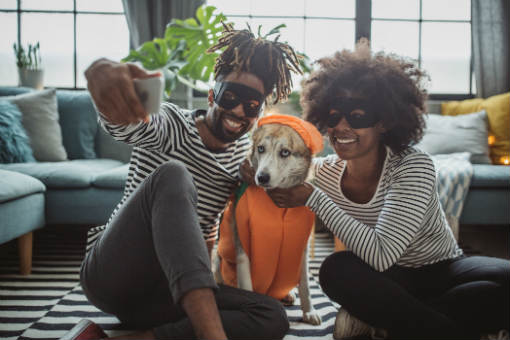 Between costumes, decorations, and candy, Halloween can be expensive. But it doesn't have to be. There are some great ways to decorate and create costumes out of items you have lying around the house.
Here are just a few no-cost Halloween ideas that will allow you and your family to enjoy the day without breaking your budget.
Decorations
Bat Lamps
Download bat clipart and insert it into a word document, resize the image to make it as large as you want then print out several copies. Cut out your bats and attach them to the inside of a lampshade with craft glue dots or tape then turn on the light.
Flying Bats
Use the same idea as above but print on black cardstock or glue your printed bats to heavy-duty poster board or cardboard before cutting out. (This is a great way to use up shipping boxes you have lying around.) Poke small holes in the wings and run clear fishing line through to hang them on your front porch or around the house.
Floating Candles
Save your empty paper towel rolls and paint them white. Using a glue gun, "drip" glue on one end to look like wax dripping down the candle then paint the glue white as well. Punch a small hole in either side and string fishing line through so you can hang it. Top it off with a battery powered tea light fit snuggly inside the top of the roll on the fishing line. Hang your candles around your house or on your front porch and turn them on for a great spooky glow.
Creepy Eyes
Take empty toilet paper rolls and cut different shapes and styles of eyes out of one side of the roll. Place a glow stick inside. Stick them randomly around your yard under bushes or other types of ground covering. Creepy glow eyes will appear to be looking up from the ground.
Costumes
Cat
With a black t-shirt, some cut out cat ears attached to hair clips or headband (download online, print and cut), and a black eye pencil to draw whiskers and cat eyes, you have a simple cat costume.
Party Animal
Wear a t-shirt with an animal face and a birthday party cone hat; you're a "party animal."
Facebook
This is the simplest one of all. Simply use a makeup pencil to write the word "BOOK" on your face, and you're Facebook!
Tourist
Pull out your most obnoxious shirt, some long shorts, sandals you can wear with socks, and you're almost ready to go. Add a fanny pack, camera, water bottle, ID tag, scarf, sunglasses, hat, and any other tourist type items you can find lying around the house.
iPad or iPhone
Download app icons, insert them into a Word document and blow them up the size you want. Print them in color and cut them out. Attach them directly to a black t-shirt or onto a black poster board that you can string around your neck.
Nerd
Similar to the tourist costume, find items around your house that you can use to pull together a "nerd" costume. Glasses, a white button-down shirt, pants that are too short, white socks, bowtie, and suspenders all fit the bill. Add lots of pens to your pocket, and you're ready to go.
Halloween doesn't have to cost a fortune. Challenge your family to come up with ideas that don't cost anything. You can have your own "best ideas" contest; everyone will be excited to participate.
More Halloween!