Low-Cost Ways to Stay Fit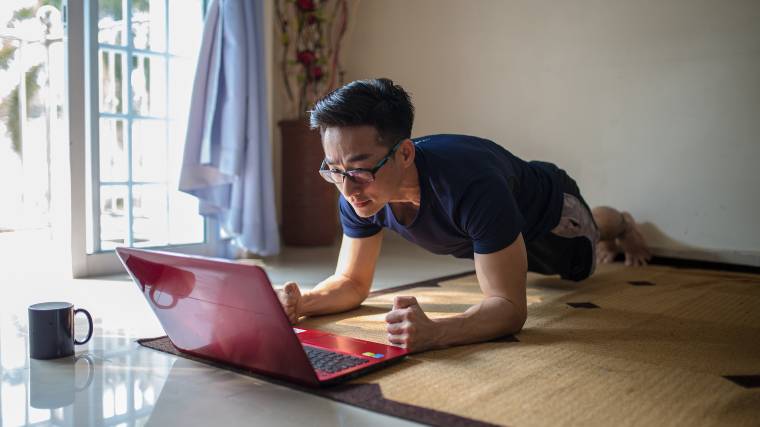 Heading to the gym or local pool to lift some weights or get your cardio on isn't an option for everyone, especially if you're on a tight budget. So what can you do to get moving and release some endorphins? Here are a few low-cost ways to get some exercise from the comfort of your own home.
Check Out Free Virtual Classes
As a lot of fitness studios are pivoting to digital platforms, poke around to see which studios offer free or donation-based, pay-what-you-can workouts. Here are a few of our favorites:
Yoga With Adriene
There are scads of free workout videos on YouTube. If you're itching to get your yoga on, check out Yoga With Adriene, who boasts over 7 million subscribers and hundreds of videos. Not sure where to start? Try one of her 30-day yoga challenges, which are centered around themes like "Yoga for Your Back," "30 Days of Yoga," or if you're keen on a more introspective bent, "Dedicate."
The equipment you need varies, but you can probably do most yoga workouts with a yoga mat, blanket, and a pair of foam blocks.
BeFiT
The BeFiT YouTube channel features a litany of vids from top trainers. These workouts range from cardio and strength to rebalancing and pilates. You can think of the BeFit channel as a catch-all of fitness workouts.
Orangetheory at home
A handful of fitness studios and gyms are offering free virtual workouts. Orangetheory has released free online exercises that focus on everything from strengthening and toning different parts of your body to high-intensity interval training (HIIT).
Freeletics
If you're hopping on the calisthenics train, which is a popular type of workout that consists of exercises that primarily rely on your own bodyweight, check out the Freeletics app. There's a handful of free workouts and one-off runs and drills.
If you want to tap into a guided training route, you'll need to upgrade to its premium version Depending on the plan, it costs anywhere from $1.44 a week, or $73 a year, to $3.85 a week, or $200 a year.
CorePower Yoga
You can access its catalog of free classes.
Use What's Around the House
Chances are you might already have some forgotten exercise equipment nestled in your storage closets and underneath your bed. Before you commit to any exercise program, take stock of what you already own and build a workout around that.
For instance, I have a pair of five-pound weights and a yoga mat. Because I'm trying not to spend too much money on exercise gear, I've been doing mainly bodyweight exercises — think planks, pushups, and squats — and yoga routines.
Invest Only in Inexpensive Exercise Gear
No need to purchase a costly elliptical machine or a pilates reformer contraption. Those types of exercise equipment are not only expensive, but they take up a lot of space and can be a pain to get rid of once you're done using them.
If you want to spend money on exercise gear, start with low-cost essentials such as a yoga mat, a set of weights, or resistance bands. You can probably find them on sale online. And if you're going to spend money on more costly gear, make sure it's worth the spend.
For instance, thinking of throwing down $50 on a set of resistance bands? Commit to using them in your workout several times a week for the next few months. Otherwise, you might find them tossed out alongside your partner's neglected sparring gear.
Need help finding space in your budget for all of your needs (including exercise)? Financial counseling from MMI is free, confidential, and available completely online. Get started today and let us find ways for you to save money.