Is Buying a House a Good Investment?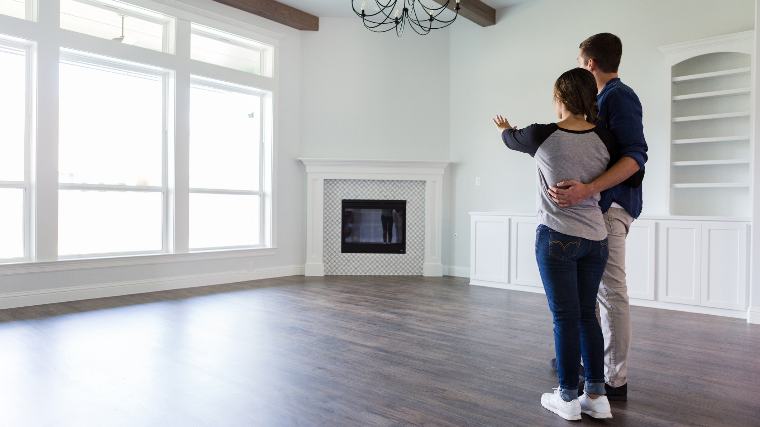 While the "American Dream" is always changing and is likely different for each individual, there is one element of the "dream" that's always been fairly consistent: homeownership. Owning your own home has arguably gotten harder over time, but it's still a highly desirable goal for most American families.
A 2021 Lending Tree survey found that 88 percent of Americans would rather own a home than rent. It's easy to see why: owning your own home represents both freedom and wealth. Owning a space means you can do whatever you want with that space, without needing to run it past a landlord first. And homeownership is a foundational way to build wealth, as most homes increase in value over time.
But buying a home is a massive and expensive undertaking. And with that freedom comes a ton of new responsibilities and potential costs.
How do you know if homeownership is right for you?
The idea of homeownership may be enticing, but when is buying a home a good idea for you? There are a few areas to consider.
Will you need to move again in the near future?
Buying a home isn't a lifetime commitment, but unless you're flipping a property, it may not be in your best financial interest to buy and sell a home in short order. There are the costs associated with closing on a mortgage. So unless the value of your home has already increased (and it may have, depending on the market), you may need to stay in your house for a while in order to avoid losing money on the transaction.
Additionally, it's important to note that markets are volatile. During some periods it may be very easy to find a buyer, and during others it may take months or even years to sell your property. Which is why buying a home can be tricky if you aren't settled, at least for the near future.
Can you handle being responsible for everything that goes wrong?
Things happen when you own a home. Plumbing problems. Issues with heating, electricity, wildlife, and more. You don't necessarily have to have the skills to fix all of these problems on your own, but they're your responsibility. You have to find someone who can fix it and then pay them, because there isn't a landlord to handle that for you.
Do you feel confident in your ability to pay?
Buying a house is an investment and a commitment. No one plans on defaulting on a home loan, but a large factor in the collapse of 2008 was the thousands (if not millions) of consumers who had been talked into purchasing homes they couldn't afford. Your financial situation should be the primary consideration when buying a house – not how "good" the market is at that moment.
When is a house a good investment?
Generally speaking, a house is almost always a good investment simply because home values usually go up over time. That's not a guarantee, of course, and it's not the only factor to consider when trying to decide if buying a specific house will be a good investment for you. When weighing your housing options, be sure to examine these key points.
You can reasonably expect the property's value to adequately increase over time
While it's fair to say that most houses will increase in value over time, those numbers rarely move in a straight line. Values fluctuate constantly for a variety of reasons. Prices may suddenly skyrocket due to temporary scarcity in the market. And those same prices may plummet during periods of major economic upheaval. There's no way to know exactly how much your house will be worth in ten years.
There are, however, trends that develop over time. Home values in particular neighborhoods may rise faster than those in other neighborhoods. Certain styles or sizes of home may be gaining (or losing) popularity.
If you're thinking of your home as an investment and not simply the place where you keep your stuff (which is a perfectly valid way to look at your home, by the way), then you'll want to consider all aspects of your home's potential value. Are there major public works projects on the horizon that may make the neighborhood more or less appealing? Are climate changes making an area more disaster-prone? Consider all of these angles and more before making your purchase.
The cost of repair and maintenance must be lower than the projected increase in value
You will inevitably need to sink money into your new home. The amount will vary, depending on the age and condition of the home at the time of purchase. There's also the possibility that the house will simply be lacking certain features that you desire.
All of that work will add value to your home. But will it add enough value to become a net positive investment? That's what you need to figure out. A fixer-upper can be a good, low cost investment or it can be a money trap if you're not careful. If you're thinking of your new home as an investment, you need to be mindful of what you spend on upgrades and monthly maintenance. If you put more into a home than you can reasonably expect to get back out once it's time to sell, then that house may not be a good investment for you.
The equity you create should be greater than the amount you may have saved by renting
Few people actually own their homes outright. It's much more common to take out a mortgage and use the proceeds to buy your home. Over time, you build equity by making payments, narrowing the gap between what your house is worth and how much you still owe the lender.
That equity is key, because even if you never pay off your mortgage in full, it represents a sort of return on your investment. When you sell the house, that equity comes back to you. It's why so many people favor owning a home to paying rent. You don't build equity while paying rent.
That said, if renting were cheaper than paying a mortgage (plus the other costs associated with owning a home), you'll want to verify that the difference isn't greater than the amount of equity you're creating each month. It's probably unlikely that this would be the case, but if there's chance that the money you save from renting were greater than the equity you earn through owning, that's something you should consider.
When is a house not a good investment?
If a house costs you more than it earns you, by definition it's not a good investment.
More importantly, though, a house is a bad investment when you can't afford it. Even if the value of the property increases, if the cost of the house puts your monthly finances in jeopardy, then it's a bad investment. If the cost of the house has you worried that someday you may lose your home, that's a bad investment. A house should never be a burden.
Homeownership is definitely a dream worth having, and an excellent goal to work towards. If you want to learn more about what it takes to own a home, check out our guide to preparing for homeownership.