What to Do if You're a Victim of Identity Theft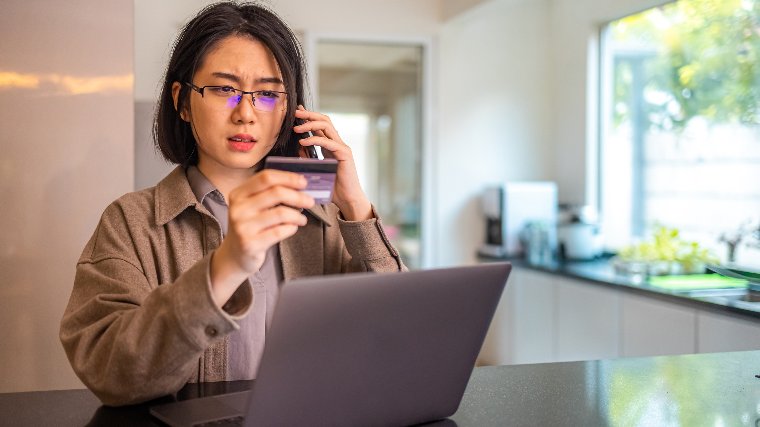 This blog post is a guide on what to do if you become a victim of identity theft. It covers common identity theft techniques, signs of identity theft, and steps to take if you're a victim. Additionally, it provides tips on monitoring your financial accounts, guarding against scams, and protecting your personal information.
There are few things creepier than realizing someone else has taken over your identity and started making financial moves in your name. Identity theft can show up in different ways, but most commonly, it's when someone uses your personal information like social security number, driver's license number, or account numbers to create new accounts or make purchases in your name. Some types of identity theft are harder to fix than others. Here's what to know and steps to take if you're a victim.
Signs of Identity Theft
It's not easy to pin down the moment your identity was hacked, but there are red flags to watch for. Common signals include unauthorized account activity on your statements, a sudden drop in your credit score, or missing mail.
For example, if you get paper financial statements or bills in the mail and they're suddenly not showing up—or you're not getting paper mail at all—that could be a sign that someone has changed your address and rerouted it somewhere. This type of fraud is on the rise.
Steps to Take After Identity Theft
If you realize you've become the victim of identity theft or fraud, it's important to take action to avoid further damage to your financial accounts or to stop new ones from being created. Here's what to do.
Contact your financial institutions
Immediately call your bank and other financial institutions where you have accounts and ask for the fraud department. Explain the situation and tell them you are a victim of identity theft. Ask the institution to place a fraud alert or freeze on your account. Also request new debit or credit cards.
It's helpful to pull together evidence like account statements, transaction records, emails, or any documentation related to unauthorized transactions. But don't put off calling if you don't have this information at your fingertips. The fraud departments can advise you.
Dispute unauthorized transactions
While you're talking to fraud department, dispute any unauthorized transactions that occurred. The fraud staff will guide you through the steps, which may involve filling out dispute forms and providing documentation. They can help you recover lost funds if they're recoverable.
Request a fraud alert or freeze on your credit reports
Notify the three major credit bureaus (Equifax, Experian, TransUnion) about the identity theft. Placing a fraud alert on your credit report alerts creditors to take extra precautions, while a freeze prevents new accounts from being opened. Freezing your credit doesn't keep you from using a credit card; it simply means you can't open new accounts while it's frozen.
Contact your local law enforcement
Reporting the identity theft to your local law enforcement agency may mean they provide you with a report or case number. That can be helpful in resolving the issue with creditors and banks.
Change passwords and PINs
Change your passwords and PINs for all your online and financial accounts, including email, banking, credit cards, and social media. Consider using a password manager like LastPass. Also Enable two-factor authentication whenever possible.
File an identity theft report with the Federal Trade Commission (FTC)
Report online at IdentityTheft.gov or call 1-877-ID-THEFT (1-877-438-4338). Filing a report creates an official record of the theft.
Notify Social Security Administration
If your Social Security number was compromised, contact the SSA to report the theft. Learn more about Social Security fraud here.
Update your identification cards
If your driver's license or identification card was stolen, report it to the Department of Motor Vehicles and request a replacement with a new number.
Maintain a paper trail and follow up
Keep detailed records of all communications, reports, and actions you take regarding the identity theft. These records will help with any future disputes or investigations.
It's also a good idea to send a follow-up letter to your creditor that summarizes the details of your conversation and the actions taken. Include any supporting documentation. Send this letter via certified mail with a return receipt to have a record of its delivery.
Common Identity Theft Scams and Techniques
Scammers use all kinds of techniques, some a bit easier to guard against than others. You might get emails or texts phishing for account information, or your personal information might be exposed through a data breach when a company's database is hacked—which, of course, you have no control over. Other methods scammers use can include:
Account takeover. Attackers gain access to your existing accounts by guessing or stealing your passwords.
Social engineering. Scammers use psychological manipulation to trick you into revealing personal information or performing actions that benefit the scammer.
Submit change-of-address form. Scammers steal your mail by rerouting it to a new address—or they steal it straight from your mailbox.
Synthetic identity theft. Thieves create entirely new identities using a combination of real and fake information to open new accounts and commit fraud. This kind of identity theft can be quite difficult to detect.
How to Guard Against Common Scams
Even if you haven't been targeted, it's important to watch your accounts. Some forms of identity theft are out of your control, but a little prevention can make your identity safer. When in doubt, err on the side of caution. Take these precautions:
Verify requests. If you receive a request for personal information, independently verify the sender's identity through official channels before responding. For example, check a phishing email from Comcast against your account on the official website. Likely, it's in good standing.
Use strong passwords. Again, consider using a password manager as recommended above.
Secure sensitive personal information. Don't store your Social Security card in your wallet or leave it lying around. Store sensitive information in a secure place and share only when necessary. Shred financial statements rather putting them in the trash or recycle bin.
Beware of public Wi-Fi. Avoid conducting financial transactions or accessing personal accounts on public Wi-Fi networks. They are more vulnerable to eavesdropping.
Secure your devices. Keep your smartphones and computers up to date with security patches and use reliable antivirus software.
How to Monitor Your Financial Accounts and Credit Reports
Now that you've gotten your identity and accounts back under your control, you'll want to make a habit of monitoring your accounts. Not everything is within your control—like those pesky data breaches—but you can take steps to minimize damage. Here's what to do.
Review monthly statements
Review your bank and credit card statements every month. Watch for unfamiliar or unauthorized transactions. If you notice any discrepancies, report them immediately to your financial institution.
Monitor your credit
Watch your credit reports from the three credit bureaus—Experian, TransUnion, and Equifax—for suspicious activity and discrepancies. The credit bureaus offer free weekly credit reports permanently now through AnnualCreditReport, a change that began during the pandemic. Prior to the pandemic, free reports were available just once a year.
Set up financial account alerts
Create notifications for significant transactions, low balances, or changes to your account information to help you spot unusual activity quickly.
Leave the freeze
For an extra layer of security, maintain the freeze on your credit reports with the three credit bureaus. That prevents anyone, including identity thieves, from accessing your credit history. If you need to open a new account, you can lift the freeze temporarily.
Subscribe to a credit monitoring service
This service provides real-time alerts about changes to your credit report and can help you detect potential identity theft early. There are many reputable services with different service tiers that typically monitor your credit and the dark web and provide identity restoration support. Take a look at Experian's IdentityWorks, Norton's LifeLock, and TransUnion's TrueIdentity.
If you do sign up, make sure you understand the features and what you're getting for the cost. You may be able to monitor your cards, credit reports, and credit score just as well on your own.
Identity theft is scary and it can be complicated to recover from the fallout of having someone abusing your finances. If you're concerned about the health of your personal finances or need help recovering from a major setback, we can help. We offer free financial counseling 24/7, online and by phone. Let a trained expert review your situation and help you come up with a plan to reach your goals.