How to Travel on a Retirement Budget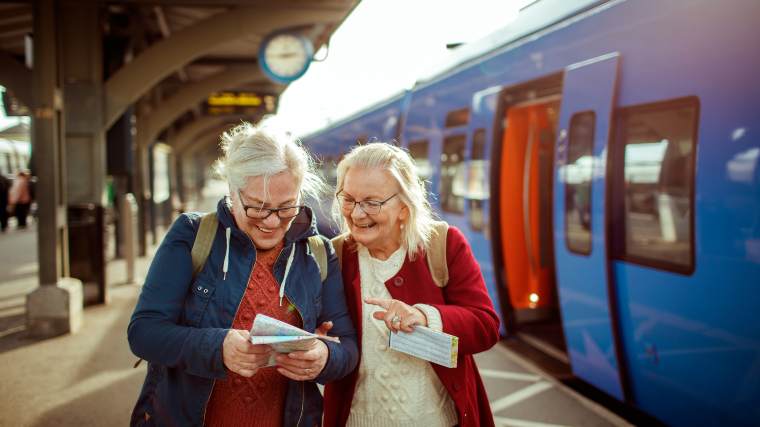 Now that you've entered your golden years and are officially a retiree, you might be ready to knock items off your travel bucket list and see the world. Whether it's taking in the exotic flora of the Amazon jungle, or enjoying breathtaking vistas of North America from the comforts of an RV, you'll need to make sure your wallet can handle it.
Here are a few pointers on what to think about financially if you and your spouse want to be globetrotters during retirement:
Make Room in Your Budget
To free up some money to travel, cut out unnecessary spending, suggests Ryan Veldhuizen, a financial planner of Catalyze Wealth Management. This could mean cutting out something as simple as monthly subscriptions you no longer need, or something larger that requires a deeper commitment, such as downsizing to a smaller home or less-expensive car.
"There are almost always ways to fit travel into a budget," says Veldhuizen, "but traveling on a budget does require some thinking ahead. It's never too late to start planning; but it's always better to start now rather than later on. There are smart ways to travel even on a budget, but ignoring your financial situation does not make it go away!"
Set Aside a Designated Amount
To ensure you have enough to comfortably cover your living expenses as well as unanticipated costs, set aside a certain amount of your nest egg for travel. Depending on your goals and how much you can reasonably afford, you'll want to make sure whatever is left over after is enough to fund your retirement plan.
Bloom provides the following example: Let's assume a client had $1 million saved for their retirement. If they wanted to spend a grand total of $100,000 on travel, they'll want to run the numbers to make sure $900,000 is enough to live on.
"Using very rough math, and using the 4 percent rule [your annual retirement income should be 4 percent of the amount you have in your nest egg] this $900,000 could support a portfolio income stream of approximately $36,000 a year. Ask yourself: Would this income stream plus social security and pensions be sufficient to cover their living expenses?"
Find Ways to Work While Traveling
Instead of drawing from your existing assets to spend on travel, consider working while seeing new sights. Think of ways you can make money while being location independent. If the amount you earn can offset the costs of traveling, even better.
For example, Mark Bern, who is a semi-retired chartered financial analyst, chooses to make money on things he enjoys doing. This includes performing research and penning financial newsletters, and managing client portfolios while traveling with his wife. That way, they don't have to touch their savings for retirement.
"If your budget comes up short for how you want to live, maybe you just need to find a way to help others by sharing the unique knowledge you have gained over a lifetime," suggests Bern, who is the founder of the Bern Factor. "Plus, it has made our retirement less stressful in many ways: we can travel more, I am out of my wife's way most days so she can concentrate on what she enjoys doing, and it keeps my mind active and alert, just to name a few."
Consider House Sitting
You can also save on travel costs by watching over someone's pets or tending to their home. Sites such as TrustedHousesitters, Normador, and Workaway feature listings of house sitting and pet sitting gigs. While not all the jobs pay money, they do provide a free place to stay in exchange for your services.
Make the Most of Your Flexibility
Being flexible with your travel dates, how long it will take you to travel, and where you travel to can help you save, points out Stephanie Bacak, a CFP® of Capstone Global Advisors. For instance, you can enjoy discounted rates by traveling in the off-season, and having flexibility with the time it takes to get from one place to another. It's cheaper to fly standby and for longer connections.
You can also be more flexible in the destination. You might be excited to visit Bora Bora, but traveling to a beach town in Mexico could offer you an amazing beach getaway at a lower price. "There are many sites dedicated to last-minute travel, so you could look forward to a beach trip for months and the price determines the beach," says Bacak. "And always compare deals to pricing found for each component of the trip."
Know Your Limits
If it doesn't fit into your financial plan, don't do it, suggests Ian Bloom, owner of Open World Financial Life Planning. Why's that? Well, the spending you can't afford to do can collapse your investment portfolio by eating into your principle, or into the initial investment. "If you dig into the investment base of a portfolio too early, it'll reduce your future income each year beyond that, says Bloom. "In a long retirement, that can pose a serious problem."
You might also consider backing down on travel when retirement health issues pop up, says Bloom. Or travel with friends or family should difficulties arise. "Health issues are sometimes a big barrier for retiree travel, which is why I tend to plan for spending on travel earlier in my clients' retirement, as opposed to later," says Bloom. "They might surprise themselves and be healthy longer, and then we have a positive consequence to tackle."
When thinking of travel plans during retirement, it's important to look at the entire financial picture. Otherwise, you might find yourself short on funds. If you'd like help building a budget for any stage of life, MMI can help!
Free budget counseling is available 24/7. Learn more and reach out to us today!