Disaster Recovery: How to Spot and Respond to a Scam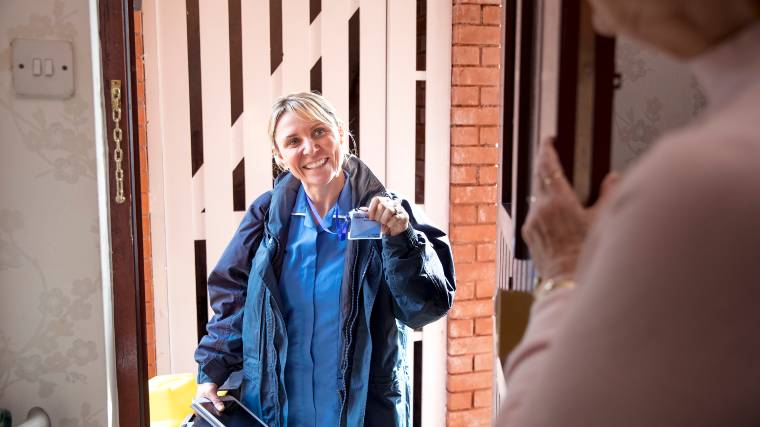 In times of crisis, it's common to hear a familiar refrain attributed to the late Fred Rogers: "Look for the helpers," he said, "you will always find people who are helping."
This sentiment underscores the support systems that arrive after a natural disaster. Often, helpers abound, bringing hope and restoration to hurting communities.
Unfortunately, not everyone who arrives after a natural disaster is there to help, and dishonest dealers often gravitate to disaster areas looking to take advantage of the urgent needs and inevitable chaos that confront disaster survivors.
In this environment, contractor scams, price gouging, and phony charities sometimes conspire to capitalize on the moment, making an already difficult situation even worse.
It's critical that you know how to spot a scam, and how to report bad actors before they make the recovery effort even more difficult for you and your community.
Here's how it can be done.
Examine Credentials
After a natural disaster, few things are as important and pressing as starting the repair process.
However, in the frenzy to begin recovery efforts, it's easy to skip the vetting process that can weed out fraudulent contractors and other scammers.
Unfortunately, choosing the wrong contractor can be devastating. Online forums are full of stories from disaster survivors who handed over insurance payments or signed contracts with contractors who never delivered. This delays the recovery process and costs valuable resources along the way.
It's well worth the effort to carefully vet potential contractors and relief partners.
Remember that people who are offering genuine assistance will readily show their ID and credentials. Those without credentials are a red flag — they may not be operating above board.
In addition, FEMA advises people to be vigilant about spotting fake credentials like "FEMA Certified Contractor." The agency provides significant resources after a natural disaster, but they do not certify contractors nor do they provide contractors with victims' names or personal information.
Don't just let credentials speak for themselves. Ask for references, assess customer reviews online and check with the Better Business Bureau to determine viability and suitability.
Document and Review Expenses
The recovery process is time consuming and expensive. Scammers are looking to capitalize on this dynamic by inflating prices, collecting payment on incomplete work, or by failing to start work at all.
Ensure that you receive a fair price for your project by soliciting written bids from multiple contractors. For projects that exceed $10,000, request a copy of the contractor's Certificate of Registration, which can help determine their ability to provide necessary services.
Iowa State University's Extension and Outreach program provides a free and helpful worksheet for comparing contractors and determining a suitable person for the job.
At times, homeowners may want or need to pay for third party or municipal inspections during the building process. However, you should never have to pay for:
FEMA inspections
Insurance adjustments
Contractor bids
On site contractor visits
Payment requests from these operations could be a sign of a scam.
When expenses do arise, actively monitor and control costs by:
Requesting a comprehensive list of work to be completed.
Getting a line item list of projects being charged.
Avoiding signing confusing or vague contracts.
As Brandon Fremin, executive director of the National Center for Disaster Fraud, notes, "fraud follows the money." Protect yours by ensuring that you get a fair price for a complete job.
Know When and How Much to Pay
It's common for disaster survivors to feel powerless in the wake of a devastating event, but when it comes to recovery efforts, survivors are in the proverbial driver's seat.
Contractors, both honest and fraudulent, need the financial resources that you provide, and controlling the money through the rebuilding process is a crucial way to to weed out fraudsters and ensure that your project is completed in a timely manner.
In general, the timing of payments should correspond with project completion benchmarks. Avoid paying large up-front sums, and never offer full payment for an incomplete job.
If you have a mortgage on your home, your insurance payments may be made jointly to you and your mortgage company. Before you can begin to rebuild, you must first understand your lender's process for dealing with insurance payments.
Communication with your lender is key. If a contractor is pressuring you to sign over the check or get your mortgage company to release the payment to them, this could be a red flag.
Clear contracts that establish who will complete work - when and where - can make the rebuilding process more transparent. If a conflict arises, hold payment from contractors until it is resolved.
While the FEMA application will request information like your Social Security number and banking information, that data will never be solicited over the phone.
When you're unsure how to proceed, get the help you need to effectively navigate the situation.
Report Suspected Fraud
If you identify a scam or you think that you've encountered fraudulent contractors or other bad actors, make reporting a top priority.
Acquire as much information as possible about the person, and make a report to your state Attorney General Office. The Better Business Bureau also has an online complaint system where anyone can present questionable business practices.
After a natural disaster, it's common for rumors to crop up and spread. FEMA provides a rumor control resource that can help you distinguish fact from fiction.
Most importantly, nobody has to navigate this landscape alone. If you're unsure about determining the validity of a contractor, a contract or a project, there are services ready to help.
Project Porchlight provides recovery assistance through a free one-year program that offers financial counseling services to help people recover from a natural disaster. Staffed with HUD-approved counselors that are experienced in spotting scams, the program can provide the support necessary to ensure that your recovery process proceeds as quickly and efficiently as possible.
After a natural disaster, you should look for the helpers, but always assess their validity first.