How to Build Your Personal Savings Account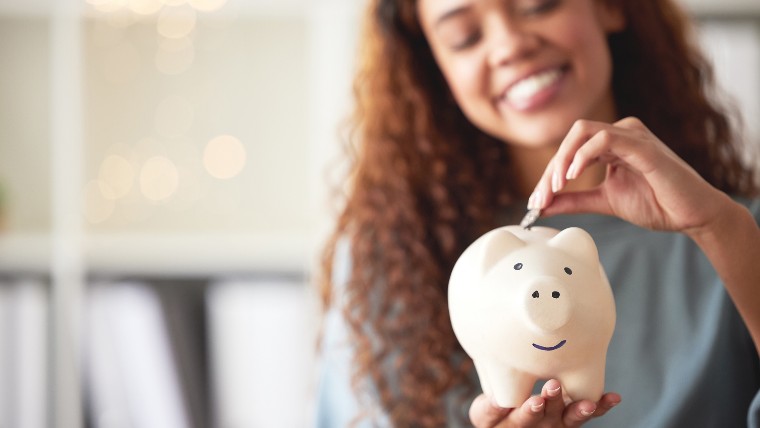 Having money is savings can be a life-saver in a worst case scenario. It can also give you the freedom pursue costly goals and dreams. In other words, if you're not saving money you're not doing yourself any favors.
If you're new to creating a savings fund, or if you've depleted your savings for one reason or another, here are some simple steps to build up your money for rainy days (and sunny ones, too).
Create a Budget
Step one for most financial goals is creating a budget that meets your needs. Make sure that your budget outlines your monthly income and expenses and carves out space for money you aren't spending (i.e. your savings). This will also help you understand where your money is going and identify areas where you can cut back.
Set Savings Goals
While you may just want to save for the sake of saving, it can be much more motivating to have a clear, defined goals. Whether it's an emergency fund, a down payment for a home, or a vacation, having specific goals can help you get a sense of your progress and offset any feelings of discouragement if you have to make sacrifices in certain areas of the budget.
Make Saving Mandatory
Treat your savings as a non-negotiable monthly expense. If it's optional, then there's a good chance you'll find some other use for your money that feels more compelling in the moment. Instead, transfer a portion of your income into a separate savings account as soon as you get paid.
Automate Your Savings
To make those mandatory deposits even less painful, set up automatic transfers from your checking account to your savings account. This ensures that you consistently save without having to think about it. Plus, if your designated portion goes directly into savings, you don't have to feel the pang of sorrow when you manually move the money from your checking account to your savings account.
Reduce Unnecessary Expenses
When creating your budget, consider cutting back on discretionary spending, such as dining out, entertainment, or shopping for non-essential items. Redirect the money saved into your savings account. Don't think you have to cut everything all at once, mind you. Start small and build up over time.
Track Your Spending
A budget is pretty useless if you don't use it. And you can't use your budget if you're not paying attention to what you're spending.
Keep a record of your daily expenses to identify areas where you can reduce costs. Stick to your plan and avoid impulse purchases as much as possible. You can lets apps and other tech do most of the heavy lifting here.
Review and Adjust
Your budget isn't static. Life happens, priorities change, and your budget should adjust to meet those changes. Regularly review your budget to make sure you're sticking to your savings plan, but also to ensure that your budget still fits your financial circumstances.
Invest Wisely
A regular old savings account is a secure way to keep your money safe, but it won't do much to help grow your money. Consider investing your savings in low-risk, long-term investments like a retirement account or index funds to make your money work for you.
Pay Down High-Interest Debt
Should you save money or pay down debt? Ideally, both. At the very least, you should prioritize paying off high-interest debts like credit card balances. Debts with high interest rates may accrue interest charges faster than your savings gain value. In other words, the money you spend paying off high interest debt can save you more money in the long run.
Stay Consistent and Build as You Go
If you can only afford to commit a small amount to savings every month, that's fine. Building the habit and staying consistent are key. When you're able, try to increasing your commitment, but don't commit more than you can afford and don't get discouraged if your experience a setback.
If you need help creating a budget that supports all of your financial goals, MMI offers free financial counseling. Connect with a trained expert online and over the phone and let us help you make the most of your money.