How to Keep Your Insurance Premiums Down After an Accident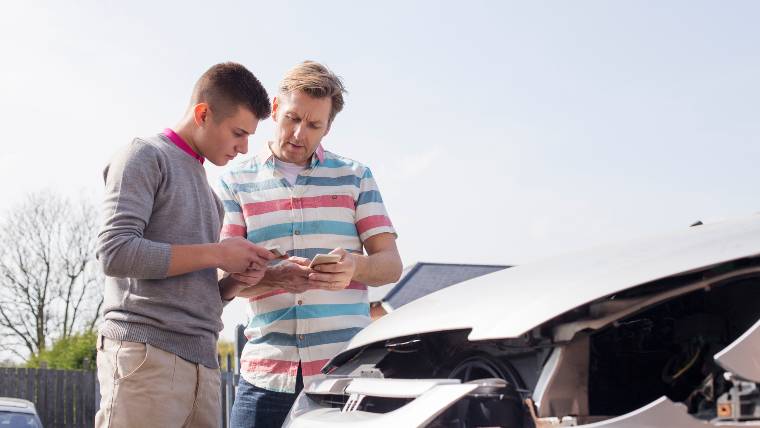 The following is presented for informational purposes only and is not intended as legal advice.
If you get into a car accident, expect your car insurance premium to go up. While the amount of a potential yearly premium spike following an accident can vary by state and your insurer, according an analysis by NerdWallet, in 41 states and Washington, D.C. drivers who've been in a recent accident pay more than $500 more than drivers who haven't. (Note: If you aren't at fault, your insurer might still raise your rates.)
"You may be forced to purchase a high-risk policy if you have one or more accidents on your record," says Nathan Barber, an insurance expert at QuoteWizard. "This can last anywhere from three to five years, depending on where you live."
And as auto insurance premiums have continually been on the rise, you'll most likely want to keep your premiums as low as possible.
Here's what you can do to keep your car insurance bill in check after a crash:
Switch car insurance companies
Because you aren't under any contractual obligations for car insurance, you can hop to another company at any time with minimal or no fees, points out Barber. "While certain companies are more lenient for high-risk drivers than others, the best way to bring costs down is to compare rates and get quotes from different companies," he says. "After you've compared offers, you can see which insurer offers the best rates."
What should you do if you have multiple policies through the same company? For instance, let's say that both your renters and car insurance policies are through the same insurer and you get a bundled discount. If you're considering changing insurers, note that the change could affect the rate of other types of insurance policies that are bundled with your auto insurance. If you discover a less-expensive policy elsewhere for both insurance types, consider also switching both policies to the new company.
Take a defensive driver course
Investing the time and money into a defensive driver course could knock a few points off your license and lower your insurance premium. Courses are available both online and on-site, and usually last anywhere from four to eight hours. The cost can vary, and may be anywhere from $15 to $100. While you'd probably much rather be spending your time on other pursuits, the investment now will pay for itself over time, says Barber.
Increase your deductible
If you've gotten into a fender bender and your insurance premium increases as a result, consider bumping up your deductible. According to the Insurance Information Institute, a higher deductible can lower your bill drastically. Bumping up your deductible from $200 to $500 could lower the cost of your collision and comprehensive cost by 15 to 30 percent.
Ask your insurer for quotes on how much your payment would be if you lowered your deductible. As the trade-off is paying more out of pocket for repairs before your insurance kicks in, you'll want to make sure you have enough in your piggy bank to cover your deductible.
Hunt for discounts
There are a number of ways you can snag a discount on your car insurance premium. Besides bundling different types of insurance with the same company for reduced rates, you might be eligible for group discounts through professional or military affiliations. You could also get a discount for having good credit, installing an anti-theft device in your car, or for having a low annual mileage.
Reduce or remove optional car insurance on older cars
Review the insurance policies of older cars in your household to see if there are any types of insurance for which you can either reduce the existing coverage, bump up the deductible, or remove the coverage entirely. In turn, it could lower your premium.
Always report car accidents to your insurer
If you're afraid of your car insurance premium being sky high after an auto accident and are reluctant to report it, know that it's in your best interest to report it. Yes, that goes for even minor accidents. If you fail to report a fender bender and the other party ends up suing you, it'll be that much more difficult for your insurance company to gather information and supporting documents. What's more, if you don't report the accident, your insurer might decide to drop you from the policy entirely.
If you have more budgeting questions, we can help! Our NFCC-certified counselors can provide guidance and resources to help you forge a path toward financial wellness.