Guide to Gifting Cash During the Holidays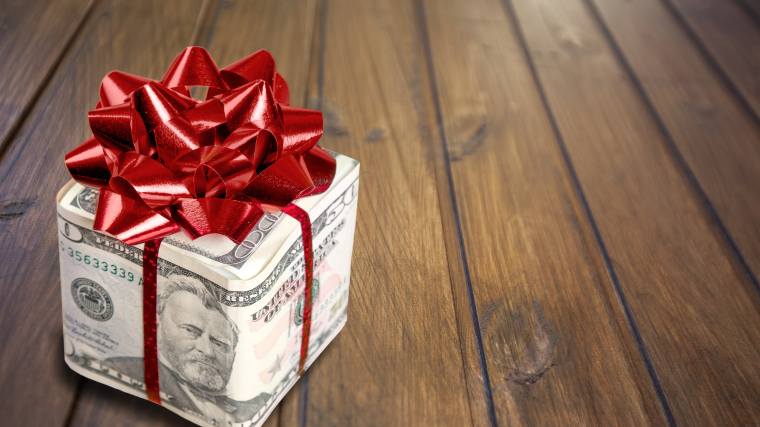 If you're looking for a gift with an almost unbeatably high success rate, it's hard to do better than cash. Personally, I don't think I've ever regifted cash. It's extremely versatile and is accepted pretty much everywhere merchants have goods to sell.
But if there's a knock on cash it's that money isn't an especially thoughtful gift. Useful, yes. But thoughtful? That's entirely up to you.
See, the reason cash gets a bad rap is because it's so easy to give. Take it out of the ATM, pop it into a card, and boom – you're done.
That's not a good look during the holidays, when gifts are really meant to represent something a bit more personal and sincere than merely fulfilling an annual obligation. That's why money can seem a bit lazy when given as a gift.
But that doesn't mean that money is a bad gift idea. You just have to do a little burnishing to make sure the recipient knows you didn't just remember them at the very last moment.
Here are three thoughtful ways to give money as a gift during the holidays.
Think Outside the Envelope
When you receive an envelope in lieu of a wrapped present, your mind immediately tells you that you are about to receive one of three things: money, a gift certificate, or an empty card. Those three options are just fine, but what's lost is a bit of the mystery that comes with exchanging gifts. After all, if we wanted people to immediately know what we got them, why would we bother with all that wrapping paper?
My grandmother was always a big fan of giving cash at Christmas (and speaking as someone who has no earthly idea what kids like these days, I can't say I blame her). Instead of gifting in a card, however, she'd wrap some small gift (or even the occasional re-gift) and attach the money to that. That always added a little intrigue and usually helped me appreciate the cash all that much more. ("Wow, what a lovely pair of women's Isotoner gloves, Grandma. Thanks so mu…hey, 20 bucks! Alright!")
If you're giving cash, consider the presentation. Even if you wrap a brick with a check taped to it, it adds a little effort, thought, and intrigue. ("Did you really give me a brick for Christmas?")
Consider the Usage
Giving cash can seem like you're just throwing your hands up in the air. "I have no idea what you want or like. Please just take this $50 and do what you must."
But money isn't an inherently thoughtless gift. For some recipients, money could be the absolute best gift to receive. It's just a matter of how you frame the gift.
A college student, for example, might really (really) need money for books and food, etc. By simply framing the gift around the recipient's needs or wants, you acknowledge that you're thinking about the recipient and giving the gift you think will best serve them at that time.
Keep in mind, however, that you are merely suggesting how that money might be used. Ultimately, it is a gift, and you have no say in how and where it's spent.
Get Creative
If you're the creative type, think of your cash gift as a blank canvas. We always say that homemade gifts can be some of the best gifts ever; now's your chance to be crafty, while giving a gift that has personal (and monetary) value.
Buzzfeed put together a fun list of creative ways to give money as a gift. Some highlights include making origami figures and flowers out of dollar bills, building a money pizza, and replacing the tissues in a tissue box with singles. You can maximize the fun by building something that's significant or meaningful for the recipient.
Ultimately, the point is simply to marry your intent to your presentation. You know you care, so take the time to make sure your loved ones know that as well. A little effort goes a long way!
Article updated November 2020