What New Members of the Military Need to Know About Personal Finance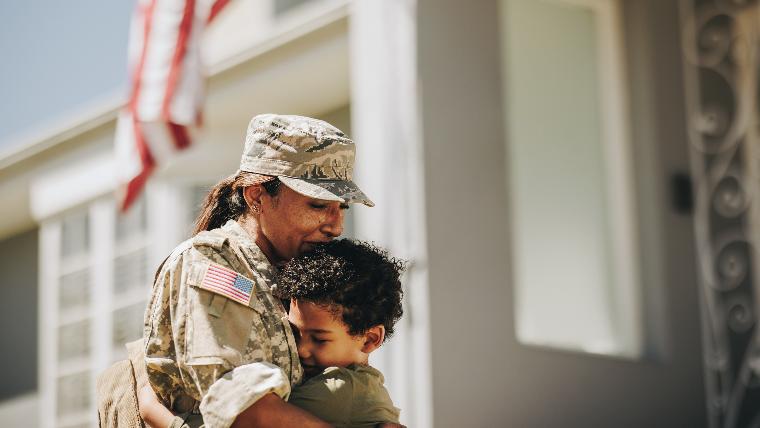 This blog post provides personal financial guidance and advice to new members of the military. It covers topics such as understanding military benefits, creating a budget, setting retirement goals, and being cautious of scams targeting military personnel.
Making financial mistakes when you're just starting out in a new career is common, and many people realize later they could have saved better and more often. Serving in the military includes some unique financial challenges but it also provides financial resources to help.
One of the first personal finance missteps MMI peer advocate Gabriel Grant made when he joined the Marines was to buy a used motorcycle without researching its condition. Unfortunately, rather than providing reliable transportation as he'd hoped, the motorcycle became a financial burden. He ended up buying a second one with a second loan, but looking back, he realizes he could have made better decisions.
"I could have taken the time to research and evaluate my options more carefully," Grant says.
Here are some steps you can take to prepare your finances for military service, including military-specific benefits you shouldn't ignore.
Essential Military Benefits
When you serve in a branch of the military, you're entitled to a number of benefits, and if you use them carefully, they can set you up for success. But if unexpected expenses send you sideways, your benefits may not go as far as you think. Here are the benefits you're entitled to:
Basic Pay: This is the foundational salary for military personnel, determined by rank and years of service.
Basic Housing Allowance (BAH): The allowance is given to military personnel to cover housing expenses if on-base housing isn't available.
Basic Allowance for Subsistence (BAS): The food allowance provided to cover the cost of meals.
Family Separation Allowance: Funds paid to service members with dependents when the family is separated due to military orders.
Tricare: A comprehensive healthcare program for military members and their families. Different plans are available, often with low or no cost for service members.
Servicemembers Group Life Insurance (SGLI): Low cost term life insurance coverage for eligible service members. Qualifying service members are automatically enrolled and can change or refuse coverage and manage beneficiaries through the SGLI online enrollment system (SOES).
Tuition Assistance: Active-duty service members may be eligible for tuition assistance to pursue higher education while on active duty.
GI Bill: Financial support for education fees and housing to eligible veterans, allowing them to pursue higher education or vocational training.
Blended Retirement System (BRS): Service members entering service on or after January 1, 2018 are automatically enrolled in the BRS. This system combines military retirement pay with the Thrift Savings Plan (TSP) to help service members plan and save for retirement regardless of length of service.

BRS Defined Benefit (Military Retirement Pay): Service members are eligible for retirement after 20 years of service. Retirement pay is based on the average of your highest 36 months' base pay.
Thrift Savings Plan (TSP): Similar to a 401(k), TSP is a retirement savings plan that allows contributions from military pay, often with employer matching up to a certain percentage.
Other sources of extra pay you may be entitled to:
Hazardous Duty Pay: Additional pay for those involved in dangerous tasks or locations.
Special Duty Assignment Pay: Additional pay for specific assignments or roles.
Enlistment Bonuses: Provided as an incentive for joining the military in certain roles.
Re-enlistment Bonuses: Offered to encourage service members to reenlist for another term.
Basic Needs Allowance (BNA): Supplemental allowance for eligible service members with qualifying large households and low income.
Here's how you can make the most of these benefits.
Understand your military entitlements
To make sure you're using your benefits fully to your advantage, it's important to understand your entitlements. Research the specific benefits available to you based on your branch, rank, and situation.
Enroll in college or other post-high school education
If you plan to pursue higher education, make full use of education benefits like the GI Bill and tuition assistance. For Grant, the GI Bill was transformative. He enrolled in an engineering degree, and the GI Bill has covered the majority of the cost. "The GI Bill has been, without a doubt, one of the most valuable assets in my financial journey."
Make the most of tax benefits available to you
Some military allowances are not taxable, so it's useful to consult a tax professional to optimize your tax strategy. Consulting a tax professional with expertise in military tax matters can help ensure that you reduce your tax liability and make the most of the financial resources available during your service.
Make a Service Member Budget and Outline Retirement Goals
Planning for the long-term means thinking through your financial goals. Develop a detailed budget that considers your income, expenses, and savings goals. As much as you're able to, avoid unnecessary debt and work on paying off high-interest debt as soon as possible. Debt can erode your ability to save for retirement. Your deployments will often come with additional pay and allowances, and you can use these opportunities to boost your savings and investments.
Serving in the military comes with its own unique financial hurdles, including the expenses associated with moving to a new base and adapting to life in a new setting. A new recruit's paycheck can sometimes be the first consistent income they've earned, and it can lead to impulsive spending. That's why developing a budget will help you understand your finances.
"I've witnessed instances where new service members have purchased extravagant items like $100,000 sports cars shortly after completing their boot camp," Grant said. Businesses will take advantage of this urge to spend by opening near military bases – dealerships with "lenient credit standards" will offer high-interest loans to new service members. It's easy to make financial missteps in the early days of a full-time paycheck, but if you can get a handle on budgeting and saving early, you'll set yourself up for a more stable future.
Once you've got your budget figured out, define your retirement goals and determine how much you need to save and invest to reach those goals. Then, as soon as you're eligible to do so, enroll in the Thrift Savings Plan (TSP) offered by the military and start making contributions because even small amounts compound over time. If you're able, contribute at least the amount required to receive the maximum employer match (if applicable).
Also, pay attention to the tax implications of your retirement accounts. For instance, TSP contributions are made with pre-tax dollars, which reduces your income and, thus, the annual taxes you need to pay.
Beware of Military Scams and Fraudulent Practices
Scams happen everywhere to everyone, but some fraudulent tactics target military personnel specifically. Stay informed about current scams and tactics through official military resources, news articles, and consumer protection agencies. Some common scams targeting military personnel include:
Impersonation scams: Scammers pose as military officials, veterans' organizations, or government agencies to gain trust and extract personal information, such as Social Security numbers or bank account details.
Phishing: Scammers send fake emails, text messages, or social media messages that appear to be from legitimate sources (banks, military, etc.). These messages ask for personal information or direct victims to malicious websites that steal information.
Veterans' benefit scams: Scammers offer to help veterans access benefits in exchange for a fee. They may also claim to expedite the processing of benefits, which is usually a ploy to extract money.
Romance scams: Scammers build online relationships with military personnel and then request money for various reasons, such as travel expenses or medical emergencies.
Unauthorized military discounts: Some scammers pose as businesses offering exclusive military discounts and require payment upfront for access to these "discounts."
Use these tips to avoid becoming a victim of a scam:
Be cautious of unsolicited communication
Don't share personal or financial information such as Social Security numbers, bank account details, or passwords. In many cases, scammers and cybercriminals use unsolicited communication as a primary method to target potential victims. They may pretend to be from reputable institutions, such as banks, government agencies, or even fellow military members, to gain your trust.
Verify, verify, verify
Before sharing sensitive financial information with a financial institution, make sure you're using secure and encrypted communication methods. Review bank statements, credit reports, and other financial accounts regularly for suspicious activity. Verify the credentials of financial advisors, investment firms, and other professionals before seeking advice or services.
Be wary of sharing personal information on social media platforms
When military personnel share personal information on social media, such as their full name, location, deployment details, or unit affiliation, they inadvertently make themselves vulnerable to targeted attacks.
Watch out for high-pressure tactics
Scammers use strategies to create a sense of urgency to push you into an immediate financial decision. If something doesn't feel right, or if an offer sounds too good to be true, trust your instincts. Take the time to research and verify.
As a general guideline, you'll be safer sticking to official military financial resources like financial counselors and educational programs. If you do encounter a scam or fraudulent activity, report it to your military chain of command, your local law enforcement, and relevant consumer protection agencies immediately.
The Bottom Line on Personal Finance as a New Military Member
If you're new to the military and worried about your finances getting out of hand, or even if you're a long-time service member who's currently struggling, MMI also offers free, confidential financial counseling. Our services are compatible with the information you're receiving from your military resources.