Feeding a Big Family on a Small Budget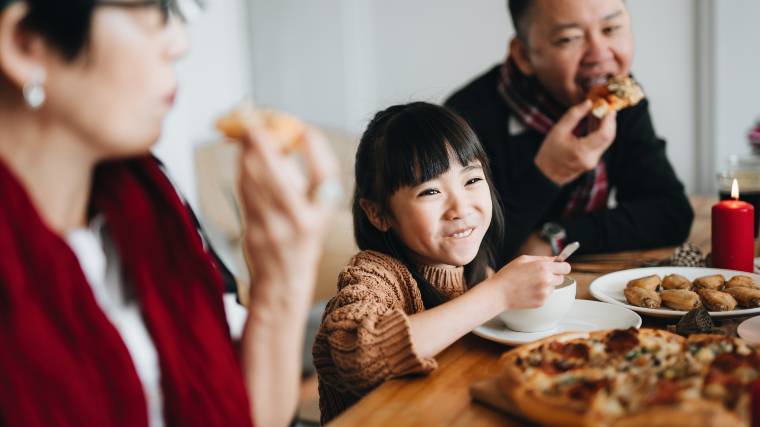 Family is a blessing and kids are a treasure, but keeping a growing family fully fed is a costly proposition. Expenses continue to rise faster than income, and food prices are no different. This makes feeding a family on a fixed budget a special kind of a challenge. Healthy food, especially, can seem almost too expensive to afford.
With a little extra work, great recipes, and some flexibility, however, it's possible to feed your family plenty of healthy food, no matter how tight your budget may be.
Average grocery bills for families
So, how much does it cost to feed a family, anyway? According a 2019 report from the US Bureau of Labor Statistics (BLS), annual food costs averaged about $8,200 for American families that year, with an approximate 60/40 split between eating at home and eating out. Of course, costs are going to vary wildly based on a number of different factors, including household size.
Using the USDA's official "Food Plan" guidelines, a family of four (two adults, one teen, one 8 year old) on a moderate cost plan would need to spend about $269 per week on food, which would work out to over $14,000 in food on the year. Meanwhile, a family of six (two adults, a 14 year old, a 10 year old, a 5 year old, and a baby) on the lowest cost plan would need to spend around $212 per week on food, or $11,024 annually.
No matter how you slice it (and your budget), food is a major expense that only gets more difficult to manage as the size of your household increases. So what can you do about it?
Create a family food budget
Before heading to the grocery store, make sure you do a little legwork.
Begin by figuring out exactly what you can afford. It wouldn't hurt to create a full budget that captures all of your expenses, but at the very least you should figure out how much you can afford to spend on food. According to the BLS, food accounts for approximately 13% of average household expenses. If you know your annual income, you can start by assigning 10% of that money to food (it's better to be conservative in case you need to adjust later).
Once you know how much you can spend annually, you can divide that down into a weekly food budget. Before you start planning your meals and eyeballing this week's specials, remember how much you have to work with. Also keep in mind that the money assigned to "food" can be spent at the grocery store, at a restaurant, on delivery, etc. As long as you don't exceed your budgeted funds, you can spend the money however you like.
Plan meals for maximum savings
If your food budget is tight, you'll want to do a little extra work to make that money stretch. As easy way to save is to simply grab the weekly flyer from your favorite grocery store (many stores post deals online, too) and use especially enticing offers as the basis for that week's menu.
You don't want let coupons and weekly specials completely dictate your diet (especially if it leads to you buying food no one in your house actually wants to eat), but when done right, deal hunting can be a great way to keep your grocery bill low and your cupboards full.
Buy the right amount of food
When you've got limited funds, the last thing you want to do is spend money on something you'll throw away. That's why how much you buy is almost as important as what you buy. Especially when it comes to bulk food deals. You may be able to save a lot of money by buying a larger quantity of something, but if you can't use it before it spoils or you don't have the space to store it, it's not a good deal.
On the other hand, making large quantities of certain foods and portioning them out to be enjoyed as leftovers or frozen for future meals is a great, "best of both worlds" scenario where you can save on bulk discounts and not waste any of your savings.
Buy produce direct whenever possible
If you're lucky enough to live near a farm or have access to a local farmer's market, you may be able to save quite a bit of money on fresh fruits and veggies. Keep in mind that you may need to adjust your menu based on what's available, since you'll usually only see whatever produce is in season. Buying directly from farmers can save a good amount of money, though, especially if you have a large family.
Load up on canned and frozen goods
Preserved food is a great item to buy in bulk when there's a good sale. Loading up on canned, dried, and frozen food can help ensure that there's always something in the house and help offset future costs on those weeks when you need to divert money out of the food budget. Just don't forget about your stash! Be sure to review the contents of your freezer and cupboards often and cycle those foods into your weekly meal plan on a regular basis.
Stick with the plan
Your food budget only works if you use it, and your weekly meal plan only works if you stick to it. While it's okay to be spontaneous, the more you can do to avoid unplanned Uber Eats orders and fast food drive-thrus, the less likely you are to waste food and outspend your budget. To help stay on point, try giving your family rewards for sticking with your plan. Maybe two weeks of eating at home on a tight budget earns everyone a pizza party? Whatever helps everyone stay motivated.
If your budget is too tight to live comfortably, there may be something more going on. Our NFCC-certified credit counselors can take a look at your budget and provide money-saving advice and resources. Credit counseling is free and available 24/7.