Consumers Are Not Financially Prepared for Natural Disasters - Here's How to Help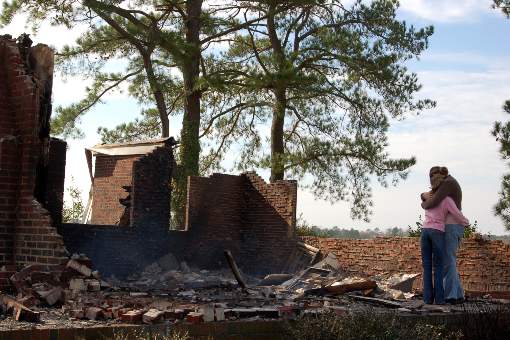 Whether it's a storm that touches down during the Atlantic hurricane season or wildfires that reach cities on the West Coast, it's never enjoyable to think about the worst-case scenario. But when it comes to natural disaster preparedness, planning for the worst is actually the best way to avoid long-term negative outcomes. Despite this fact, most individuals are not ready for a natural disaster to strike, and neither are many of the financial institutions that serve them.
In fact, according to a recent Harris Poll conducted for Property Casualty Insurers Association of America, less than one-quarter of Americans have taken basic steps, like conducting a home inventory or creating a disaster response plan to prepare for natural disasters. Yet the same poll found that 72 percent of Americans believe natural disasters are occurring more often. In other words, there's a disconnect between what customers believe and what they do.
In the same way most individuals are not prepared, many financial institutions are not equipped to help customers during and after a disaster either. Yet research shows that every $1 invested in disaster preparation saves $6 during a disaster. That's why it's important for financial institutions to have systems in place before a disaster occurs, particularly in disaster-prone areas.
What's at stake
Natural disasters do not discriminate, but the recovery process and how long it takes to recover can differ based upon income and wealth. Affluent communities have greater access to resources and support, which helps them recover from a disaster more rapidly. For financially vulnerable communities, it may be more difficult to receive aid or even know where to begin.
In fact, a recent survey conducted by The Harris Poll on behalf of Project Porchlight demonstrates the ways that natural disasters can disproportionately affect financially vulnerable households. Ultimately, the survey shows that consumers need a comprehensive recovery program that includes personalized steps survivors should follow after a disaster. Personalization is important because survivors from various socioeconomic backgrounds need access to different types of support and information. The survey also reinforces a recent Urban Institute research report which states that current disaster relief programs and other private support do not fully protect survivors from negative financial impacts.
A customer-focused solution
There are hundreds of organizations that do a spectacular job of providing in-person, on-the-ground aid during natural disasters. Whether it's rescuing people from rooftops or providing clean water, these organizations play a critical role in saving lives during a crisis. But what about long-term financial resources that allow people to rebuild their lives once they are physically safe? That's where Project Porchlight comes in.
Project Porchlight is a post-disaster financial recovery program that focuses on assisting people affected by natural or human-instigated disasters. It provides individuals with the tools, education, and support needed to take control of their post-disaster finances through recovery assessment, aid application, and denial assistance, all of which is done over the phone.
Project Porchlight aims to increase the use of FEMA aid by assisting consumers through the application and appeals process. Plus, Project Porchlight encourages communication between the individual and their financial institutions throughout the entire process.
It's not a replacement for the on-the-ground work that aid organizations are already providing; it's a supplement. Project Porchlight exists to make sure that consumers can afford to move on, take the next step, and meet their financial obligations.
The ultimate win-win
Data shows that the number of mortgage delinquencies increases after a natural disaster, and in a lot of ways that makes sense. But in the same way disasters can interrupt the lives and financial well-being of consumers, natural disasters can also interrupt the financial wellbeing of financial institutions.
Natural disasters can negatively affect the day-to-day operations of banks and other financial businesses. By partnering with these institutions, Project Porchlight helps to make sure that the company and their customers are working towards the same goal: developing and implementing a personalized recovery plan to improve resilience and minimize the long-term negative impact.
For most people affected by a natural disaster, financial concerns are something that comes into play days or even weeks after the disaster occurs. That's when consumers usually realize that they have no idea how to reach the financial resources they need. But through Project Porchlight's financial coaching, consumers can learn how to speak the language of aid applications and appeals.
Four ways to help customers prepare
Natural disasters are a time of high-stress, which is usually amplified by the fact that everyone is scrambling to find solutions. That's why it's critical for companies to prepare before a disaster occurs.
Here are some simple ways businesses can help their customers prepare.
Education: Whether it's a webinar, e-mail, or new customer orientation, educating customers about financial preparedness for natural disasters is critical. Some topics to discuss include insurance coverage, financial document storage, and recordings of property.
Safe deposit box: It might be a good idea to recommend a safe deposit box for customers. It's important to have a secure place to store hard copies of important documents like birth certificates and passports. Plus, it increases the likelihood that the documents will survive if something happens to the customer's house.
Emergency fund: It sounds simple, but emergency funds are often the difference between long-term financial struggle and rapid rebounds after natural disasters. Customers who have an emergency fund (of any size) will benefit from peace of mind after a disaster.
Resources: It's important to make sure that customers know what steps to take after a natural disaster, and the best way to make sure that happens is to provide resources before a disaster strikes. Project Porchlight can serve as a regular tool in the toolbox that you offer clients as part of your preparation and recovery efforts.
For more information about Project Porchlight visit MoneyManagement.org/Porchlight.