Best Apps That Reward You for Shopping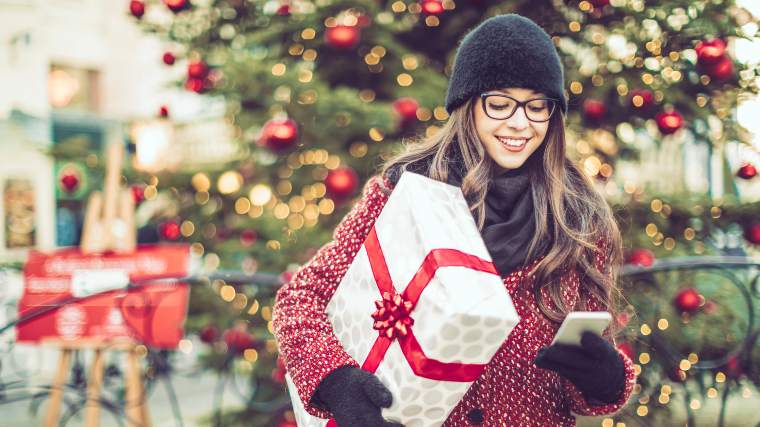 We Americans love to spend, and there are no signs of stopping. According to data compiled by the Bureau of Labor Statistics, we spend 80% of our income. Where is all the money going? Here's the breakdown: Nearly 13% is spent on food, 5.3% of it is on entertainment, and 3.1% is doled out on apparel and services.
If you're already spending that money, why not get compensated for it? There are a handful of apps that make it easy for you to get cash back or rewards when you shop. Here are our top picks:
Currently 3 million people have downloaded the Drop app. You can earn points for places you already shop at, such as Target, Trader Joe's, CVS, Amazon, Starbucks, and Grubhub. That's right, you don't need to drop $500 on a laptop to score some cash back. It links to your card, so every time you use your card at these stores you'll rack up points.
On the flip side, you don't receive cash for your purchases. Instead, you accrue points to redeem for gift cards. Before you hit the "download" button on your phone, make sure the gift cards are for places you patronize.
iBotta's tagline is "earn cash back on everyday purchases," and you do just that. You start by picking the supermarket, bar, restaurant, or retailers you frequent. Next, you scour the featured offers for that particular store. Each product has a different number of points. Last, you scan your store receipt to earn points. Those points can be redeemed for cash back.
You can earn bonus points when you complete a teamwork goal, cash in on a brand-specific offer, or make a referral. You can also score extra points by going on a streak, which is when you purchase the same product or brand at multiple stores. iBotta's turnaround to convert points to cash is quite speedy: You'll receive your earnings within 24 hours.
With Rakuten, you can scour deals and promo codes through its website or app. Follow the provided links to earn cash back. Each quarter, you'll receive that cash back in the form of a check or PayPal payment. (You just need a minimum of $5 in your balance.) Per its website, there are over 2,500 stores to shop from, and you can save up to 40% from its deals.
While you can earn anywhere from 1 to 25% cash back, the average is 5%. So spend $500 through Rakuten's retailer links within the span of three months, and earn $25. Make $1,000 in purchases, and you're looking at $50 in cash back.
Shopkick enables you to earn "kicks" (aka points) by shopping both in stores and online. When shopping in-store with Shopkick's retail partners, you can accumulate points when you step foot into a store, by scanning barcodes of products on the shelves, when you check out, and by submitting a receipt. You can also rack up points when you shop online with its partners.
Here's how it works: You swap points for gifts cards of your choosing. Featured retailers include Amazon, Walmart, eBay, and Sephora. There are also gift cards for charitable organizations, such as Feeding America and American Red Cross.
Payce is very similar to some of the other cash back apps. After you enroll, you can shop for deals through Payce's online "mall" or connect a credit card to your Payce account and earn cash back every time your make qualified purchases at select retailers and restaurants.
What sets Payce apart is that you can use that cash back toward important financial goals. Trying to work your way out of debt? Payce can automatically send the cash back you earn to the debt of your choice. Interested in bulking up your nest egg? Pick a savings account and your rewards will be deposited at the end of every month.
Used responsibly, Payce can be a helpful, passive way to make progress on your top financial goals without any extra legwork.
Tips on Using Shopping Apps So You Stay Within Your Budget
Shop at places where you already shop
Before you go hog-wild and sign up for every shopping app on the face of the planet, poke around the website or read online reviews to see which retailers and restaurants are included. What's more, see how much cash back or points you might be able to earn from these businesses. If you don't typically shop at those places, it might not be worth your while.
If you're new to shopping and cash back apps, I suggest starting with the one that features establishments you already know, love, and shop frequently. Remember that these shopping apps are designed to provide a small incentive to buy more stuff. If you find yourself checking out new places and spending more money just to earn a mere $5 gift card, is it really worth it?
Limit your spending
You might also want to set a cap on how much you spend shopping. Some bank apps, money management apps, and credit card networks let you set alerts. Whenever you make an online transaction, spend more than X, or make a purchase at a particular retailer, you'll receive a notification.
Beware of spending traps
Keep in mind that you aren't actually earning cash back. You're simply getting a discount on what you're already spending. The best way to save is to not spend at all. Only buy stuff you need or truly want. I personally keep a 30-day list of stuff I want, and wait a month to see if I still truly want those items.
Use that referral code
A lot of these apps offer a referral bonus in the form of cash or points earned. That's actually how I got hooked on one of these apps. If you have friends or relations who might benefit from using one of these apps, let them know about it and send them a referral code.
Keep your privacy in mind
One of the trade-offs for rebate rewards and other perks is that you'll be sharing lots of data with retailers. They're using the perks as a way to learn more about you and your buying habits, in order to make more sales in the future. It's up to you to decide whether or not you're okay with that kind of data collection.
Bottom line: These apps are fun, easy way to earn money or gift cards. But if they make you overspend, or buy stuff you don't need, or are taking up more brainspace than anticipated, they might not be worth it.