Bankrolling Your Wedding Without Bankrupting Your Future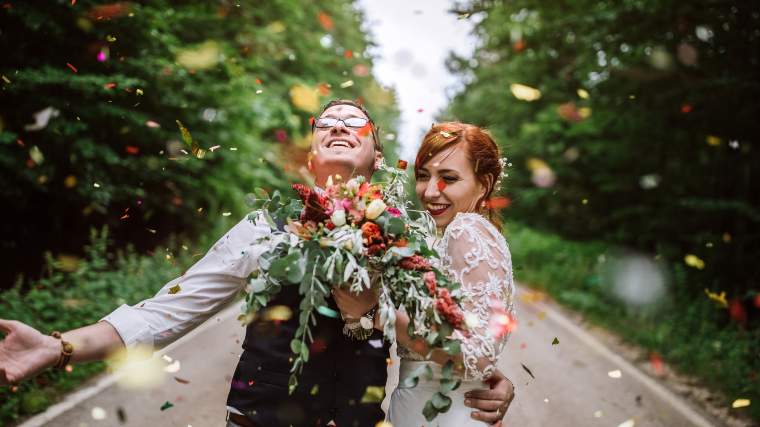 A wedding may be one of the few large parties you get to throw in your life. It's one of the only times both of your families will come together in a show of community and celebration. Weddings are also a major expense for many couples.
According to a story in The Washington Post, couples who take out a "wedding loan" (a personal loan that's used to pay for wedding expenses) from online lender Earnest borrow an average of $16,000. The money can help cover the many wedding-related expenses that lead the average wedding to cost around $20,000. (The average was $30,000 before the pandemic.)
"One thing that's had an impact on folks spending so much on their wedding is social media," says etiquette and wedding expert Elaine Swann. She's helped many couples prepare for their weddings and has observed how trends and etiquette have changed over time. "People are choosing to have destination weddings or more elaborate weddings so that they can talk about it… People are staging their weddings to get likes."
How do you find a middle ground that lets you throw a party you're excited about without putting yourself in the red from the start?
Set Priorities
Your style, desires, and family dynamics can play a significant role in your overall cost. If you've always wanted a huge wedding, you're almost certainly looking at a larger bill than a couple who prefers an intimate gathering. However, you can still steer your budget based on both partners' priorities (and parents' preferences, if they come into play).
List these priorities, estimate the related expenses by getting quotes from real vendors, and get a sense for what works with your budget. You may find that your priorities change, you have to compromise with the less-important (for you) parts of the wedding, or you have to find a creative way to fund what's most important to you.
"Instead of taking on debt, tap into the relationships you already have and see how they can contribute to your wedding," suggests Swann. "Family members want to help."
Sometimes, they can offer financial support. However, you may also find a family member with a connection for a venue that fits your needs. Or, perhaps you want to splurge on a venue but ask friends and family to bring food and have a potluck-style dinner.
Look for Ways to Save
Many couples find that it's hard to stick with their original budget once they start pricing things out. But there are all sorts of ways to save money on the major expenses—the big four being the venue, music, food, and drinks—and smaller expenses like decorations and flowers.
Book early and negotiate rates.
Have the wedding during the "off-season," or choose a less popular day to save money on the venue.
Compare all-inclusive packages to a la carte offerings.
Try to find DIY options for as many things as you can.
If you want an open bar, limit the options to a few signature drinks, wine, and beer. Or, give each guest a couple of drink tickets that they can use as they please rather than having a completely open bar.
Consider a DJ or create your own playlists rather than hiring a band.
Limiting the guest list could have the biggest impact on your budget. Beyond that, consider a few of the major expenses: the venue, a band versus DJ, and a formal dinner versus buffet or less-formal food options.
Ask for Cash To Offset Expenses
The days of wedding registries are far from over. But many couples don't need traditional housewarming-style gifts as they already live together or are older and have many of the basics covered.
Cash gifts are common and can help offset your wedding expenses, but making the ask can be tricky. "Asking for money is fine, but there is a certain way you should go about doing it," says Swann. "You shouldn't put your ask for money on the actual invitation, but you can put the information on the website."
Some online registries let you choose consumer goods and create "funds" that let guests contribute toward specific expenses, such as a honeymoon or home improvements. You can sometimes create a generic fund that allows guests to give money without a specific intent.
Swann also suggests having the bridal party, family, and close friends get the word out if you'd prefer a cash gift. And, of course, send thank you notes after the wedding to everyone who attends. Swann says it's a good idea to mention exactly how much they gifted and share how you used (or plan to use) the money.
Think Outside the Wedding Box
Whether you can afford to self-fund your wedding or are considering a loan, don't get trapped into thinking your only options are wedding A or wedding B. It's a common misstep people make with personal finances in general, as it's hard to consider the opportunity cost of an expense without putting yourself in a box.
For example, you might be comparing three venues that cost $5,000, $10,000, or $15,000. You think that if you choose the $5,000 option, you could use the "extra" $10,000 to pay for a band, photo booth, mixologists, and a special surprise that ties in your favorite hobby. It seems like a great win-win. However, take a step back and consider how you could use the money outside of the wedding.
Maybe that $10,000 goes towards paying down the last bit of your student loans and you can start your marriage debt-free. Or, you set it aside for a down payment and start looking for a new home together.
While thinking about post-wedding finances might be less exciting than planning your wedding, starting your married life with fewer financial concerns could be one key to marital bliss.
If wedding expenses have put you in a financial hole, MMI offers free, online debt counseling. Let us review your budget and debts and we'll create a personalized plan of attack that works for your unique circumstances.