The Secret to a Staycation that's Actually Fun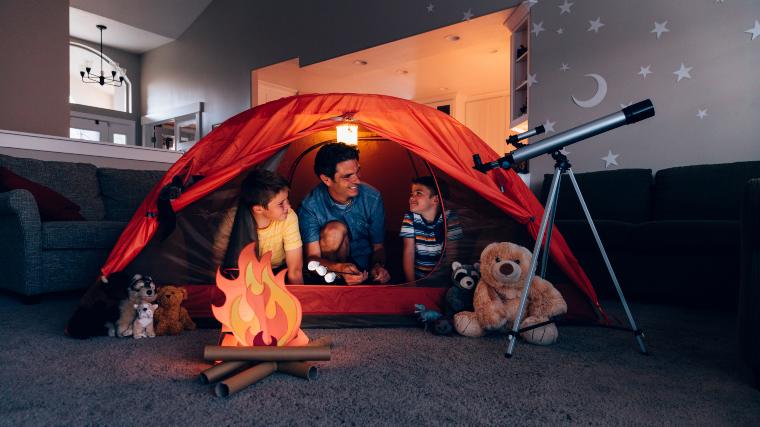 Is Cabo out of the cards this summer? Or maybe that scenic trip up the Pacific Coast via train is suddenly out of your price range. If your vacation plans have been waylaid, how can you enjoy a vacation without straying too far from your stomping grounds?
To help fill that summertime void, we've drummed up some ideas for a fun staycation that fits your budget:
Staycation Ideas for Families
Host a Week of Movie Nights
If you live in a household full of cinephiles, have each member of your family choose a movie you can watch together. Let the same family member set the menu for your viewing. Pizza and Spider-Man? Sounds good. Charcuterie and Clue? On brand. Fish sticks and Finding Nemo? Dark, but sure, why not?
With a little planning and creativity, every night can be a special event.
Go on a virtual museum tour
Museums are a wonderful way to learn more about the world, but they usually require that patrons, you know, leave the house. Thanks to modern technology, however, you can now take virtual tours of some of the most famous museum spaces in the world.
Google Arts & Culture has a bunch of great museums available for a virtual tour. Take a virtual walk through the Solomon R. Guggenheim Museum in New York City or the National Museum of Modern and Contemporary Art, Korea, for starters.
Camp in Your Backyard
Pitch a tent in your backyard and cook up some hot dogs or roast smores over your grill. When it gets dark, you can gather around and tell spooky stories, then wait for the stars to come out and do some stargazing.
During the day, you can romp about outside and form designated areas for play, art and crafts, and rest and relaxation.
Picnic in your living room
Planning a picnic is a fun adventure all by itself. Putting together the snacks and treats that will fill your picnic basket is a ton of fun. And if you're not up for a drive to the park, you can enjoy those picnic delights in the comfort of your own living room.
Explore Local Nature
Whether it's a hiking trail or urban park, spend some time outdoors inhaling some fresh air and learning about flora and fauna in your area. Just make sure to bring all the nature hiking necessities, like sunscreen, bug spray, hats, sturdy shoes, and more.
Romantic Staycation Ideas for Couples
Cook something special
If you love to cook, think of recipes you've wanted to try. See if you can recreate dishes in a region or country you'd like to visit someday. With the extra time on your hands, ferment some napa cabbage and make some homemade kimchi. Or dice up some ginger, and add sugar and water and make your own ginger bug to create homemade ginger ale. Be experimental and get out of your comfort zone.
Explore new neighborhoods
You don't have to go too far to find something new. Now's a great time to stay local and find those little hidden gems you've been missing. Ask neighbors and coworkers for their favorite spots. Or just start driving in a direction you don't normally take. If you've never seen it before, make a plan to change that.
Complete a fun mission
Need a little more motivation to go exploring? Give your staycation a twist by creating a mission for you and your partner. See if you can find the best sandwich in town by ordering takeout at a few of the best cafes and sandwich shops on Yelp. Or if you have a sweet tooth, see if you can go on a hunt for the best chocolate caramel cupcake in your area.
I've gone on little themed-based missions where I live in search of the best donut or pastor taco. It'll help you discover new eats in your neighborhood and give you an excuse to check out the menu of a restaurant you might've previously overlooked.
Stay in a unique Airbnb
See how the other half lives, quite literally, by renting a room, apartment, or house through Airbnb or a similar space-sharing service. You don't even have to travel far. Simply staying in a fun and unique setting can be a great vacation all by itself. Just sleeping in a different bed, seeing a different view, and enjoying a different living space can put you in the vacation mind space (without the extensive cost of travel).
Read to each other
Looking to stack some free activities onto your staycation? Consider reading out loud to each other. Pick a book and alternate chapters. Snuggle together on the couch. Do the voices (you've got to do the voices). The only thing better than getting lost in a good book is doing it with someone else.
Drinks at sunset
Whether you're at home or away, a great low cost vacation time activity is sitting somewhere comfy with your favorite beverages on hand, watches as the sun slowly sets. It's romantic, it's calming, and, oh yeah, it's really, really cheap.
Inexpensive Staycation Ideas for Everyone
Break Out of Your Routine
While maintaining healthy habits and routines can be a good thing, there are also benefits to mixing things up. Studies reveal that routines can set us in autopilot. It could mean losing touch with your emotions and senses.
During your staycation, find small ways to break out of your daily doldrums. Take a different route on your neighborhood walk, and hone in on one of your senses. For example, take deep breaths while you take a stroll around the neighborhood. Smell different flowers and plants on your walk.
Breaking out of your routine could be as simple as switching rooms you sleep in during your staycation. It might sound a bit silly, but waking up from a sleeping bag in your living room floor, or letting the kids sleep in the master bedroom, could be enough to enliven your senses.
Get Off Your Computer
If you're burnt out from all those Zoom calls, limit time spent on electronic devices. Go on a social media break, and don't answer work emails if possible. It's a lot to ask, but try doing some activities without your cellphone nearby.
And treat your staycation just like you were taking a proper holiday. Put up an "I'm on vacation" auto-responder on your work email, and try not to think about work.
Take a bike trip
The world looks different when you're riding a bike. Whether it's an adventure riding the trails or a low impact cruise through the neighborhood, a bike trip is a great, low cost way to spend an afternoon or a whole day. You can go by yourself or take the whole family. You can go someplace new, or just weave your way through familiar streets. Just dust off your bike (or rent one) and get riding.
Redecorate your space
Decorating probably sounds more like work than play, but setting aside time for decluttering, reorganizing, and redecorating can be extremely rewarding and relaxing. If you're feeling too pinched financially to take a big trip, use some of that vacation time to do something nice for yourself and your living space. Your post-vacation self will thank you.
Whatever you decide to do for your quarantine staycation, focus on what it is about travel that you enjoy. Maybe it's seeing new sights, exploring new terrain, trying fresh cuisines, spending time with your family, or taking a break from work. While you might not be able to travel, creating a staycation that's rooted in what's most important to you will make for time off at home that provides what you need.
Funds coming up short this vacation season? Consider shedding some debt to free up money. See how a debt management plan can help you repay debt quickly – and save you a lot of cash in the process.