The Affordable Fall Bucket List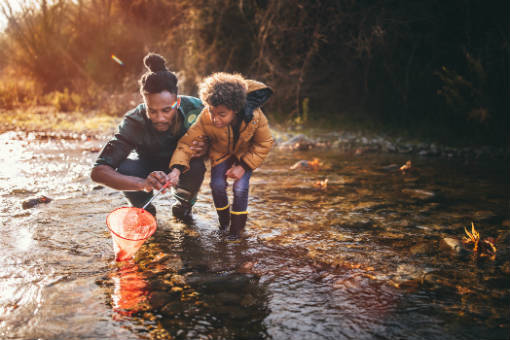 Fall is just around the corner and that cool crisp air will be encouraging you to get outside. But your wallet might not agree. Good news though . . . there are a variety of fun fall activities that are free or inexpensive, so no need to worry about your budget.
Inexpensive Bucket List Ideas
Get Out in the Field
Picking your own pumpkins or apples is a great way to get outside, it's very inexpensive, and you'll enjoy your produce more knowing you picked it with your own hands. Decorate your pumpkins or make fresh pumpkin pie or muffins. Make homemade applesauce, caramel apples, or apple cake. Or dry your apples and make homemade granola. The ideas are endless!
Photo Shoot
A fall photo shoot brings vibrant colors and textures to life while creating special memories. The colors and the lighting naturally help you be a better photographer, no special equipment needed. Find a location nearby with colorful trees, leaves on the ground, and a beautiful sunset, then snap away.
Go for a Hike
The cool, crisp air makes hiking a better activity for fall than summer. You can get some exercise, pack a picnic, take photos, and enjoy the beauty of Mother Nature. With hiking and biking trails in almost every city and town around the country, you shouldn't have any trouble finding a trail to explore nearby.
Go to a Football Game
Fall means football season. Even if you're not a fan, taking in a live game beats watching a game on your couch any day. Sitting in the stands, wrapped in a blanket, with the chill of the air around you and warm hot chocolate between your hands equates to a fun night. Not to mention the competition of the game. No need to spend a fortune on NFL tickets. Take in a local high school or college game. Get some friends together and plan a tailgate party beforehand!
Get Organized
With winter just around the corner, you'll no doubt be spending more time inside soon. Fall is the perfect time to clean or organize your home for your winter hibernation. It's also a great time to plan a yard sale to get rid of things you don't need anymore and make a few extra bucks. If you have an overflow of odds and ends in your attic or basement, the cool air will make it easier to work in these areas to declutter and organize.
Create a Reading Nook
Fall and winter are the perfect time of year to curl up with a good book. It's even nicer to have a place where you can get comfortable and enjoy a warm beverage. Create your own reading nook by finding a corner that gets good light or feels cozy. Add some soft lighting, a comfortable place to sit, and a blanket to keep your feet warm. Don't forget a small side table for your book and cup of tea.
Learn Something New
Take up a new hobby or go back to school. Community colleges and counties offer less expensive, shorter, adult education classes that are very affordable. Take a class to learn a new hobby like knitting or baking or learn a new skill like digital photography.
Fall is the perfect time to get outside and enjoy the fresh air as well as get yourself and your home ready for the winter months. It doesn't take a big budget, just a little planning. What will you add to your affordable fall bucket list?