Student Loan Repayment and Forgiveness Programs for Military Service Members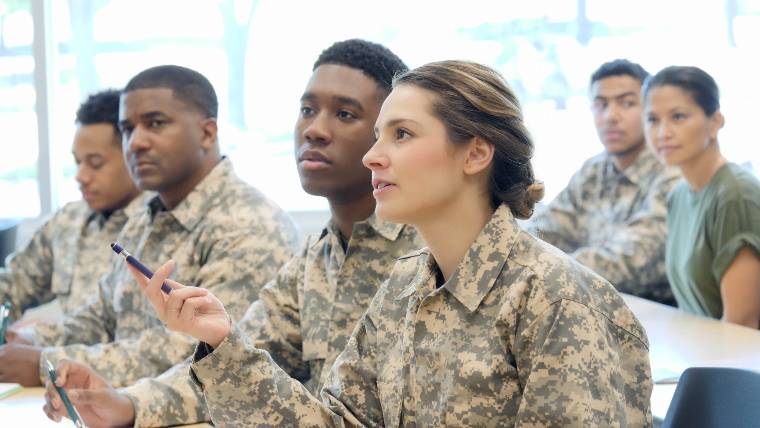 It's no great surprise that we're experiencing a major student loan crisis. There's a staggering $1.75 trillion in student loan debt in the U.S. What's more, there are 44 million student loan debt borrowers in the U.S.
Here's the good news: If you're a member of the U.S. armed forces, you could qualify for federal student loan forgiveness and repayment programs. Here's an overview of student loan-related programs that could help ease military service members' debt burden:
Public Service Loan Forgiveness
As you work for the government as a military service member, you might be able to qualify for Public Service Loan Forgiveness (PSLF). Here's how it works: If you make 120 monthly payments on a qualifying repayment plan while working for a full-time employer, you could have the remainder of your student loan balance forgiven.
Note that since you'll need to make 120 monthly payments, it'll take at least 10 years before your loans can be forgiven. Also, only payments made after October 1, 2007 can count toward PSLF.
While PSLF sounds pretty sweet, Robert Farrington, founder of The College Investor, explains that you'll need to meet three major qualifications: employment, loan type, and repayment plan type. But since you're serving, your employment qualifies.
However, you need to make sure that you have the correct loan type — direct loans — and be on an income-driven repayment plan.
This includes:
Income-Based Repayment (IBR)
Pay as You Earn (PAYE)
Revised Pay As You Earn (RePAYE)
Income-Contingent Repayment (ICR)
"If you don't check these other two things, you may think you qualify, only to find out you don't years later," says Farrington.
National Defense Student Loan Discharge
Military members serving in a location that qualifies for Hostile Fire Pay (HFP) or Imminent Danger Pay (IDP) may be eligible for partial or total student loan forgiveness.
Forgiveness is limited to Federal Perkins Loans
You must complete a full year of active duty (12 consecutive months) to qualify
To receive 100% cancellation of applicable loans, you need to complete five full years of active duty. You can receive partial forgiveness for serving one or more full years of active duty.
15% forgiveness on the original loan principal for the first and second full years of service
20% forgiveness on the original loan principal for the third and fourth years of service
30% forgiveness on the original loan principal for the fifth year of service
You can also receive forgiveness on any interest on that accrued during those years of military service.
HEROES Act of 2003
If you're a member of the military who was called into service by the President or Secretary of Defense for more than 30 consecutive days, you may be eligible for financial relief as part of the the Higher Education Relief Opportunities for Students (HEROES) Act of 2003.
The law allows the Secretary of Education to waive certain requirements of federal student financial aid programs during periods of distress, including natural disasters or active military operations. It's not a program that you would apply for, but rather relief that's offered more broadly to impacted borrowers when deemed necessary by the Secretary of Education.
Student Loan Repayment Assistance Programs
If you're already serving in the military, Public Service Loan Forgiveness is the best option, says Farrington. "But if you're still thinking about joining, or you have re-enlistment coming up, some branches also offer student loan repayment assistance. This can be a great bonus for something that you're already considering doing."
According to The College Investor, the qualifications for student loan repayment varies, but typically you'll need to be active for a certain number of years, have a minimum score on the Armed Services Vocational Aptitude Battery (ASVAB), and have student repayment listed on your enlistment contract.
Here's the rundown of student loan repayment assistance programs offered to military service members:
Air Force College Loan Repayment Program
If you're part of the USAF Judge Advocate General (JAG), under its Student Loan Repayment Program (JA-SLRP), you can apply for up to $65,000 toward student loan repayment, with payments will be made directly to your lender over a three-year period.
Plus, you might also be able to qualify for PSLF and income-based loan repayment program. Loan repayments kick in after you complete your first year of service as a JAG. You'll be able to put that money toward law school, undergraduate, or graduate programs.
Army College Loan Repayment Program
This repayment program is available for those who are actively serving in the Army. Active military are eligible to receive loan repayments after one year of active duty. How much are we talking about here? You can earn up to $1,500 or one-third of the remaining balance each year for a total of three years, whichever is greater.
National Guard Student Loan Repayment Program
If you're a soldier or officer candidate serving the National Guard, you can have up to $50,000 of your student loan payments paid off. To be eligible, your student loans must be listed under the Department of Education National Student Loan Data System (NSLDS). If you have a PLUS loans, only loans for individual use are eligible. However, state and private loans aren't eligible for repayment under this particular program.
Navy Student Loan Repayment Program
Under the Navy Student Loan Repayment Program, you can get up to $65,000 in student loan repayment during the first three years of being a sailor. This is only available to those in the delayed entry program who will enlist as active duty sailors.
Army Active Duty Health Professions Student Loan Repayment Program
If you're a health care professional serving for the U.S. Army, you might be eligible for a sizable loan repayment. For those serving in the Dental Corps, you can get up to $40,000 each year for three years, up to $120,000.
In the Medical Corps? You can get up to $120,000 over the course of three years, and up to $75,000 if you're in the Medical Corps Reserve. You can also receive student loan repayment if you're a member of the Allied Health Corps, Nurse Corps, or Veterinary Corps.
Have questions about student loan repayment programs for different branches of the military? Reach out to the human resources departments of each repayment program. You'll want to make sure you meet all the eligibility requirements before applying.
Need a little extra help? You can receive one-on-one guidance on how to manage your student loans by reaching out to MMI. We also have a handful of articles on handling your student loans, so be sure to check those out.