Which Holiday Financing Option is Right for You?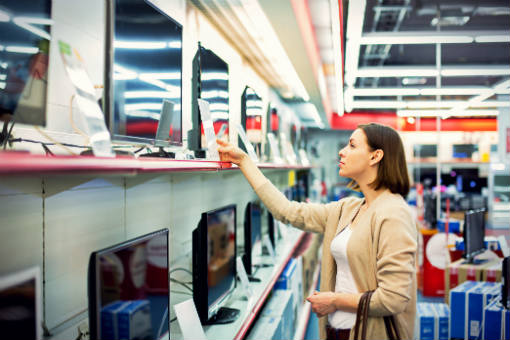 This article is presented for informational purposes only.
Even the best-intentioned budget can get thrown off course during the holidays. Money can seem to disappear as you try to keep up with day-to-day expenses and pay for decorations, parties, and gifts. For many, keeping up with it all without going into a little debt isn't possible.
You can finance holiday shopping in several ways, but two of the most common are buying gifts with layaway or using a credit card and paying off the bill over time. There are different pros, cons, and costs associated with either option.
Layaway vs. Credit Cards
When might layaway be a good option for buying gifts?
Some stores offer layaway programs for items they sell in-store, and sometimes online as well. You may have to pay a small fee to put your item, or several items, on layaway. You could also have to make a down payment, such as $10 or 10 percent of the item's price, and then make a series of weekly or biweekly payments. You'll receive your layaway order once you make your final payment.
Because retailers generally don't charge interest on your payments, a layaway plan can be a low-cost way to pay for a purchase over time. Additionally, if you can't afford one of the year's must-have gifts and expect it to sell out, the gift will be held for you while you make your payments. You should be sure to double-check that the store puts your specific item aside and see if there's a date you must complete your payments by to stay on your layaway plan.
What to watch out for with layaway
While you won't have to pay interest with layaway, there is the small startup fee – usually around $5 to $10. You may also have to pay a cancellation or restocking fee ($10 to $15) if you don't complete the payment plan by the end date, or if you decide you no longer want your order. You'll get a refund for all the payments you've already made. But you might still be out around $15 to $25, and the refund could be store credit rather than cash.
Another drawback to using a layaway plan is it locks you into the purchase. In some cases, stores might honor a price match during the first couple weeks of your layaway plan if an item goes on sale, but that's not guaranteed. You might also be stuck paying the startup and cancellation fees if the person you're buying a gift for changes his or her mind.
Paying over time with a credit card
Using a credit card, or opening a new credit card for holiday shopping, is another popular option. Some store cards may offer discounts on purchases, or you might earn rewards with a credit card no matter where you shop.
Credit cards offer several advantages over layaway. To start, you get the item right away. You also may be able to return it and repurchase later if you see a sale. A few credit cards even come with post-purchase price matching and will give you a refund of the difference if something you buy goes on sale after you purchase it.
If you make a purchase at the start of your card's statement period, you may even have the approximately 30-day statement period plus at least an additional 21-day grace period between when you make the purchase and have to pay your bill. You generally won't pay any interest if you consistently pay your bill in full each month.
If you need longer to pay off your card, you might still come ahead with a credit card. If your card has an 18 percent APR, you have a $300 balance, and you make $100 payments each month, you'll pay off the card in four months and pay less than $10 in interest.
But credit card debt can be pricey and hard to pay off
Credit cards can seem tempting, but they have a downside too. They often have a high interest rate, and it can be easy to fall into the trap of simply making minimum payments without making a lot of progress toward paying off the debt.
With layaway, there's external accountability because you need to keep making payment before you get the product. That's not the case with credit cards. Even those with the best intentions during the holidays may find they're still paying off their credit cards months later. In the meantime, the credit card debt may be hurting their credit scores, adding stress to their lives, and the monthly interest could make it harder to build savings.
Best of both: create your own "layaway" plan
Having the flexibility and immediacy of a credit card, with the no-interest and accountability of a layaway plan, could be the best of both worlds. You could create a holiday or gifting fund, contribute to it each paycheck, and use that for all your shopping. The accountability part can be more difficult without external pressure, but you can set up systems to automate the process, which may increase your chance of success.
It's late in the season already, but even putting a little money away now could help you avoid debt later. Then, you could stick with it and get a jump on next year.
For example, start by opening an online high-yield savings account that you'll only use for the holidays. Look for an account that doesn't have a minimum opening balance or ongoing minimum balance requirement (two fees that may be less common with online accounts), and a good interest rate so you can earn some more money on your savings throughout the year.
Then, if you're paid by direct deposit you may be able to request part of each paycheck gets directly deposited into the account. If not, you could set up an automatic transfer from your checking account into your savings account each pay period. Even if you're just putting in $25 each paycheck, with 26 pay periods in the year that comes out to $650 each holiday season.
The important point is to find a method that gives you what you want (a happy holiday season) and what you need (a financial plan that keeps you from accumulating unnecessary debt).
As always, if your debt ever does become unsustainable and you find yourself unsure how to move forward, don't hesitate to connect with one of MMI's financial counselors. Debt counseling is free, confidential, and available 24/7.