How to Eat Right When Resources are Tight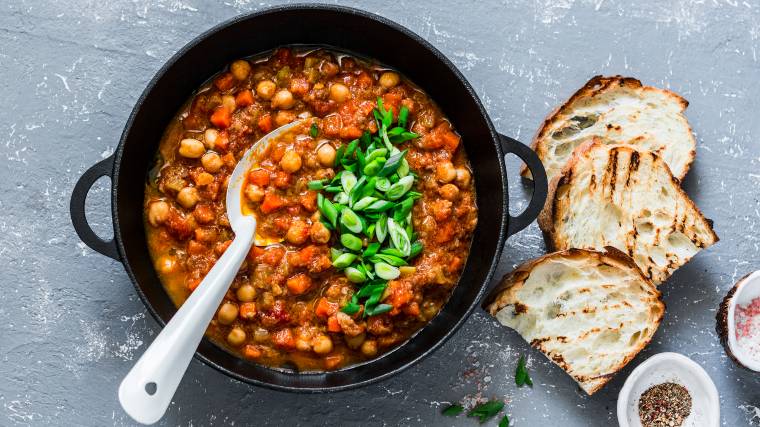 Eat at least five servings of fruits and veggies, consume lean proteins, drink plenty of water, and do an hour of yoga every day. These wellness tips might be met with an eye roll if you work 40-plus hours a week. Being squeezed on time, money, and space is the unholy trifecta that can have you spiraling into making poor lifestyle choices.
If you don't have access to a full kitchen, or if you work a ton and don't have the luxury of cooking every night, it might be easier to nuke a frozen dinner in the microwave or order your favorite greasy combo meal from the McDonald's drive-thru. Eating well when you're tight on resources is entirely possible. Let's take a look at how it can be done:
Buy Inexpensive, Nutritious Ingredients
Look for low-cost, nutrition-packed ingredients that have a long shelf life. This includes grains, beans, and rice. If you have a freezer, frozen foods are as nutritious as their fresh counterparts. As an added bonus, the nutrients in certain frozen veggies are sometimes "frozen in," making them more nutritious than fresh veggies.
You can also save by eating less meat. Since there's a meat shortage, you can save money and hassle by eating plant-based more frequently.
There are some great, free resources to help you eat well on a budget. The Environmental Working Group (EWG) researched over 1,200 foods to assess their nutritional value, price, and environmental impact. While the guide is from 2012, the research remains sound. You can do a search for the top foods and make those items staples going forward.
Invest in a Crockpot
There are many inherent joys of having a crockpot. The convenience factor is a big one. Namely, you just toss in a bunch of ingredients, set the timer and put a lid on it, and let it do its thing for a few hours. You don't need a kitchen or tons of space to have a slow cooker, either. All you need is an electrical outlet.
Some easy, nutritious meals you can make with a crockpot are veggie chili, which requires some veggies, beans, water, and spices. You can also concoct a quinoa mixture with grains, cilantro, and some veggies. You might be able to find a quality slow cooker at a home goods or discount retailer for cheap. You can also scour online marketplaces like Craigslist or Facebook Marketplace to find a used one.
Other kitchen tools that might help you save on time but are a little bit of an investment upfront include an air fryer, or Instapot. Air fryers are a popular choice to make healthy veggie snacks.
Keep Low-Cost Staples on Hand
To make sure you get your nutrients in and eat a balanced diet, make sure you keep a rotating selection of food staples on hand. For instance, tinned fish — think sardines, tuna, or cod liver — are packed in protein and vitamin D, but are quite affordable. They go well with a side of crackers or cucumbers. You can even mix them with some mustard or hummus.
Other food items that are relatively cheap include beans, rice, and grains. You can easily buy these in bulk. To switch things up, experiment with different combinations of spices. Most spices are typically low-cost, and you'll be surprised at how much you can change the flavor of a dish by playing around with different sauces and condiments.
Carry Snacks With You
If you're always on the go, cut back on highly processed foods and fast food meals. Not only are prepackaged salty snacks and candy low in nutrition, but they tend to be more expensive.
Instead, go for simple, minimally processed snacks when you're out and about — nuts, trail mix, apples with some peanut butter, roasted chickpeas, or popcorn with a bit of nutritional yeast sprinkled on top are reliable options.
These snacks can also help you fill up more quickly, so you end up eating less. And swap out the prepackaged stuff for bulk items, and pack your own. You'll get more bang for your buck, and you can mix things up as you please.
Shop in Your Pantry
Before you head to the market, take inventory, and see what's already in your fridge and pantry. Try using up existing food items before embarking on another shopping trip. If you want to bring things up a notch in terms of commitment, try a 30-day no-spend challenge, where you try to only use what's in your home. You can only buy items that are a necessity, or to replace something that's run out. It'll urge you to be more creative!
Eating well when resources are tight isn't as challenging as it seems. It requires a bit of know-how. But really, it's all about making some minor adjustments, being efficient as to how much time you spend preparing food, and doing a bit of research to see which foods offer the most nutrition for the lowest cost.
For more tips on how to reduce your food costs, check out our Ultimate Guide to Saving Money on Groceries.