Five Keys to Staying Positive When You're In-Between Jobs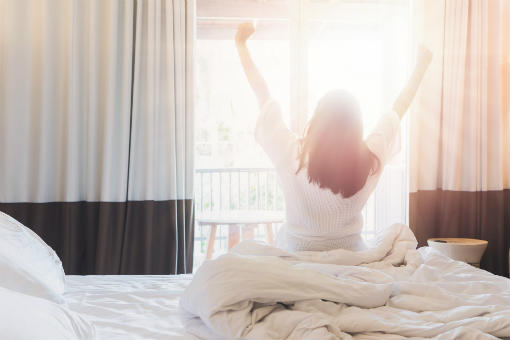 When you're in between jobs, it can be a daily challenge to stay positive. The more the days pass without a job offer, the more down you start to become. And that feeling will show when you present yourself for new opportunities, so after awhile it will start to hold you back.
Staying positive between jobs is necessary; not only to help you find your new position, but to keep your spirits up while you search. Feeling positive will keep you motivated and excited about the possible opportunities available.
If you're struggling to stay positive, try these tips to get you feeling more hopeful:
Keep a Daily Routine
Just because you're not leaving the house everyday at 8 to go to a job doesn't mean you should start sleeping in. Staying in a routine will keep you positive and it will make life a little easier when it's time to adjust to a new job. Instead of using your day for work, create a schedule for your day of the hours you'll work on your job search, where you'll look, what actions you'll take each day, and even when you'll take your lunch break and end for the day.
Schedule Time for Yourself
Thinking about your job search 24/7 will get you feeling down in a hurry. Schedule time in each day to focus on something other than your job search. Do something that makes you happy and will keep you from worrying. Go for a walk, read a book, meet a friend for coffee, or take up a hobby. It will help alleviate stress.
Set Goals
At the beginning of the week, set clear and specific goals for your job search for that week. How many resumes will you send out? How many phone calls will you make? How many connections on LinkedIn will you reach out to? Make sure your goals are both specific and manageable because not reaching them will get you down. Making 100 calls in a week is probably not reasonable but reaching out to 15 new connections is.
Celebrate Your Wins
Don't wait until you get a new job to celebrate. Instead, celebrate each win along the way. If you get an interview you were hoping for, make a new connection with an HR manager, or you reach your weekly goals a day early, celebrate! Find joy in the little moments along your journey.
Focus on What's Within Your Control
You can't control if and when someone will respond to your email query or resume submission so there's no sense worrying about it. Instead, focus on what you have control over. You can control how many connections you reach out to, how many cover letters you send, and how you handle yourself at networking events. Focusing only on what's within your control will help you stay motivated to keep moving forward in your search.
Staying positive through a job search can be a job in itself, but by focusing on your attitude and keeping your spirits up, you'll get through it easer and make a great impression along the way.