Best Streaming Services for the Money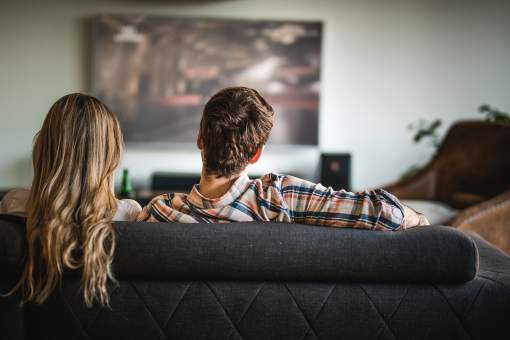 After a long day at work, you might just want to plop on your couch, gorge on some food delivered to your door, and bliss out on a TV or music binge. With the number of streaming services out there, which one might you enjoy the most? And which ones will give you the most bang for the buck? Here are the best streaming services for your money:
Netflix
Netflix has a wide array of movies and TV series in a variety of genres. Their extensive collection, which includes award-winning original series, can be quite dizzying. Netflix takes its original content creation seriously: it spends $13 billion a year on content creation, and is estimated to have 25,000 titles. You'll find no shortage of ways to be entertained.
However, the offerings on Netflix can feel like an outlet warehouse of content at time as films and TV shows are added and dropped continually. And those keeping a close watch on their wallets might take note of Netflix's recent increase in price.
Cost: $8.99 for a basic plan, $12.99 a month for the standard plan (two HD streams), $15.99 for the premium plan.
Best for: Folks who are into a wide range of films and TV shows; fans of Netflix's ever-expanding collection of original series and movies.
Final Word: Netflix is still (relatively) affordable, reliable, and widely available on almost every conceivable streaming device - and hey, they've got The Office for at least a few more years. Their spot at the top of the mountain may eventually be challenged by one of the many streaming options on the rise, but for now they're a great value and a great first stop for anyone new to streaming.
Amazon Prime
Amazon Prime is a popular streaming service for many reasons. Besides getting access to Amazon's sizable collection of TV shows, movies, and Amazon originals (totaling an estimated 5,000 titles), you have access to over two million songs, and thousands of digital books. This is on top of savings you can score on retail items and groceries (at the Amazon-owned Whole Foods), plus free shipping, and additional savings if you subscribe to certain products.
Cost: $119 a year, or $12.99 a month. There's a special rate for students: $59 a year, or $6.59 a month.
Best for: Those who want a one-stop shop for entertainment, and tend to prefer online shopping to leaving the house (no judgment). However, be careful with adding items to your Amazon cart. Oftentimes free shipping can just lead to more spending online.
Final Word: Prime's streaming offerings are almost secondary to everything else you get with a Prime membership, but there are plenty of excellent movies and original series worth seeking out here. If you make smart use of your other benefits, Prime is an easy recommendation. Just keep in mind that Amazon and Google products don't always play nice and if you prefer streaming through a Chromecast, you may have to stick to watching Prime on your laptop.
HBO Now
Compelling, cinematic, much-talked about original titles is what HBO Now is best known for. You'll find series with cult-like followings: Westworld, Game of Thrones, and beloved classics such as The Wire, The Sopranos, and Six Feet Under. The on-demand video service has a catalog boasting over 550 titles.
Cost: The hitch with HBO Now is that it's on the pricey side at $14.99 a month.
Best for: Devotees of epic TV series that are HBO exclusives. It's worth mentioning that one can argue that HBO and Showtime are similar networks. It just depends on which shows you prefer to watch.
Final Word: HBO tends to have a slightly better collection of movies than other options, but let's not kid ourselves - you're probably signing up for whatever original series everyone else is talking about that month. If you'd prefer, you can add HBO to another streaming account, like Amazon or Hulu. It costs exactly the same amount, but having one less app is nice.
Hulu
Hulu is considered one of the granddaddies of on-demand video streaming companies. With a robust content library, the Hulu Plus version is estimated to contain 10,000 titles.
Cost: Shortly after Netflix bumped up its price, Hulu lowered its ad-supported, basic version from $8 a month to $6 a month. You can opt in to the ad-free level (Hulu Plus) for $12 a month. You can add on HBO for $14.99 a month. You can also opt into the live TV streaming service package, which is $45 per month.
Best for: Budget-conscious viewers who don't mind ads that much.
Final Word: Hulu's catalogue of originals is smaller than many of their competitors, but the turnaround time for many broadcast shows is much shorter. If you're trying to wean yourself off an expensive cable package, Hulu with Live TV gets you a lot of the live sports and popular channels you likely have with cable.
YouTube TV
It's YouTube mashed up with basic cable. If you've used YouTube at any point in the last year, you've probably seen an ad for YouTube TV, which combines YouTube's usual videos with their premium content, local broadcast networks, and some basic cable channels.
Cost: YouTube TV costs approximately $50 a month, with a ton of add-on channels available, including AMC ($5), Sundance Now ($7), Starz ($), and Fox Soccer Plus ($15).
Best for: Fans of YouTube's interface and those who want one platform for broadcast, cable, and streaming content.
Final Word: YouTube TV's array of add-ons could make an already costly product even more expensive than cable, depending on how far you take things. There's a lot to like here, but this probably isn't the first stop for those on a tight budget.
Spotify
Sure, you can listen to music for free with Spotify's free, ad-supported version. But if you want uninterrupted, ad-free music time, Spotify's premium tier is worth considering. As someone who gave up her entire music collection a year ago, I tune in to Spotify religiously. What's more, for a limited time, current Spotify subscribers can add Hulu's ad-supported version for free.
Cost: Ad-free premium is $9.99 a month. The limited ads version is $7.99 a month.
Best for: Music lovers who like discovering new artists and don't like being interrupted by ads.
Final Word: There are plenty of ways to listen to (and stream) music for free, but if you listen to music and podcasts regularly, you can't go wrong with Spotify.
fuboTV
If all you watch are sporting events, then look no further than fuboTV. It's the ultimate sports aficionado's dream come true: live and on demand streaming from nearly 100 sports networks, including Fox Sports, Fox Sports West, and the NFL Network. You can nix the cable and get your sports fix on fuboTV.
Cost: At $54.99 a month, fuboTV is no bargain price. You can even spend more to add packages of niche channels to the collection.
Best for: Sports lovers. If you don't love sports and specialized sports networks, this would be a startling waste of money.
Final Word: Depending on your interests, fuboTV is either a great value or an extremely bizarre choice. There's not really much middle ground.
Don't Forget to Check Your Library
Your library isn't just a place to check out books and DVDs. You'd be surprised at the digital resources made available to you for free. All you need is a library card. For instance, Kanopy streams classic cinema, documentaries, and indie films. Check to see if your library is a participating branch.
Look for Discounts
Some of these streaming subscription services might be able to offer a discount if you pay a year in advance. Poke around to see if there are any specials or ways to snag a reduced rate.
Ready to cut cable for good? Check out our Ultimate Guide to Cutting Cable for instructions and advice. And if you'd like help with budgeting for all your expenses, including entertainment, we can help. Our accredited credit counselors can provide resources and tools to help you save on recurring expenses and create a realistic spending plan.