This Holiday Season Consider #ShopMilitary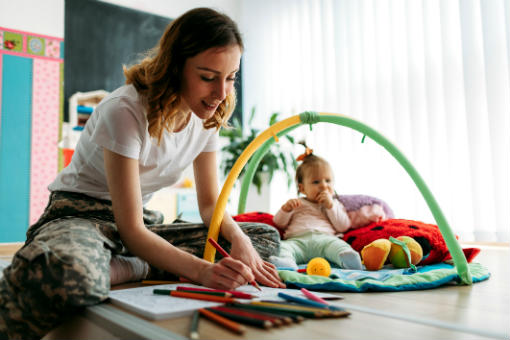 With the holidays rapidly approaching, you may be feeling pressure to think about gift-giving. Budgeting for the holidays is best started early. How you spend your money this holiday season matters; why not spend it in a way that makes a difference?
When you buy a pair of earrings to give your mom, sister, or special lady in your life, how often do you consider what's going on in the background? How did those earrings go from an idea to the physical good in your hand?
The #ShopMilitary Movement
For Lauren Hope, founder of Hope designs Ltd. and an Army wife, every piece of jewelry is custom made by her hands. Heading into this holiday season, she wants to encourage you to #ShopMilitary and support veteran and military-spouse owned business. Much like Small Business Saturday, #ShopMilitary aims to help grow business supporting our military community and can be a win-win for the military and non-military community alike. Hope explains, "Obviously [it] benefits the military spouse and veteran owned business community.... it's [also] a part of mission readiness. It keeps [military families] in the military market [and] benefits everybody. Everybody wins in this."
Hope's motivation? To help grow businesses born out of necessity, just like hers. Hope was a chef at the Ritz Carlton, the executive chef for the Kroger Company, and the executive sous chef for the Hilton Netherland Plaza in Cincinnati. When she married her now-husband, they moved from Savannah, Georgia, and, Hope adds, "After there, it was just a smaller town and just smaller towns to the point where at Fort Knox, I was a shift manager at a Panera... because that was the only thing available to me and that was heartbreaking."
Supporting Military Families
Military spouse un- and under-employment is a serious problem. A recent study from Blue Star Families found that military spouse unemployment could be costing the economy 1 billion dollars. There are many nonprofits and private businesses looking to address the problem, including Hiring our Heroes, The Milspo Project, and Mad Skills.
When asked about the movement, the website, and its social media presence, Hope says, "It is turning into a place where people are coming forward with stories. If you'd like to learn what it's like [to be a] military family, come share our stories with us. Come learn. We're working on marketplaces and shopping events, perhaps a pop up shopping event near military posts where we invite America to come #ShopMilitary. Come. Come learn."
Even in altruistic shopping, you should remember to stay financially responsible. Before shopping, make sure you have a plan for what to buy and a budget for each person.
Learn more about #ShopMilitary at shopmilitary.org.