Nonprofits to Help Support Transitioning Veterans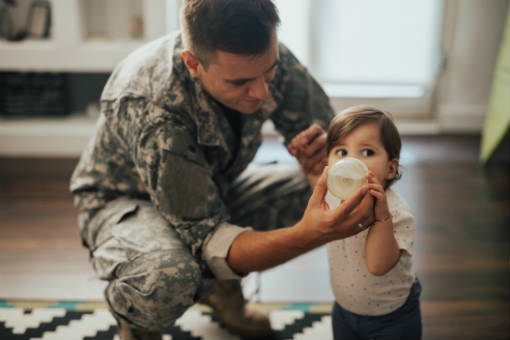 The following article is presented for informational purposes.
Transitioning from military life to civilian life can be a tough road to navigate. Trying to figure out how your military skills cross over into the civilian job skills, learning how to interview for a job, and writing a resume can seem overwhelming. And that's not to mention the personal challenges.
Learning how to function in a 9-5 world, be home with your family full-time, define the new roles in your household, and dealing with the change of structure can add to the stress.
For example, how do you figure out what kind of salary you should be asking for in order to properly provide for your family? In the military, some of your expenses like food, clothing, and shelter were provided for you.
Trying to navigate this new world on your own can be confusing and frustrating to say the least. But don't worry, there are plenty of helpful nonprofit organizations that can successfully help you transition into your new world.
Organizations supporting veterans in transition
Since 1919, the American Legion has been supporting veterans and helping them acclimate back into civilian life. They provide a number of resources including:
Understanding your GI Bill benefits
Information and support for higher education
A career portal with job search tools and information
They also provide scholarship opportunities for continuing education.
The Wounded Warrior Project provides a variety of programs to help wounded veterans make the transition without feeling like they're alone. Some of their programs include:
Combat Stress Recovery
Through workshops and retreats, veterans are able to develop and enhance relationships with their families and overcome what they went through in combat.
Physical Health and Wellness
Even if your wound is not visible, learning to deal with it is an adjustment. This program helps veterans learn to adapt to a new normal.
American Veterans (a.k.a. AMVETS) provides a broad range of programs and services for transitioning veterans. In addition to a significant amount of community outreach and hospital visits, AMVETS also provides assistance and advice in regards to compensation claims at no cost.
They also offer career placement assistance with trained professionals to learn job skills, write a resume, practice interview skills, and find a job that matches your skill set. All free of charge to veterans.
Military Reconnect from Clearpoint is a program built and run by an entire counseling staff of veterans and close family members of veterans who understand what you're dealing with and how to help.
They offer free financial educational resources with personalized activities and courses to help you develop your financial action plan, achieve your goals, and overcome financial challenges.
They also offer additional free resources including Off-Base Military Podcasts focusing on off-base housing issues, and a quarterly newsletter with financial tips for active duty personnel and veterans.
And you can download the Financial Field Manual, a guide from Kiplinger's Personal Finance and BBB Military Line. Not only does it provide information to help you make necessary financial decisions, it also includes a variety of useful resources. And, it's free!
VetJobs is an online military job board with over 200,000 job listings. It's purpose is to help close the gap between employers and veteran candidates.
The board allows you to search listings in multiple countries, across a wide variety of positions.
This nonprofit provides career training and job placement at no cost to military spouses, retired military spouses, and caregivers of war wounded veterans. Every member of their team is military-affiliated and are experienced in both corporate and private sector human resources.
Whether you're looking for a new career, re-entering the job market, transitioning out of the military, or seeking a promotion with your current employer, Military Spouse Corporate Career Network has the resources to help you succeed.
And if you're looking for additional career guidance for military spouses, you can check out The Simple Dollar's Career and Scholarship Guide for Military Spouses.
National Coalition for Homeless Veterans works with local, state, and federal agencies to provide emergency and supportive housing, food, health services, and job training and placement for homeless vets. They also provide legal aid and work as a liaison with care providers. This nonprofit assists hundreds of thousands of homeless veterans every year.
It's easy to get help online, through email, by phone, or by mail for your immediate needs as well as long-term needs.
Operation Homefront assists military families through difficult financial times by providing food, auto and home repair, vision care, travel and transportation, assistance with moving, and essential home items. They also provide rent-free transitional housing for wounded veterans and their families.
In addition to all of this great work, they also have a Homes on the Homefront program that awards mortgage-free homes for veterans and their families.
This organization provides support, care, and assistance to those dealing with the loss of a military loved one. TAPS has worked with and helped over 80,000 surviving family members, caregivers, and casualty officers.
They offer a variety of programs including seminars, retreats, mentors, and youth programs. They also provide resources such as grief counseling, survivor care team, and suicide loss support.
TAPS also assists with the decisions you're faced with during your grieving like employment, financial planning, and benefit questions.
Regardless of what type of help you need to get you through your transition, Military One Source is there for you. They provide information, tools, and support to help you with moving and finding available housing. They provide financial assistance to help you pay down debt, save for retirement, create a financial plan, and deal with legal affairs.
Thinking about getting a college degree or searching for military-friendly employers? Military One Source has resources to help you.
Whatever help you find yourself in need of, chances are, Military One Source has a program or resource to get you what you need.
It can be a challenge for transitioning veterans to find a place in civilian life, but with the help and support of these amazing nonprofits, the transition becomes a little easier.