Is That Food Delivery Service Worth It?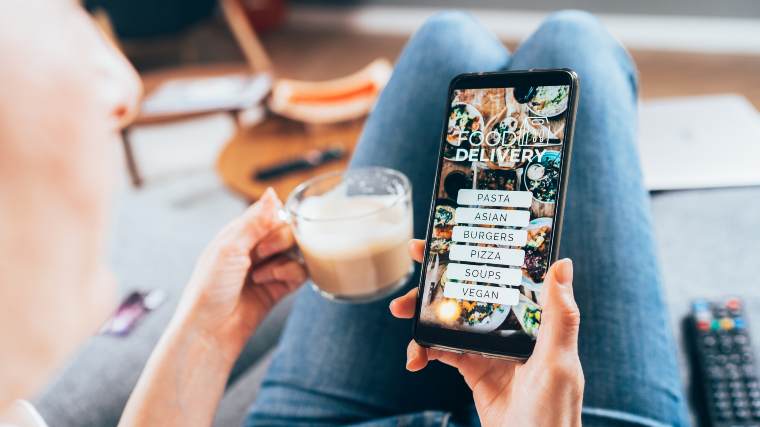 It can be convenient and fun. But is having groceries or takeout delivered to your door worth the cost? According to the Bureau of Labor Statistics, in 2017 U.S. households spent an average of $3,365 eating out and $4,363 on groceries. That's 7.3 percent more than they spent in 2016. While the amount we're spending on food overall is on the rise, would adding food delivery service to your list of food-related expenses be justified?
Here's how to gauge whether that food delivery service is worth the cost:
Examine Costs Versus Benefits
The obvious perk is convenience. You won't have to spend time driving to and from the market or restaurant, nor deal with looking for parking, and waiting in the checkout line or for a table. Besides the time and hassle in getting to the store and shopping, you'll save on the costs of transportation.
The average grocery store visit is 41 minutes (not including time getting to and from the store). And as people typically go to the market 1.5 times a week, if you round up the time spent for each grocery visit to 60 minutes, that's 78 hours a year you'll be saving by opting for food delivery service. If you're getting takeout, you'll shave off time spent cooking.
Now for the costs. Popular grocery delivery services such as AmazonFresh and Instacart charge a monthly subscription. Instacart Express costs $99 a year, which breaks down to $8.25 a month. If you're an Amazon Prime member, the Fresh Add-on is $14.99 a month. (Note: that's on top of your Prime membership.)
And depending on the service and the amount you're spending, there could be an additional charge tacked on to your bill. There's a $10 minimum per order for Instacart Express, and the delivery charge depends on the size of your order and your delivery time. It's free for orders over $35. As for AmazonFresh, some shipping regions don't charge an extra fee once you hit the $35 threshold.
Now for takeout delivery services. The fees for a platform such as DoorDash varies per restaurant. However, the standard delivery fee is $5.99 and can go as high as $8.00. In some areas, you can sign up for DashPass, which is $9.99 a month. There's no delivery fee, plus reduced service fees when you order $12 or more from any eligible restaurant.
If You Have Unique Needs
If you have a special situation, such as mobility issues, are healing from an injury or accident, are older and less active, or are combating a long-term illness, then getting food delivered to your home might be worth the additional cost.
Besides the added difficulties in cooking, dining at a restaurant, or in-store grocery shopping, you will save on any money needed to call a ride share, or having an assistant accompany you while out. Now that you roughly know the costs and perks, here are a few pointers to make sure the convenience fee of a food delivery service is worth it:
Hop on a trial period. If you're on the fence, sign up for a trial period before committing to a subscription. Instacart offers a 14-day trial period, while AmazonFresh lets you check out the grocery delivery service for 30 days gratis. DashPass has a 1-month free trial, and if you poke around, you might snag a promo to try out DoorDash's regular service for free for a week. One way to go about is to try one service at a time, and see how it works out for you.
Time your online shopping. If you lead a particularly busy life, and are considering signing up for a food delivery service, make sure it is really saving you time. While this sounds nerdy, time the first few times you use the service.
Of course, the benefit of online shopping is that you can fit it in between household tasks, or surfing on the web. If you're an extreme time-saver, consider pre-loading your cart with staple items or add it as a subscription. As for eating out, it typically takes you an hour to cook or two hours to dine out, the delivery fee and food charges might be worth it.
Pick the service that's best for you. Food delivery services aren't created equal. Depending on how often you tend to order takeout, how fast you want the food delivered, and what your budget is, you'll want to do some comparison shopping and see which service is best for you.
A note about food delivery services: If you're ordering off the Value Menu from MacDonald's, the service fee might be the same as your food. In that case, is the delivery charge worth it? it might be easier to do a drive-through.
Make sure to hit the minimum. For grocery delivery services, check the minimum amount you'll need to order to avoid additional charges.
Don't order during peak times. During busy periods, there might be an additional charge. So if you're shopping for groceries or takeout, you might want to order during less busy times. What's more, there might be promos during slower periods.
Tally your cart before checkout. A benefit of shopping online is that you can review the grand total before you order. This isn't something you can easily do when you're shopping at the grocery store or when dining with a large group at a restaurant. To hit your minimum order and avoid additional fees, you might want to consider tweaking how frequently you order groceries. If you tend to buy groceries every other day, see if you can scale it back to a few times a week.
While it might benefit you to get food delivery service, the best course of action is to do a trial run and see if it's worthwhile. Need help with a spending plan? The team at Money Management International (MMI) can help you come up with a budget, and pinpoint ways you can create a reasonable spending plan.