How To Create a Personal Balance Sheet and Determine Net Worth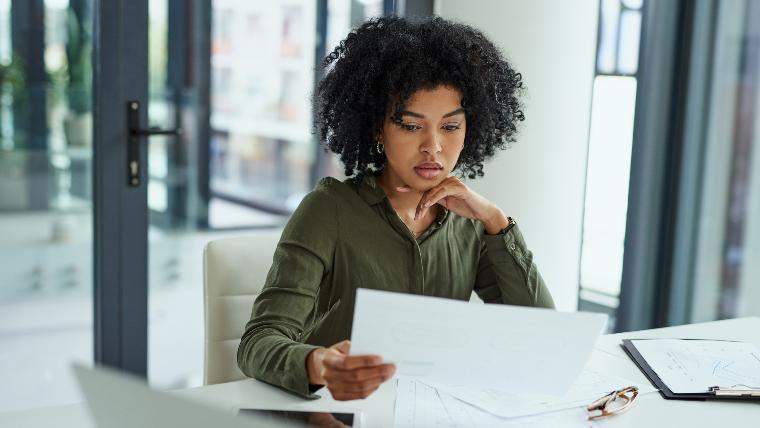 What's your net worth? It may sound like a big question, but it's a fairly simple (and important) equation. Calculating your personal net worth is one of the best ways to measure your financial growth over time.
A personal balance sheet calculates your net worth by comparing your financial assets (what you own) with your financial liabilities (what you owe). The difference between the two is your personal net worth. Don't be discouraged if your net worth is negative. Knowing where you are now will help you set goals and make active changes to start growing your net worth.
Ideally, you should review your net worth on a regular basis to track your progress and check for trends. Here's how to get started.
Pull together your financial documents
Accurate calculations require accurate information. You'll want to gather all of your most recent financial statements and documents to get the up-to-date figures. This includes bank statements, loan documents, investment reports, creditor billing statements, and more.
If you have personal property that you're including in your assets and you aren't sure what it's worth, you could get a formal appraisal but with a little research you can probably figure out approximately what your possessions are worth without bringing in an expert.
Create your personal balance sheet
Once you have all of that information available, you can download this personal balance sheet or create your own simple, personalized spreadsheet. The actual calculation is pretty simple: the total amount of your current liabilities subtracted from the value of all of your current assets. The tricky part is just wrangling all of those numbers in one place.
What are your financial assets?
Your assets are a mixture of cash, savings, and personal property. If it has positive financial value, it's an asset.
When entering your assets, make sure all of these categories are covered (if applicable):
Cash and cash equivalents
This is money you can easily access.
Cash on hand
Savings accounts
Money market accounts
Life insurance (cash value)
Investments
This is the current value of your various investments.
Certificates of deposit
Mutual funds
Bonds
Stocks
Personal property
This is the potential sale value of all of the property you own.
House
Car
Other (jewelry, appliances, collectibles, clothing, etc.)
Retirement accounts
How much do you have in your retirement accounts?
IRA
Pension fund
Other retirement accounts
What are your financial liabilities?
Next, you can look at your liabilities, which are basically everything you owe to lenders or creditors. For all loans, like mortgages, you'll want to calculate using what's left on your loan and not your starting balance.
Here are some common liability categories:
Mortgage
Home equity loan
Car loan
Student loan
Unsecured personal loans
Credit card balances
Unpaid taxes
Unpaid medical bills
The sum of all of the money you owe is your liabilities. As you start to pay down your debt, your total liabilities will decrease, which will increase your net worth (even if your assets don't grow).
Calculate your net worth
As noted earlier, the difference between your assets and your liabilities is your net worth. The formula looks like this:
(Sum of the current value of all assets) - (Sum of the current total of all outstanding liabilities) = Net worth
Your net worth can be positive or negative. A positive net worth is great, but a negative net worth isn't a cause for immediate alarm. Carrying a big mortgage bill and several student loan debts can make an otherwise decent financial outlook seem mathematically bleak.
The key with your net worth is to check in regularly. Paying down debts and building savings are good financial behaviors that should result in your net worth increasing over time. Meanwhile, if your net worth is consistently going in the opposite direction, that may be a signal that something is wrong. Check your net worth annually to make sure that things are moving in the right direction.
And if things aren't moving in the right direction? That's when you should connect with our nonprofit financial experts. A confidential budget counseling session is free and available 24/7.