Workplace Financial Wellness Programs: Get Started with These Questions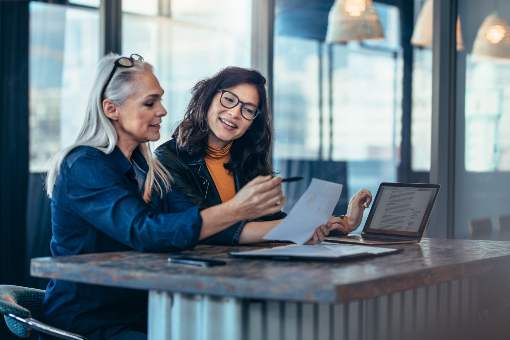 As a human resource professional, you understand that holistic employee wellness benefits result in positive outcomes — financially and emotionally — for both employers and employees. You've done the research and you're ready to start a financial wellness program, but you're not sure where to start. If that sounds familiar, you're not alone.
According to a recent Bank of America Merrill Lynch report, only 31 percent of employers offer financial wellness benefits. For a lot of companies, getting started is the hardest part. Even though the financial incentive for companies is there (the Consumer Financial Protection Bureau has found that companies save $3 for every $1 spent on financial wellness programs), it's difficult to find the right program for your workplace.
Here's everything you need to know about getting started with financial wellness benefits — what employees need, types of programs, questions to ask, and measurements of success.
Assess what employees need
The first step is to assess employee stress and financial wellness through an internal survey or by using employee data you already have. This will help you decide which type of program makes the most sense for your organization.
You'll need to include both subjective and objective questions. This might include the following questions:
Do you own a home?
What is your current debt?
What is your credit score?
How financially stressed do you feel?
What does financial wellness mean to you?
You'll probably find that most people will fall into one of three financial wellness categories: high financial distress/poor financial wellness, average financial distress/average financial wellness, or low financial distress/high financial wellness.
High financial distress/poor financial wellness: For employees who are experiencing high financial distress and/or poor financial wellness, the following financial wellness benefits are important to consider: personal budgeting, credit education, debt management plans, and foreclosure prevention counseling.
Average financial distress/average financial wellness: For employees in this category, the following financial wellness benefits are important to consider: money coaching, credit reports and scores, insurance education, and retirement planning.
Low financial distress/high financial wellness: For employees in this category, the following financial wellness benefits are useful: in-depth retirement planning education, investment advice, estate transfer workshops, and money coaching for wealth management.
Unfortunately, too many employers skip this step and only offer services that are relevant for employees with low financial distress. This results in unused benefits, wasted money, and frustrated employees. Once you've determined what your employees need, it's easier to choose the best program type because you'll know which services are important to offer (and which aren't).
Determine program type
Even though there are hundreds of financial wellness program providers, there are only three main program categories: create your own, EAP and/or 401(k) provider, and financial wellness provider. Each of these three programs types have pros and cons, but determining the best fit for your company will depend on a variety of factors like cost and employee need.
Here's an overview of each program type.
Create your own: If you decide to do-it-yourself and create your own financial wellness program, you'll be able to start small and build a program from scratch which means it will be low-cost. However, that also means that it might be time-intensive, especially without help from financial professionals. You might also run into confidentiality concerns.
EAP and/or 401(k) provider: The primary benefit of working with your EAP or 401(k) provider to add financial wellness benefits is that you can probably add the services for a lower cost. Plus, it's easier to get started because the program is already created. However, EAP providers might outsource the work because it's not their area of expertise, which means you would be paying an administrative fee for them to do so (versus working with a provider directly).
Financial wellness provider: Financial wellness providers offer the highest quality of expertise, have a full menu of services to choose from and offer support from start to finish. However, they are usually the most expensive option and it might be difficult to convince executives to invest in the benefits.
Questions to Ask
As you continue to shop around for the best option for the company and its employees, there are some questions you'll need to ask potential providers. Although this list is not comprehensive, these are some of the most important questions because they will help you quickly decide if a provider is a good fit.
How exactly does the company provide financial wellness services?
Is the company a for-profit or nonprofit?
Is the provider able to refer employees for specialty help? If so, with whom? Is there an extra cost?
How is support structured?
Does the provider offer educational content in different formats (in-person, online, workshops) to meet the needs of the employees?
What type of content is available? Who does it cater to?
Is education outsourced or performed in-house?
Can the provider support languages other than English?
How does counseling and coaching work?
Is counseling available? If so, how much does it cost and what kind?
What are the credentials of the counselors?
Can the provider set up a debt management plan for an employee?
Can the provider conduct foreclosure prevention and/or mortgage counseling?
Can the provider conduct student loan counseling and support?
Can the provider conduct HUD-approved first-time homebuyer education?
How does the provider introduce the program to employees?
Are marketing materials provided?
How does the provider help with the launch of the program?
What sort of engagement support and reporting does the provider have?
What is the breakdown of pricing?
What is the pricing model? (Per employee, flat fee, or other)
Do any services cost the employee money?
It may seem like a long list of questions, but the reality is that some financial services companies use the term "financial wellness" as a marketing strategy and don't actually give useful or unbiased services. Because of that, it's important to vet potential providers.
Track measurements of success
Here's the deal — most organizations that offer financial wellness benefits do not have formal measurements of success. Much like tracking other areas of organizational growth (like marketing campaigns and employee performance), it's critical to define and then track measurements of success for financial wellness benefits. And believe it or not, the process of tracking measurements of success actually begins before you even start the program. The first step is to determine what success means for the company.
For example, your company might choose to measure success by decreased wage garnishments, increased retirement plan contributions, or fewer payroll advances. Once you've determined how you want to measure success, you need to establish a baseline for the measurement (where things stand today) and then track the metric as you introduce the financial wellness benefits.
Your organization might choose to define "success" as a 20 percent decrease in wage garnishments. This measure of success would benefit both the organization and its employees. The company would save money on processing fees and individuals would benefit from peace of mind and a higher monthly paycheck.
Remember, measures of success ideally focus on both employer success (such as decreased expenses) and employee success (such as increased take home pay).
Bottom line
There isn't a right or wrong way to implement employee wellness benefits. The most important part of choosing a financial wellness program is to find a provider (and program) that fits the varying needs of your employees and meets them exactly where they are.