Community and Nonprofit Resources for a Happy Thanksgiving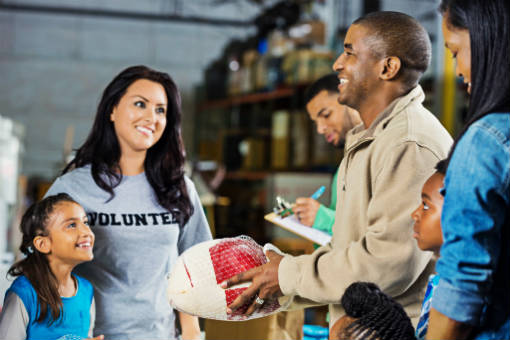 The following article is presented for informational purposes only.
Thanksgiving is a time when many families gather together around the dinner table for a large meal of turkey, sides, and pumpkin pie. But if you can't afford the big traditional dinner or you don't have family to be with, Thanksgiving can be a bit depressing and lonely.
It doesn't have to be, though. There are a variety of organizations that provide free help and meals to those in need. Here are some of the best resources for finding help with your Thanksgiving meal:
Local Food Banks
Food banks in your area are set up to provide meals during the holidays as well as any other time you need help. If you're not sure where to find the food bank closest to you, there are a couple of websites that can help you out.
Feeding America provides a nationwide network of food banks. Simply enter your zip code to find the one closest to you along with their contact information.
Food Finder helps you find all local food resources including food banks, soup kitchens, churches, and other organizations in your area that can help. The service is also available as a mobile app.
Salvation Army
The Salvation Army provides Thanksgiving Grocery Baskets to those in need. The baskets are distributed through their food pantry program prior to Thanksgiving. You will need to provide identification to qualify and you must have a permanent residence, not living in a shelter facility.
To apply for assistance, visit The Salvation Army's website and find the location closest to you using the location search on the top right of the homepage. Once you find the page for your local area, search "programs" to find assistance with food.
Meals on Wheels
If you're homebound, Meals on Wheels can assist you with food delivery to make sure you receive healthy meals every day, including Thanksgiving. The program is run through a variety of local organizations including churches, food banks, and The Salvation Army.
To qualify, you must be homebound and unable to care for yourself. Most applicants are over 60 and disabled or in serious medical condition. Most of the time, they will also provide a meal for the senior caretaker. You also must lack transportation and be unable to obtain food or prepare meals on your own.
You can sign-up to receive help by visiting the Meals on Wheels website, entering your address, and searching for a program in your area.
Local Churches and Soup Kitchens
Many local churches and soup kitchens offer a free Thanksgiving meal either on Thanksgiving Day, the day before,- or the day after. Most of these organizations are not part of a community website where you can find a listing. Your best option is to call the churches closest to you. If they are not providing a Thanksgiving meal, they are often in touch with other organizations that are and can provide additional information to you.
There is plenty of assistance available to provide you and your family with a Thanksgiving meal if you don't have the funds or can't get out of your house to get your own meal. It may take a little research, but with so many organizations offering help, you're sure to find one close to you.